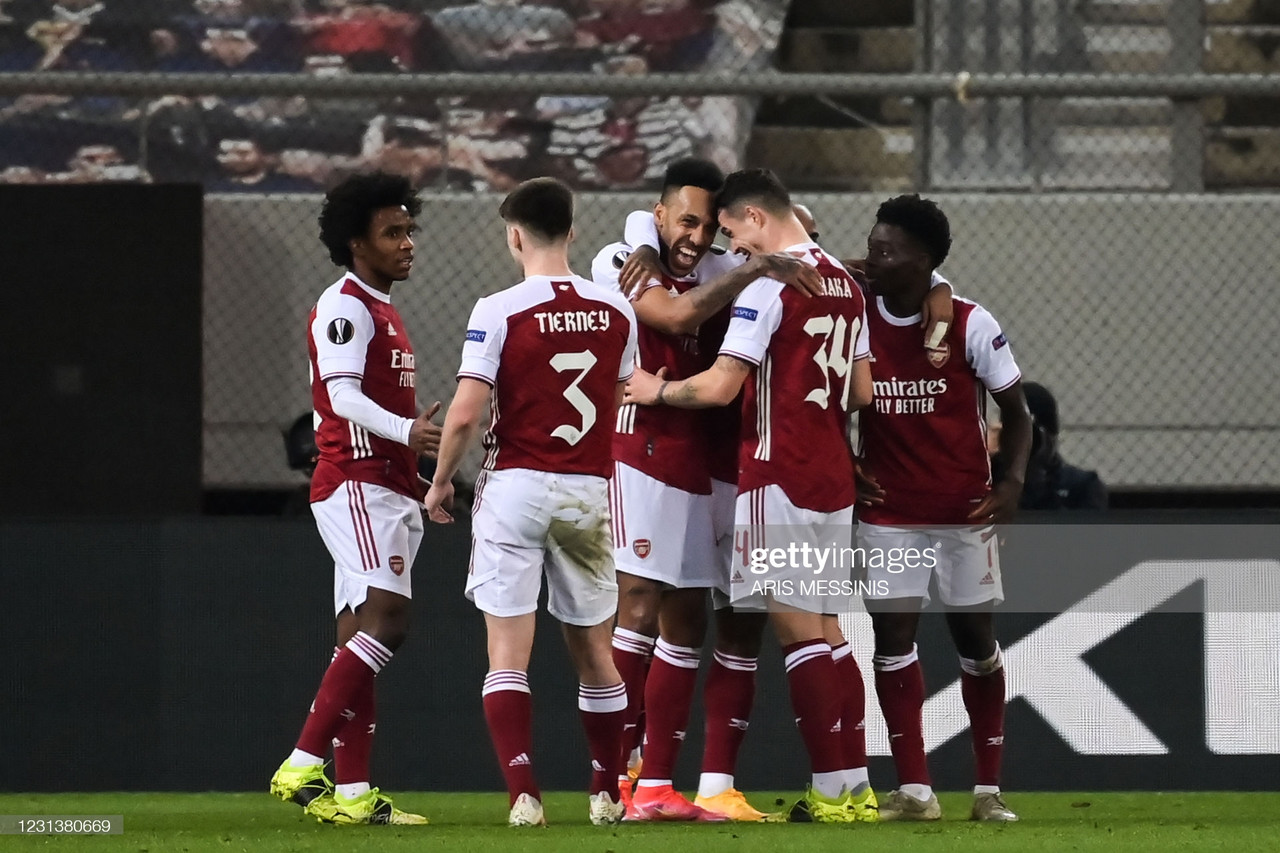 After a close encounter in the first leg, the Gunners performed the great escape, displaying a terrific comeback.
Pierre-Emerick Aubameyang opened the scoring in the first half, but Cupido Goncalves levelled before halftime.
A cheap goal scored by Rafa Silver put Benfica ahead, destroying Arsenal European dreams. However, a heroic strike from Kieran Tierney, and a glancing header from 'Auba', booked Arsenal a place in the next round.
Story of the match
In an Arsenal dominated first half, the Gunners typically fell short at the last hurdle once again.
Mikel Arteta's side took control of the first leg within 21minutes thanks to an Aubameyang chip over goalkeeper Aleixo Leite.
A sly through ball by Bukayo Saka allowed the Arsenal captain to gain his 12th goal of the season.
However, as the North London side were looking to go into the break ahead, Dani Ceballos gave away an unneeded freekick, which was buried by Goncalves to make it 2-2 on aggregate.
Going into the second 45, in Arsenal fashion, Ceballos dreadfully made another mistake. A poor header back to Bernd Leno allowed Rafa to round the German goalkeeper to make it 3-2.
With a steep hill to climb, needing two goals due to the away goal rule, the Gunners' main man Tierney supplied his side with the passion and grit that has been missed in recent weeks.
Six minutes after going behind, trickery from the Scotsman opened space in the Benfica defence, firing a bullet into the bottom right corner from the left hand side, bringing Arsenal level.
With the clock ticking down, Arsenal needed one more vital goal to save their season, to have any chance of success.
In a last chance saloon, wonder kid Saka looped a pass to the back post, which met the head of captain Aubameyang, finding the net in the 87th minute, to put Arsenal through 4-3 on aggregate.
'Auba' coming to form in the last few games has been critical in Arsenal's quest for success.
Stand out player
Kieran Tierney has been severely missed in recent weeks due to a knee injury. But the Scottish international returned to his full self against Benfica, providing his side with his missed attributes.
His grit, passion and drive was a major aspect of Arsenal's success in Athens, with his goal being the driving force of the Gunners' comeback.
A terrific strike to claim his second European goal in Arsenal colours, picked his side up from the shadows, bringing confidence back to Arsenal's football.
Although the left back didn't perform a trademark assist, he played a major role in Arsenal's journey to the round-of-16, achieving fan voted Player of the Match.
What's next for Arsenal
Next up for Arteta's side is a tough trip to Leicester City. A win could take Arsenal back into the top half of the Premier League, but a loss could cement their place outside of European qualifications.
Leicester, who have won three out of their last five, will be a huge challenge for recovering Arsenal, but tonight's win will for sure be a confidence booster.