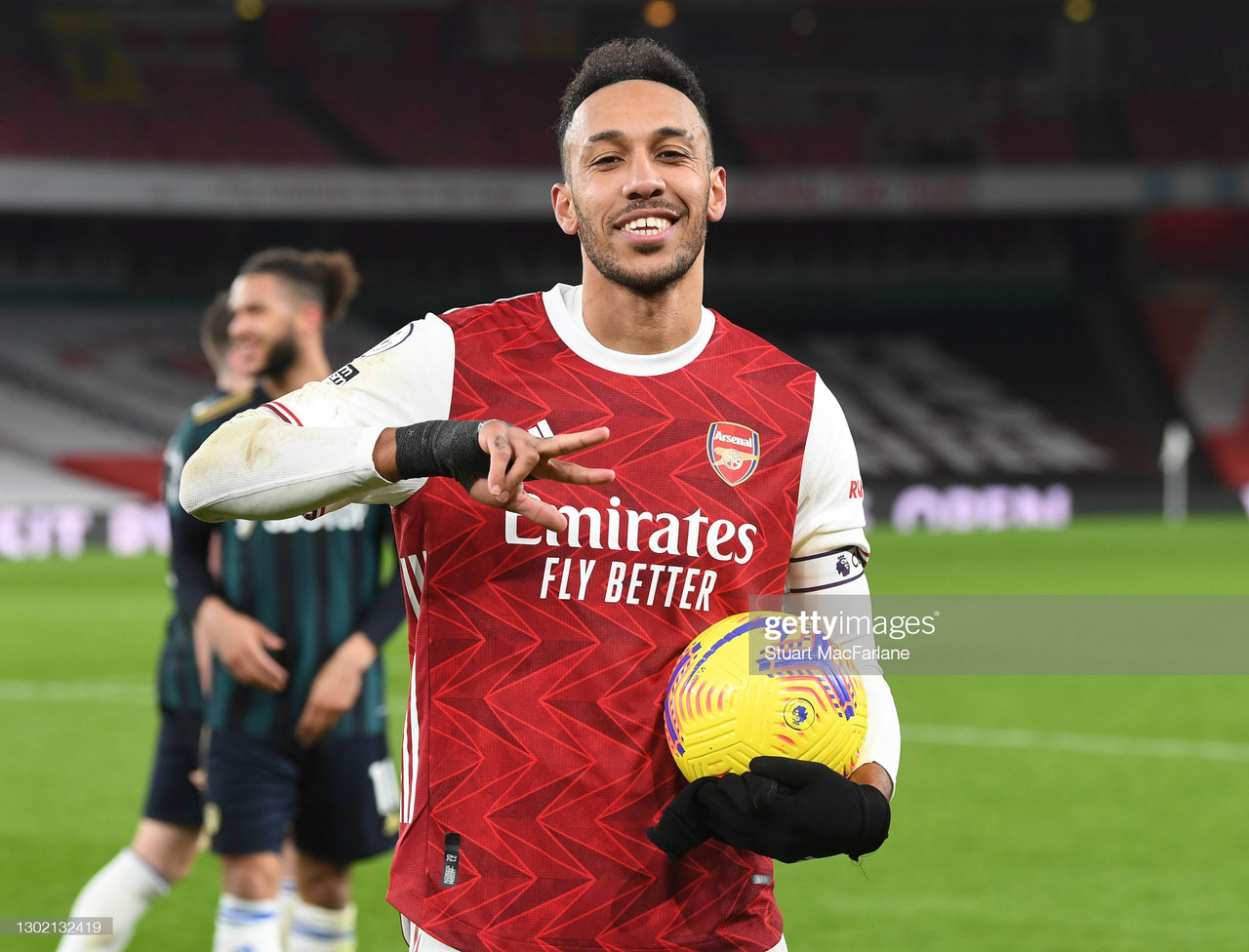 After a tough few weeks, Pierre-Emerick Aubameyang announced his return to captaincy with a terrific hat-trick against Leeds United.
The Arsenal captain has not had his best season in an Arsenal shirt. With a mixed bag of performances, a lack of goals, and in more recent times, personal family issues, it could've been a season to forget.
However, the Gabon international has revived his and Arsenal's form with a fantastic performance in North London.
The return of Arsenal's talisman
In his past seasons as a Gunner, 'Auba' has been Arsenal's main man when going forward.
The striker has always stepped up when Arsenal have needed it most, performing and delivering in crucial moments to secure success.
In his last three seasons before the 2020/21 campaign, 'Auba' had scored 70 goals in 109 appearances for Arsenal.
Last season, the Arsenal captain helped his boss Mikel Arteta win his first piece of silverware as a manager, scoring all of Arsenal's goals in the FA semi and cup final, delivering when the Gunners needed it most.
However, since the Gabon international's awaited contract extension, the striker had not been performing to his normal standards.
Before Sunday night, 'Auba' had only scored five goals in 19 Premier League games, his worst start to a season in an Arsenal shirt.
When things started to pick up for the captain, his mother sadly fell ill, understandably keeping him out of the first team.
Before Aubameyang's return to the starting XI, the Gunners had lost two games, back to back, losing to Wolverhampton Wanderers and Aston Villa within four days.
And when Arsenal needed him most, Aubameyang returned to the Emirates, completing a hat-trick to secure his side a must needed 4-2 win over Leeds.
The striker's league tally for the season has shot up to 8, which is poor compared to previous seasons.
A unique near post finish, as well as a nicely scored penalty and a wonderful diving header, placed a stamp of excellence on Aubameyang's return.
When the Arsenal striker is in that mood, the Gunners will always be a step ahead of their opponents. Arteta acknowledged how important his captain is when it comes to winning games:
"We know that a big part of our future success is related to Auba being at his best and scoring as many goals as possible.

"If he is in that kind of form we're going to be closer to winning football matches, that's clear."
These kind of performances from Aubameyang are critical, especially if Arsenal are going to attempt a final push for European spots this season.
What's next for Arsenal and Aubameyang?
The Arsenal captain has returned to form at a crucial time. The Gunners have a pivotal run of games that will decide their season.
The Europa League is returning this Thursday night, with the North London side facing Portuguese giants Benfica in the last 32, over two legs.
As well as European fixtures, Arsenal will face potential champions of England, Manchester City, and challengers Leicester in the coming weeks.
Arsenal and Aubameyang's dominance over Leeds on Sunday was more important than it seemed.
The Gunners now have a spring board to bounce back from into these challenging fixtures ahead. And with Aubameyang back in-form, Arteta's side may have the edge over their opponents.
With the talented trio of Bukayo Saka, Emile Smith-Rowe, and Martin Odegaard, 'Auba' has enough talent behind him to help him provide for his team, over and over again.
It is exciting to see how Arsenal perform until the end of season, especially when their number 14 is back to his full potential.