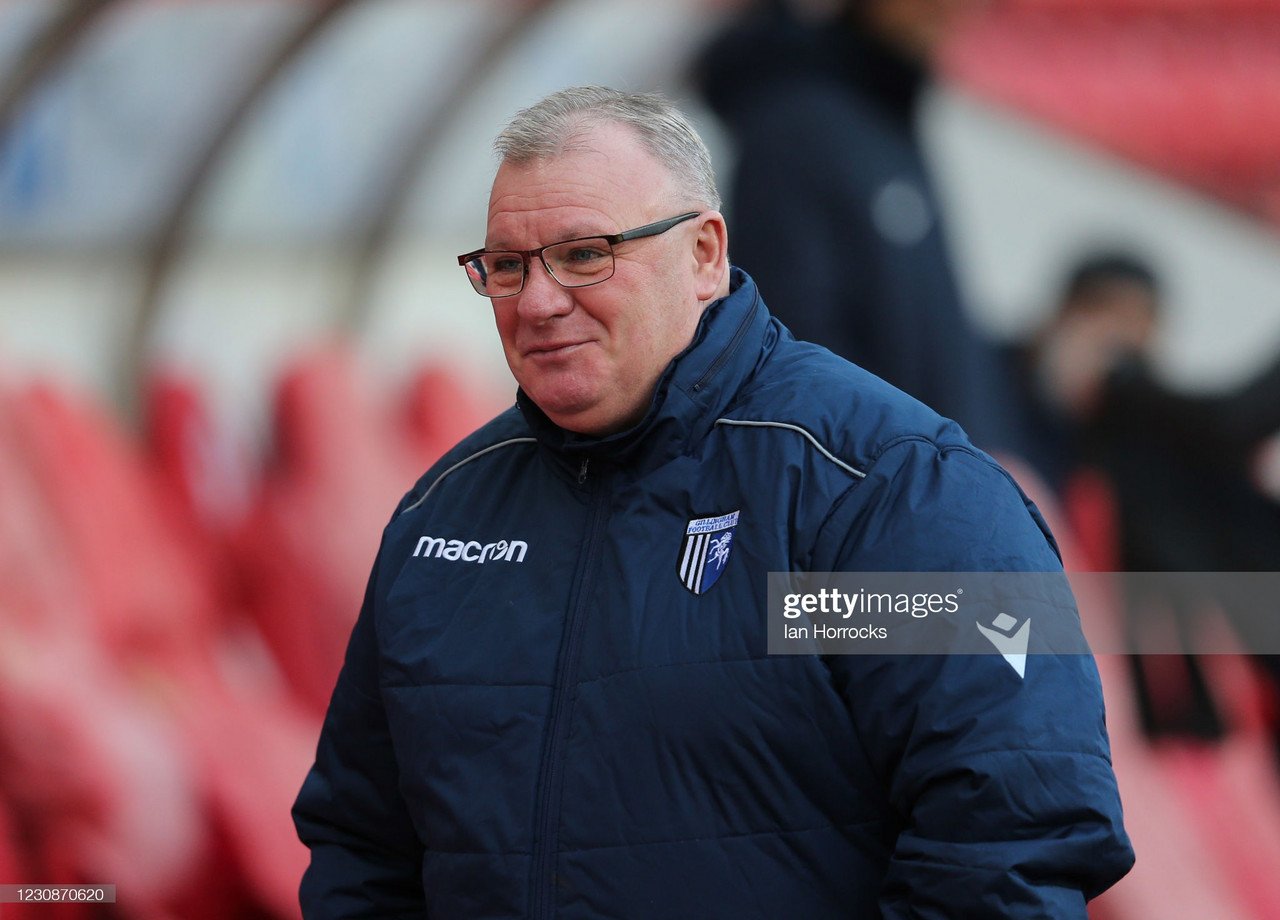 Gillingham will take on Portsmouth in League One action on Saturday at Fratton Park with the hope of bouncing back from a disappointing midweek defeat against AFC Wimbledon.
Ahead of the match, Gills manager Steve Evans spoke to the press. Here are five of his key quotes.
On the midweek loss
"We were all disappointed on Tuesday because despite both teams being poor they never looked like scoring a goal. In the second-half we had total dominance, missed two really good chances and to got sucker punched.
"But that lack of consistency is a factor and why we are where we are, and that is something to look at. They had two shots in the second-half – one is a trickle, and one is a stunning striker. We left really disappointed."
Gillingham fell to an incredibly disappointing 1-0 defeat at AFC Wimbledon on Tuesday evening, and it is evident the players feel that way.
Evans suggested on Tuesday that their play-off dream is over, but reinstated on Thursday that he has not given up yet. If the Gills want to get there, they can't afford many more performances like Tuesday.
On the reasons for inconsistency
"We have a very young squad and that brings inconsistencies. But we have seen it all around the country, and not having fans is a factor - there is only Peterborough at the minute who have any run of consistency in our league. But we only have to focus on ourselves.
"We are playing a game every 3.2 days and with a thin squad that is a big factor – other clubs have better resources.
"Supporters play a bigger part than anyone can imagine, but it is a small squad and losing some players – Dempsey, Slattery, Oliver, Samuel – it is a big blow. We do not have the quality of backup. But when we are dominating games, we need to win – I am not on about big teams that can hurt you with two goals in two minutes, I am on about teams we are in total command of a game and have to win."
Gillingham's recent form now reads LWLWL – it doesn't get much more inconsistent than that.
There are a number of potential reasons for the inconsistency, as Evans outlines, but it is frustrating for fans and players alike.
On Kyle Dempsey
"He was a young man when he came in. When I first spoke to him, he was really questionable about being my captain. I did not want a captain that would shout on the pitch, but go about his business properly and lead his troops well off of it. Someone to speak with wisdom, speak with care, who really through things through.
"On Wednesday we had a team meeting and to a man we felt like applauding him. He has really matured, and Gillingham Football Club has to be keeping the likes of Kyle Dempsey around for a long time because not only is he a top talent, but he is the type of young man that everyone wants to have as a big part of the club."
Dempsey was one of League One's marquee signings in the summer, and he has proved to be one of the best players this season. He has led from the front as Gillingham's captain and, with six goals and four assists in League One this campaign, the former Fleetwood Town man has been one of the success stories of Gillingham's season.
On a way back to normality
"I have no political views to give, but I do know it is a sensible plan. We have European Championship games, play-offs, the FA Cup final and the last days of the Premier League. It could be magical, and it could be the way back. We all want to start next season with this virus put in its place and that is the hope. There is nothing better than going away and being heckled – it makes you more passionate! I have had managers here this season say to me 'it makes a hell of a difference without the Rainham End', and every football person wants to see fans back in the stadium.
"If we are not with our supporters next season, then there is a big problem coming. The Prime Minister and his team should make that decision, but if they go with the science it is simple. Far too many loved ones have been lost, but we want supporters back and I think the country needs to be out and about. But we need to do it the right way. We do not want to lose a generation because they are invaluable to us and if we lose them, we have a real problem."
Prime Minister Boris Johnson outlined a roadmap out of lockdown on Monday, which included fans returning to stadiums in England and, basically, the way to get back to normality after COVID-19.
Evans spoke passionately about his desire for supporters to be back in grounds, but for it to be done properly. All being well, fans should be back in next season. Time will tell if that works out.
On Portsmouth
"They are exciting games for me. They are under enormous pressure and we can go there and be more expressive, play how we like to play and have no fear. If it goes against us on a bad day we can regroup, but we want the opportunity.
"Fratton Park is a wonderful place – everyone loves going there, and if you do not you are not a football person. For atmosphere it is best in the league by a stretch. They have good players, a very experienced manager and a very good number two. It will be tough for us, but we are looking forward to it.
"When you go to Fratton Park you have your own support, 18,000 Pompey fans, the bell ringing and non-stop singing. It does not matter who you manage – going away to Pompey is always a great day.
"If we want to finish in the top group, we have a lot of work to do. I have never questioned ability or if the players can go out and beat anyone in league one, it is just about consistency."
Portsmouth are doing well in League One and are battling for promotion, but Evans relishes that. He will want his side to go and play their own game, and get a result as the underdogs. They will have to be at their best to do so, but do not rule them out on Saturday.