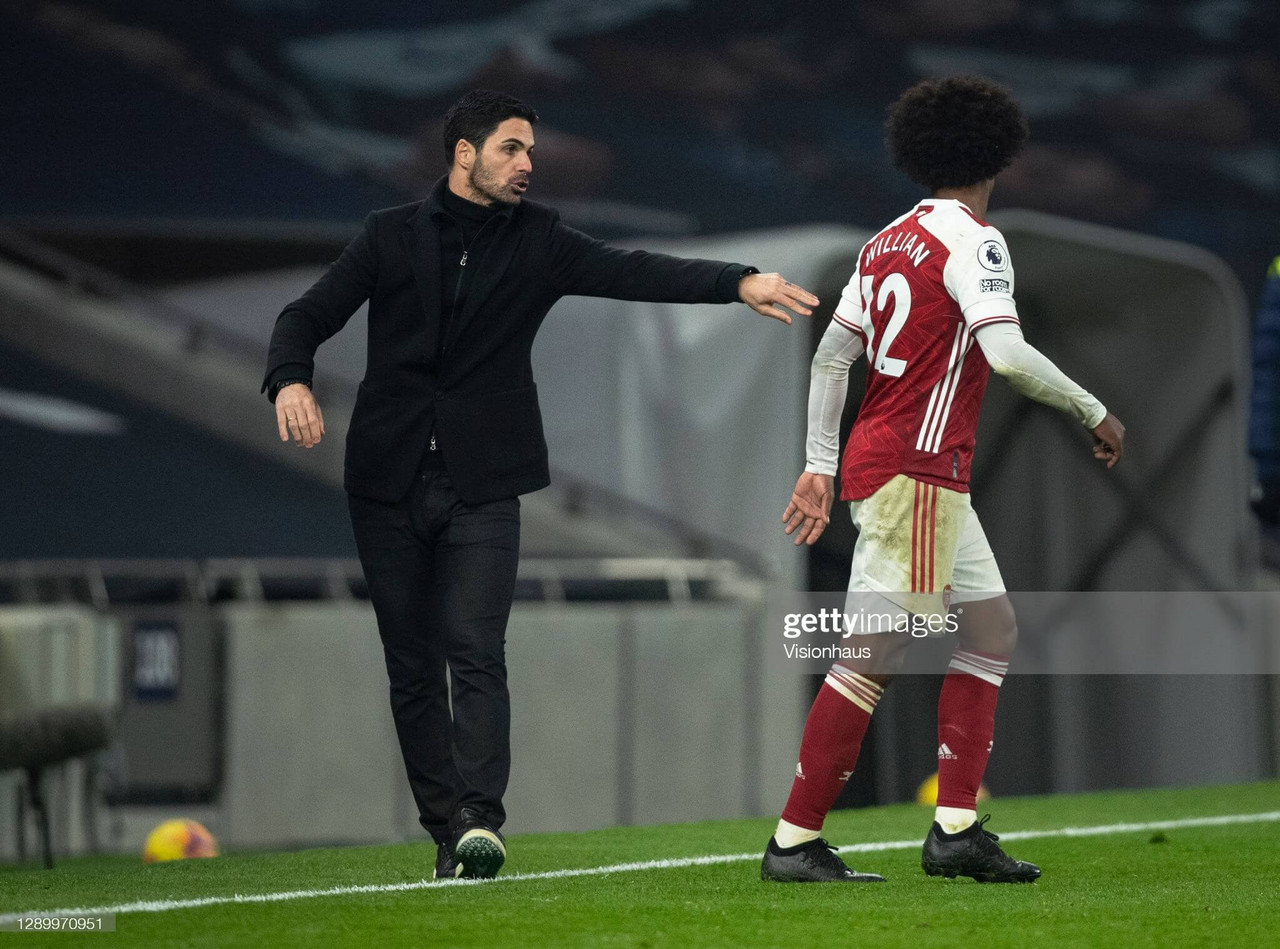 After a rather inauspicious start to his Arsenal career, it feels as though Willian may have finally turned a corner.
Having provided an assist off the bench in Arsenal's dramatic comeback victory over Benfica in the Europa League, the Brazilian was rewarded with his first league start since December as Arsenal travelled to Leicester.
Willian put in an energised performance, claiming two assists, as Arsenal beat the Foxes 3-1. It now looks as if the Gunners may finally get their money's worth out of the former Chelsea winger.
Having made the move across London in the summer, Willian impressed on his debut with the club, claiming three assists as Arsenal beat Fulham 3-0 on the opening day of the season.
However, this turned out to be a false start from the Brazilian who failed to register another goal contribution in all competitions for the remainder of the year.
Despite understandable criticism from a lot of Arsenal fans, Mikel Arteta has always publicly defended Willian.
While accepting that the Brazilian had yet to produce much on the pitch, the Spaniard has given Willian every opportunity to shine and has been uwaivering in his support.
In the aftermath of the Benfica victory, the Arsenal boss was full of praise for the winger. He then echoed this positivity, speaking after the win over Leicester.
"I think he was the player who changed the game against Benfica in the last few moments when he came on, and today I think he was terrific," Arteta said in his post-game press conference."
As bad as his performances have been, Willian now has five assists in the Premier League this season – more than any other Arsenal player.
This tally is also more than the likes of Mason Mount, Hakim Ziyech, James Rodriguez and Paul Pogba have managed.
However, all five of his assists have come in just two games, and Willian has hardly impressed in the 17 appearances in between those matches.
With Pierre-Emerick Aubameyang now seemingly the prefered central striker, and Emile Smith Rowe coming off injured against Leicester, there may be an opening for Willian on the left wing.
With Bukayo Saka almost undroppable, it looks as though Nicolas Pepe will be the main competition for Willian in the short term.
Arteta has given Willian more chances that a lot of managers would have done. If he continues to trust the 32-year-old in the coming weeks, it would be a good time for Willian to repay some of that faith.