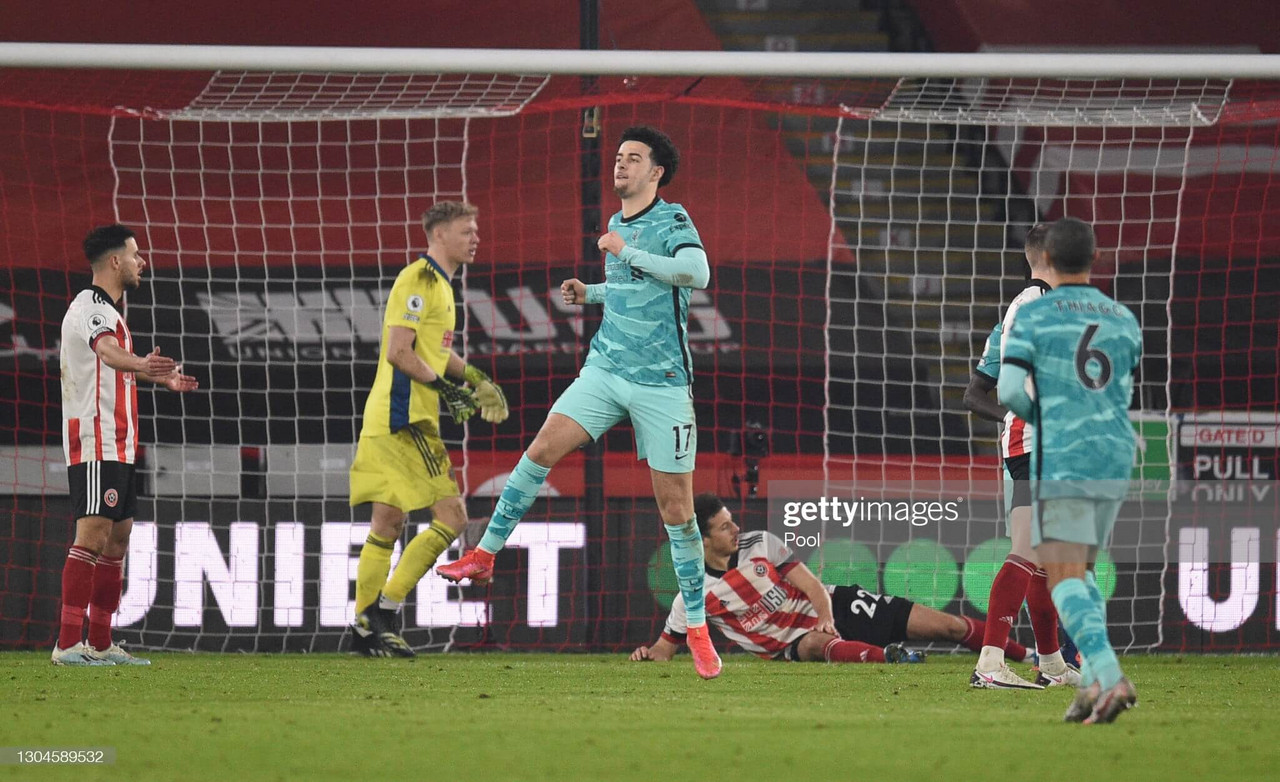 Liverpool returned to winning ways with a 2-0 away win over Sheffield United. The Reds controlled the game and performed much better than how they have in recent games.
Despite the first half finishing 0-0, the warning signs were there for Sheffield United, who allowed Liverpool too much space in the midfield. Winning the midfield battle has been a big problem for the Reds in recent fixtures, but they did a very good job in controlling that area.
This allowed them to create good chances; a combination of average finishing and great goalkeeping from Aaron Ramsdale kept the score line level. Roberto Firmino had the best chance of the half and really should have scored. He was one-on-one with the keeper and drilled his shot low, allowing Ramsdale to make the save.
Liverpool's creation of chances was pleasing to see. Had the Reds failed to win the game, you would have looked back at the first half and criticised them for not taking their chances. Ramsdale was forced to make four good saves in the half, but none of them were great saves.
Liverpool took their chances in the second half, however, with Curtis Jones opening the scoring in the 48th minute. Trent Alexander-Arnold saved the ball from going out of play and fizzed a cross into the box. It fell for Jones, who was unmarked by the penalty spot and drilled it into the corner.
Jurgen Klopp's side doubled the lead in the 65th minute through a Kean Bryan own goal. Firmino's close control was exceptional as he dribbled in to the box with four men surrounding him. His pulled shot was deflected by Bryan and looped over Ramsdale.
Scousers take charge of the game
Trent and Jones were stand-out players last night and both continued their good runs of form. Jones, who got his first Premier League goal of the season, continued to make a positive mark on this year. It is staggering that he is still only 20-years-old. If he keeps on performing this well, it will be difficult to drop him when the numbers in midfield return.
Jones was heavily involved in the second goal as well and played with so much maturity. Once again, he showed how good his ball retention skills are and did not look out of place in the team.
As for Trent, he too stood out and looks to be getting back to his best. For the past month, he has begun to look better in the final third of the pitch and improved his creative output.
Instead of firing meaningless crosses into the box, he is more measured and assessing the options better before playing the pass. This means he is mixing it up a little more, often playing cute one-twos with Mohamed Salah.
A solid centre back pairing?
Nat Phillips and Ozan Kabak both played relatively well and were able to hold out for their clean sheet. Phillips' recent performances have been impressive and once again he played very well.
Aerially, he is extremely strong and won most of his headers, as you would expect. And defensively he read the game well and had an answer to everything that was asked of him. Offensively, he has definitely improved since the beginning of the season and is able to pass out from the back with confidence. This is something that he struggled with at the start of the season, but his improvement to that area of his game is a testament to his desire to learn.
Should Phillips continue to play for the rest of the season, Klopp will have to think about his future and potentially using him for next season.
Kabak has struggled at times since signing in January, and looked a little shaky at times again last tonight. But generally, he played well and recovered defensively to any mistakes he made. It seems that his communication with the players around him needs to improve more but as he plays more, that will get better.
The Reds seemed destined to finish outside of the top four a couple of weeks ago, with the team and results spiralling out of control.
However, this win could be a good platform to build from and put pressure on the teams above them. Leicester City, West Ham United, Chelsea and Manchester United all dropped points this weekend.
With Liverpool playing Chelsea midweek, it would be a great time to find their form. A win would take them into fourth and hopefully give the squad confidence that they can achieve Champions League football for next season.