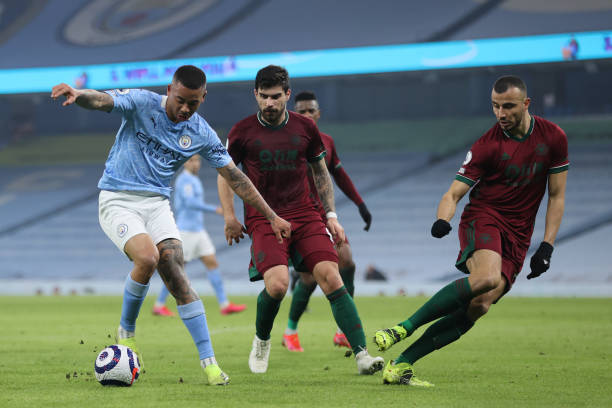 Wolverhampton Wanderers were subject to a heavy defeat at the hands of Premier League leaders, Manchester City on Tuesday evening.
Three goals from the home side in the final 10-minutes saw Wolves leave the Etihad Stadium empty-handed after a goal from captain, Conor Coady gave the visitors a slight glimmer of hope.
What went wrong for the visitors in the North West?
Lack of focus proves instrumental in defeat
Nuno Espirito Santo has always been a heavy advocate for his players keeping their focus in the crucial moments of matches. After a poor run of results earlier in the season, Nuno took to his regular media conferences to outline the problems that his squad was struggling with, the main problem being consistency and focus.
The Midlands side would prove that they could keep the leaders at bay throughout parts of the game, keeping their heads after grabbing the equaliser, they would show qualities that looked promising to Wolves fans.
Holding onto a point in the last 10 minutes was also going to be a tall order for Wolves against the league leaders and the lack of focus would come back to haunt the visitors.
City striker Gabriel Jesus grabbed the lead for the home team in the 80th minute before mistakes by youngster, Owen Otasowie and Nelson Semedo would lead to a Riyad Mahrez goal which would put the leaders two goals ahead in the 90th minute, three minutes before Jesus doubled his tally and made it 4-1 in the 93rd minute.
Scarce attacking threat from the visitors
Going up against such a large attacking threat as City are, scoring 56 goals in 27 matches, is also going to be a difficult task and would require a lot of defensive work.
The visitors scored from a rare attack in the match-up due to a Joao Moutinho set-piece and a Coady header.
City were relentless in their attacking threat, having 22 shots, 10 of which were on target. Whilst Wolves mustered up six shots with the one-shot they sculpted on target becoming their only goal of the game.
City managed to keep 72.1% of the possession in the match which meant Wolves dipped to a 27.9% share of the ball, which shows how relentless and attacking City were when they had the ball in their custody.
Nuno had opted to field six defenders in an attempt to keep City at bay and keep the attacking threat to a minimum.
The lack of attacking threat invited a lot of City pressure on the visitors and would eventually lead to a landslide of goals for the home team with no response to be seen from the visitors.