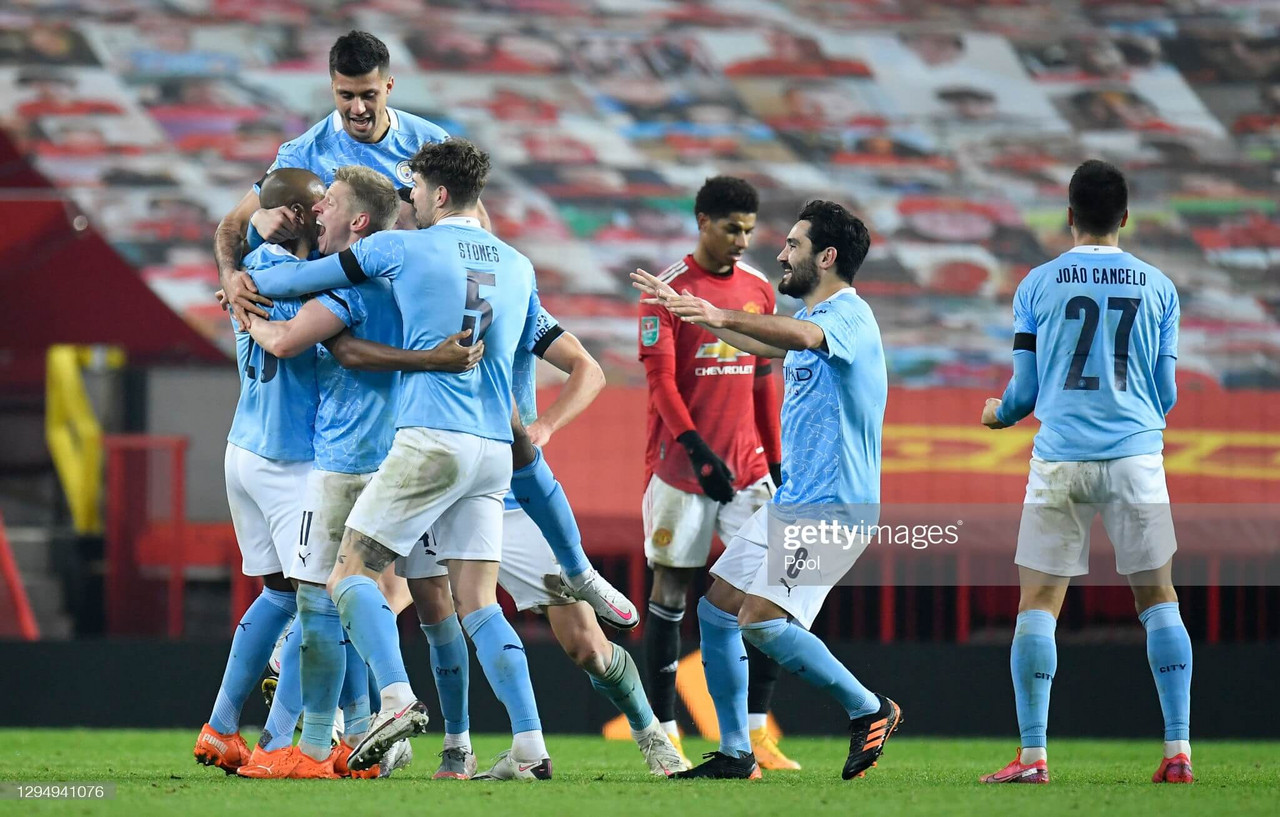 Manchester United are preparing for arguably their biggest game of the season as they travel to high-flying noisy neighbours Manchester City as their bid to retain second place intensifies.
While the match can be dubbed as a top of the table clash, the 14 points between the sides in first and second respectively make for a slightly more one-sided affair than the table would suggest.
With the derby fast approaching, here's five things to look out for on Sunday afternoon.
Unstoppable City
Manchester City are on a collision course with the moon this season as their form of late appears extraterrestrial.
The Citizens have won a colossal 21 games in a row in all competitions and are unbeaten in 28. This form has seen them rise from a poor start in the league which saw them reside around mid-table following early losses to both Tottenham Hotspur and Leicester City. They now sit 14 points clear of United in second place, while maintaining their position in every single competition they have entered, meaning an elusive quadruple is very much on the cards.
When asked about the secret to their success, manager Pep Guardiola jokingly replied: "We have a lot of money to buy a lot of incredible players. Without good quality players, we cannot do it."
City will have a European record in their sights, as Bayern Munich's 23 wins in a row in all competitions is just a stone's throw away, with the task of stopping the City steam train looking more and more improbable with every passing match.
Recent history
The Manchester Derby is a fixture which provides excitement and unexpectedness almost effortlessly.
Classic encounters such as United's 4-3 victory in 2010, or City's 1-6 win in their famous 2012 title winning campaign have provided fans with unimaginable entertainment.
More recently, with the emergence of Pep's unrivalled genius, the games have become much more of a tactical battle than a goal fest.
With that being said, of the two managers, it's Ole Gunnar Solskjaer who has reigned supreme of late.
Since the start of last season, United have won three, drawn one and lost two of their clashes against City, with both losses coming in the Carabao Cup semi-finals.
With City running away at the top of the table, Solskjaer will be intent on continuing his good form against arguably the world's best manager.
Goalless United
With United scoring four or more goals on six separate occasion this season, a lack of goals would seemingly be the least of their worries.
However, after a largely disappointing week, United head into the derby off the back of three successive goalless draws.
The problem extends when you observe United's record against the traditional 'Big Six', as ties with Chelsea, Arsenal, Liverpool and Manchester City all finishing goalless in the league this season.
While it could be argued United's defensive record is worthy of praise, it's clear Ole Gunnar Solskjaer has and issue going forward, one that will need rectifying as they prepare to face the best defensive unit in the country by a country mile.
The auxiliary midfielder
One of the big contributors to Manchester City's success has been the emergence of £60 million signing Joao Cancelo.
The full-back has been deployed on either flank, with his two-footedness offering an interesting dynamic to City's build up play.
While the full-back excels in bombing down the wing and delivering world class crosses, his true ability comes from a more central position.
With Cancelo's immense ability on the ball, he is often encouraged to come inside when City are in possession of the ball, creating an overload in the midfield and dragging opposition members in the central third of the pitch.
From there, Cancelo, or another member of City's illustrious midfield, are able to make the most of their sublime passing range to pick out a winger who now finds themselves free of their marker who has been forced to cover the central areas.
Should the opposition players choose to remain wide and leave the centre baron, City's speed and numerical advantage allow them to overpower their midfield counterparts and create chances without the need for their wingers at all.
With this tactic in place, the utilisation of Joao Cancelo has made Manchester City the unstoppable force they are today, and something United should be extremely wary of.