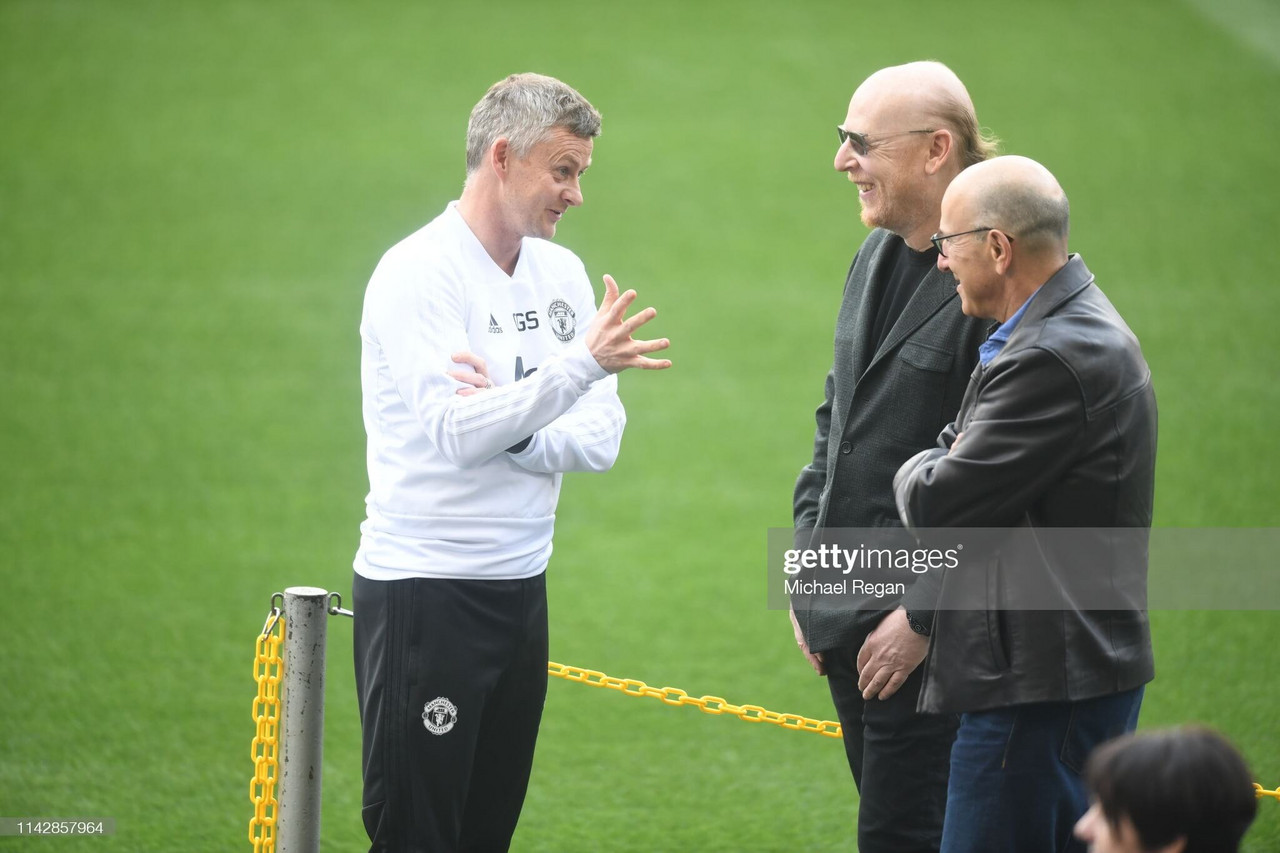 Ole Gunnar Solskjaer reiterated the need for Manchester United supporters to have their voices heard, but insisted any protests should be "civilised" after Sunday's anti-Glazer demonstrations forced their Premier League game against Liverpool to be postponed.
The anger that United supporters harbour against the Glazer family, who own the club, has been long-standing but was stirred up by the European Super League fiasco which arose last month.
It has led to fans breaching security at United's Carrington training complex, thousands of protestors demonstrating outside of Old Trafford and a few hundred braking into the stadium on Sunday, invading the pitch and trespassing into the dressing rooms while another group prevented the team bus from leaving the hotel in the city centre.
Speaking for the first time since Sunday's events, Solskjaer said: "It was a difficult day for us. Of course we wanted to play, we wanted to beat Liverpool for the fans because our job has to be getting good performances and good results on the pitch.
"That's the players' focus, that's my focus but, as I said before the game, we have to listen. We have to hear the fans' voice. It's everyone's right to protest, it has to be in a civilised manner, though. It has to be in a peaceful manner.
"Unfortunately, when you break in, when police officers get injured, scarred for life, that's too far. That's one step too far. When it gets out of hand like this, it's a police matter. It's not about showing your opinions anymore."
The United manager did confirm that he has received a "personal apology" from the owners in relation to the disgraced Super League proposals and insisted that is sufficient for him. "I've been communicating with the owners and I've got an apology personally," he said.
"They've all accepted it came out wrong and it was the wrong thing to do. You don't have to be a rocket scientist to see that things have been difficult and have to be dealt with. It's a difficult position for me to be in, I've got to focus on football but I've got a good relationship with them and they listen to me.
"They listen to the fans and I'm sure there will be communication coming. We are discussing with the fans and communicating with fans' groups which is going to be massive going forward."
'I've seen bigger upsets'
Solskjaer was speaking ahead of United's trip to Rome for the second leg of their Europa League semi-final which they lead 6-2 after the first leg at Old Trafford. The tie against Roma is all but over and Solskjaer is on the brink of taking his side to a final for the first time during his two-and-a-half year reign, but he insisted that a professional performance was still required in Italy.
"We're not going to play on the result, we're going to play to win that game," Solskjaer said. "That's the only way I think we can play this game. Of course there might be one or two changes in the selection, but we have to get into the final.
"Everyone says it's done but I've seen bigger upsets than this. Roma beat Barcelona in a second leg [of the Champions League] after being 4-1 down."
'Mourinho is a great coach'
Barring a miraculous comeback this will be the final European game that Roma manager Paulo Fonseca will oversee as he is leaving his post in the summer after two years at the club. It was confirmed on Tuesday that he will be replaced by Jose Mourinho.
It is only two weeks since Mourinho was sacked by Tottenham Hotspur following a poor run of results and performances. The former United manager will take over in early July ahead of next season.
On the appointment, and his departure, Fonseca said: "For me, professionalism is a sacred value. I'm as motivated here today as I was on my first day. I want to do my best for Roma until the final day. Mourinho is a great coach, we all know that. I think he will do a great job. Speaking honestly, I thought it was time to follow a different path away from Roma."