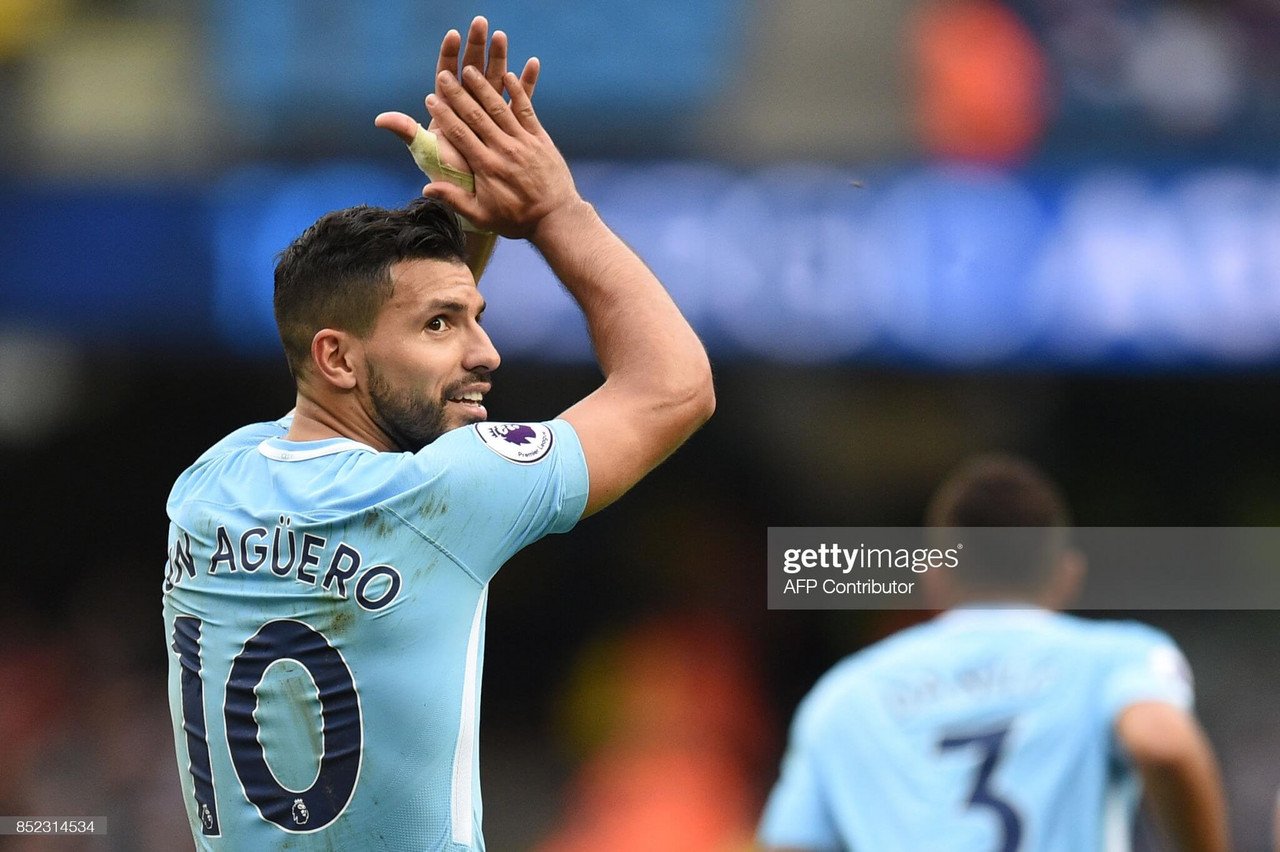 It seems like only yesterday that Sergio Aguero first donned his Manchester City shirt and entered the field of play against Swansea City in August 2011. The newly arrived Argentinian striker came on with 30 minutes left to play and still managed to score a brace and set-up another. That set the wheels in motion for a fulfilled decade of service.
That debut at the start of the 2011/12 season will feel like a lifetime ago to many City supporters given the journey their club has been on since. It was at the end of that season, of course, that City won their first Premier League title in the most dramatic circumstances imaginable; naturally it was Aguero who proved the decisive influence.
There is no doubt that the first league triumph, and how it came about, was the defining moment of Aguero's City career. For it to come so early may have been a hindrance for the striker but that early success and instant immortality didn't stop him from scoring and winning; there was plenty more to marvel at.
Four more league titles followed, with one of those being the centurion season too, as well as an FA Cup and six League Cups. On a personal level, Aguero aided each of these triumphs with his unmatched strike-rate. He is City's record goalscorer, overtaking Eric Brook's 78-year record when he struck in a Champions League game against Napoli in 2017. In total, the Argentine has amassed 258 goals in 384 appearances.
Among the City greats
When time is taken to look back at Aguero's contribution to City's decade of unrelenting success, his name will be foremost along with those of Vincent Kompany, Kevin De Bruyne, David Silva and Fernandinho. He is widely regarded as one of the greatest players of the Premier League era and is the competition's most lethal goalscorer.
Indeed he is the highest scoring overseas player in Premier League history and only in January last year overtook Alan Shearer as the Premier League player with the most hat-tricks (12). He also has the best minutes-to-goals ratio in Premier League history and is fourth in the division's all-time scorers list.
It is not only the goals, of which there have been plenty, that have seen Aguero have such a contribution. His presence alone has disturbed many defences down the years and his face became synonymous with achievement. His humble manner in and around the City training complex has encouraged those up-and-coming to reach their potential.
However, it is plausible that his lack of media appearances and his reluctance to fully get to grips with the English language, preventing the chance for insightful interviews, has hampered him from being more widely recognised as quite the true great City supporters see him as. It was only in 2018 that he was first picked in the PFA Premier League Team of the Year. By that point he had already scored 142 league goals and scored 20 or more in five of his seven seasons in England.
The goal against QPR in May 2012 will go down as the greatest in City's recent history but that momentous strike has pigeonholed Aguero - albeit's not a bad place to be pigeonholed in. He has lit up some rather dull games with his finery in front of goal, he has continuously demonstrated his strength, muscle and low centre of gravity when running at defences and he has been a constant at City for a decade.
So when he walks down the tunnel at the Etihad Stadium on Sunday evening for the final time it will signal the end of an era. Injuries and the emergence of new and exciting talent has meant Aguero's game time has been severely reduced during the past two seasons - he has made only 50 appearances over the past 21 months.
Adapted to Guardiola
At one stage, it appeared unlikely that Aguero would stay at City this long. It is worth remembering that when Pep Guardiola first arrived at the club in 2016, it didn't appear that the Argentinian striker was quite what the Catalan manager was wanting from a forward. A very real question existed as to whether Aguero could adapt to the style of play and high pressing that Guardiola was aiming for.
It speaks volumes about Aguero's approach that he was not only able to remain at the club but still play a vital part in City's triumphs, working hard to fit in to the new-look City team and convince Guardiola that he was indispensable.
Yet, now feels the right time for Aguero to leave City. It is widely known that it has not been Aguero's decision to leave, but rather the club unwilling to offer him a new contract. It looks likely that the 32-year-old will head to Barcelona where he will no doubt have an impact while possibly playing alongside his countryman and friend Leo Messi.
However, before that, there is still the chance for Aguero to be a part of City's greatest night to date. His impact may be waining at the club but he will still be in Porto for the Champions League final against Chelsea on May 29.
Should City win their inaugural trophy in that competition, and their first in Europe since 1970, it will be Aguero and captain Fernandinho who lift the prize. That would be a fitting ending to the City career of a player who has played his part in so much success.