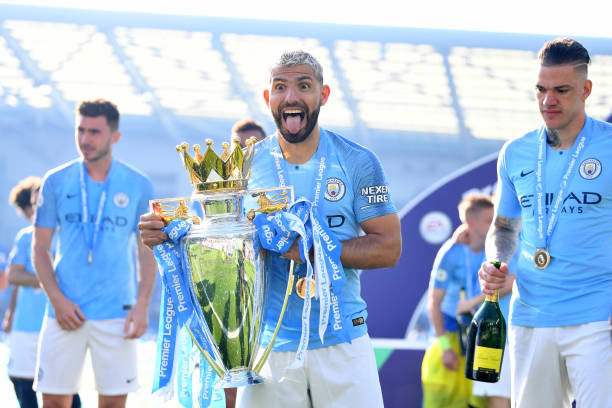 Serial winners
Manchester City have not looked back since breaking the record for the longest winning run with a 3-1 victory over Swansea City in the FA Cup.
City have now boosted their record up to 20 consecutive wins, pushing past Tottenham Hotspur, Everton, Arsenal, Borussia Mönchengladbach, and West Ham United. Pep Guardiola's side can make it 21 with a home win over Wolves on Tuesday night.
The record was previously held by Preston and Arsenal, in 1891/92 and 1987/88, respectively, but are now in a league of their own with a record that will take a lot to break.
This record coincides with another of theirs broken recently - the longest winning streak in the league with 18.
20 wins on the bounce. 50 goals scored. 13 clean sheets. Only 7 goals conceded. Is another Premier League title inbound?
Centurions
A last-gasp Gabriel Jesus winner away at Southampton on the last game of the 2018/19 Premier League season saw one of the most impressive records broken by Man City - the only team in English top-flight history to reach 100 points.
The season saw City play their 38 league games, winning 32, drawing four, and losing an impressive two games on their way to 100 points.
City came close to reaching the 100-point mark once again the season after, pipping Liverpool to the title by a single point (but only reaching 98 themselves on this occasion).
The record for most points stood at 95 from Chelsea's 2004/05 season, as Jose Mourinho took the league by storm in his first spell at the club.
Midfield masterclass
Kevin De Bruyne equaled Thierry Henry's record for the most Premier League assists in a single season in the 2019/20 season.
Henry is regarded as one of the biggest legends to grace the English stage (or the world stage for that matter), so the Belgian to be up there with the Frenchman must be a huge honour.
Despite breaking a personal record with the deadly number of assists, Liverpool were too strong that season as Jürgen Klopp and his Reds won their first Premier League title.
Starting the year off right
The Citizens will hope that their side can continue their dominance since the turn of the year as heads turn to an important game against a struggling Wolves team.
The Blues are undefeated this calendar year, making it 12 wins on the bounce in 2021. A win on Tuesday night would see them extend that record to 13 wins before taking on their local rivals, Manchester United, in a tense Premier League clash.
Home and away
A rather simple 2-0 triumph over Mönchengladbach in the Champions League meant City have set a new top-flight English record for consecutive away victories, moving ahead of the previous record with 12 away wins (also set by Guardiola's men between May and November 2017).
This will be a rather exciting prospect for Citizens with the chance of a first Champions League trophy on the horizon.
However, it will take a lot more than form to reach the final and push past the strength still left in the tournament and the likes of Bayern Munich, Juventus, and Barcelona.
Football is nothing without supporters
City still hold the record for the highest home attendance in England, dating all the way back to 1934 when they took on Stoke City at Maine Road in the FA Cup.
The record-breaking figure stands at 84,569, despite Maine Road's capacity being 35,150 before City's move to The Etihad.
Just for context: The Etihad seats 53,000, Old Trafford seats 75,640, and the newly renovated Tottenham Hotspur Stadium seats 62,850.
Having already stood for 87 years, this record may take a lot to break. Although with new stadiums being built across the globe, only time will tell.