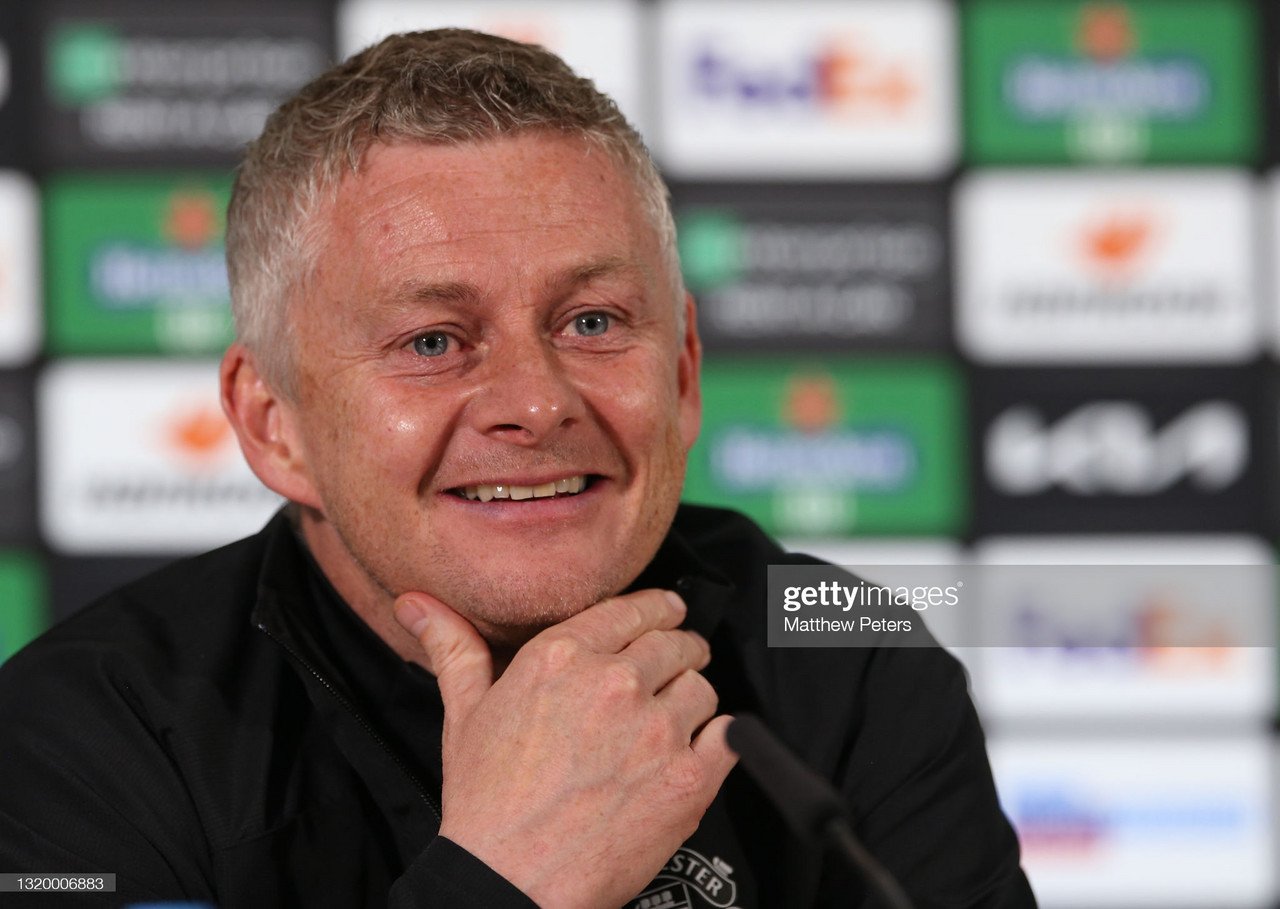 As Manchester United prepare for their first final under Ole Gunnar Solskjaer, the Norwegian faced the press in Gdansk ahead of his side's Europa League final tie against Unai Emery's Villarreal.
Despite the fact that this is the fifth Europa League final for Solskjaer's counterpart, the United boss was full of humble confidence as he looked forward to take his side to their first final in three years.
Here's what Solskjaer had to say ahead of Wednesday's final:
On whether winning the cup could serve as a gateway trophy:
"Of course. I think players when they get the taste for success, when they win trophies, when they win something, it can go two ways. It can go 'oh, we've done it now we can relax' or as I've felt a few times, it gives you more of that feeling, you want that feeling again, with your teammates, with your club."
"For this group of players now, working hard together for a year and a half, it's the next step for them now to go and enjoy a game like this."
On whether winning a trophy would improve his CV:
"It's not about me. I've got enough self-belief. Whatever circumstances I've been in, I'm quietly confident as I've always said. I'm trusting the players. These players are ready for this."
"I've seen in them something growing inside of them, more and more robust and resilient to setbacks. I'm confident that we're ready for this now."
On the fact that his side are regarded as favourites:
"Every player who goes into a final has the expectation and pressure to win. You have to prepare to win, we plan to win, we expect to win but I'm sure Unai [Emery] feels the same with his team and his players. So that's no different. It's been a long qualification to get there and it's 50-50 when you get to a final."
"I feel, as I've said so many times now, confident that we are ready for this. In a final, anything can happen, you can concede a goal in the first minute, you can get an injury, get sent off, anything can happen, so we just have to be ready for anything. That's the thing with a final, it's decided there and then."
On the importance of a European trophy:
"We have five wins in Europe. We've lost twice to Barcelona. These are big nights for us. It might be the stepping stone for something better to come. Bright future. This team is a young team. It's a team that we've rebuilt over the last couple of years so hopefully this is the start of something more. Of course Sir Alex is with us, we know that the 26th of May is Sir Matt's birthday."
"But the players when they sign for Man United, they sign to win trophies, they sign to accept the challenge of being the best because this is the best club in the world so that's the pleasure of the pressure of Man United. That's something they are ready for because they wouldn't have signed here if they weren't top players."
On Sir Alex Ferguson's attendance at the final:
"He flew out with us yesterday. Some of us, some of the players and the staff went to see his documentary, or Jason's documentary about his dad, which was, I felt, I sat there thinking about this man and what he's done for the club. I'm sure Luke sat next to me felt the same. He's a special man. He's like an encyclopedia in football even though I got him on a quiz question yesterday... and one of the players got the answer before him!"
"I'm sure he's not happy with that. Just to have him around, when we eat in the restaurant, I'm sure the players if they wonder about something, they can ask him. He's always available for a chat because this is the club in his heart. I hope he's gonna enjoy it tomorrow night because I have to say, I owe most of my career to him and this club, so hopefully he'll enjoy the night."
On whether winning the cup gives him bragging rights:
"No, I don't even think about that. Always think forward, always focus on making the right decision for the club, the players and this team. I never think on my own CV, definitely not. That's never been on my mind at all. I need to pick players that deserve to play and you need to make sure the team is ready."
"The coaches have been absolutely brilliant and the players have been ready for it. Just sit back and relax and if you have to make one or two decisions tomorrow, you have to do it. If it's been 10 minutes and Luke is sleeping on the other side, that's a problem for him!"