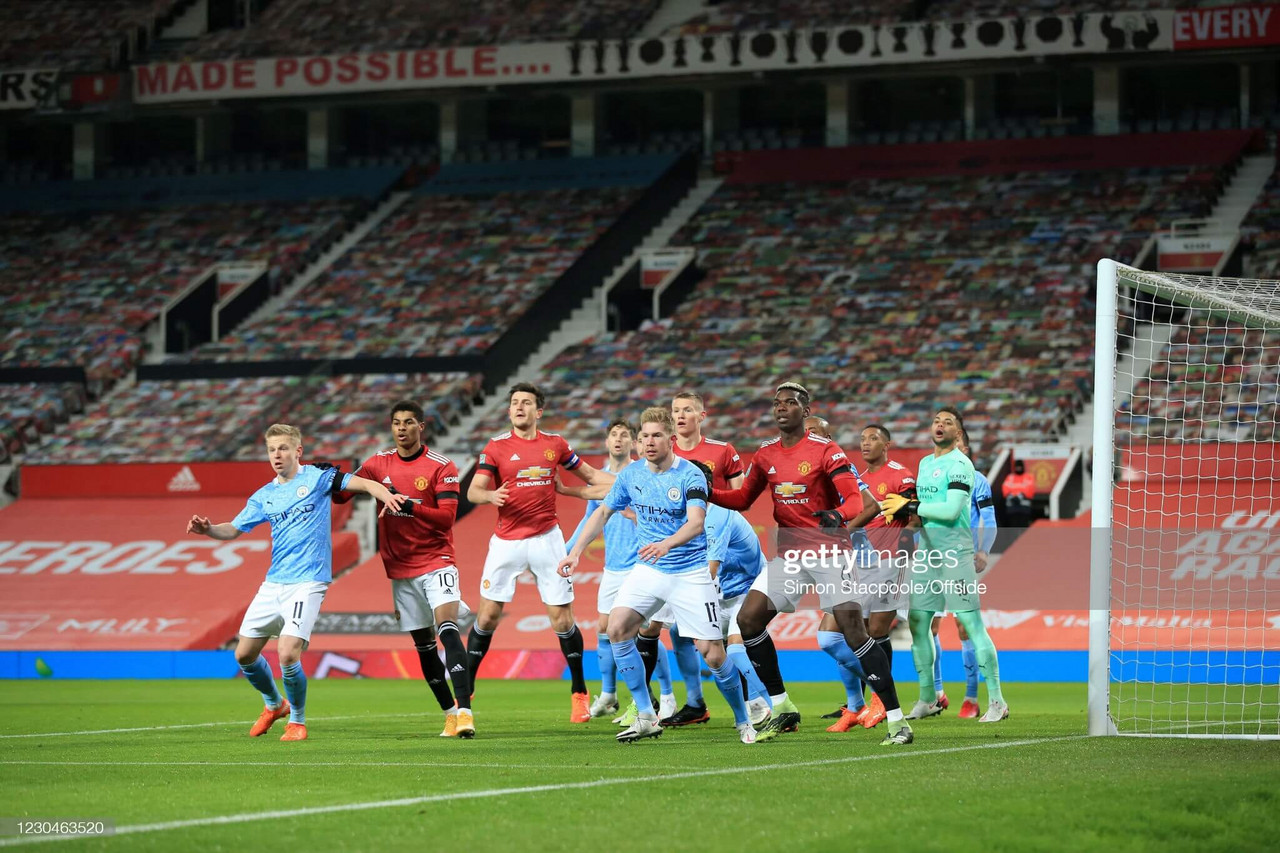 Following a disappointing 2-0 defeat in the semi-final of the Carabao Cup, the post-match press conference for Ole Gunnar Solskjaer saw him refer to the 'margins' that were held by the superior Manchester City side that had advanced to yet another League Cup final.
And with the two sides re-taking the field this weekend, City are once again champions-in-waiting. The fourteen-point gap between them and Solskjaer's Manchester United looks unassailable with just eleven games to go, and United will be looking to cause a small bump in the road that surely ends with another Premier League title for the Citizens.
But those fine margins that separate the two sides can be made up – but how?
Pep Guardiola's record-breaking City side have repaired their leaky defence from last season that periled their title defence - and has also made it even stronger than before.
The resurgence of John Stones has seen him go from zero-to-hero, and he looks to be the nailed-on first choice for Gareth Southgate's England at this summer's European Championships. His partner, Ruben Dias, has helped inspire the Englishman to recover his previous form, and the two look unbeatable at the back.
Compared to United's defenders, the partnership of Harry Maguire and Victor Lindelof looks awkward most of the time, with the Swede reckless and prone to mistakes, while Maguire can be exposed when trying to make up for Lindelof's errors.
Eric Bailly sometimes looks to be the ideal partner for Maguire but his inconsistencies with injuries and sometimes carefree attitude at the back means any mistake could be capitalised upon by a better side – like City. A more competent and reliable partner for Maguire is needed; perhaps United's interest in Jules Kounde or Ibrahima Konate will persist.
Aaron Wan-Bissaka is strong at full-back, but his defensive responsibilities often outweigh his attacking output – though he does put in a more competent cross than he used to. However, it is doubtful whether he is stronger than Kyle Walker – probably so, but the Reds could possibly do with an attacking full-back as has been rumoured this year.
The likes of Atletico Madrid's Kieran Trippier and Norwich full-back Max Aarons have been discussed, and they would provide the opportunities to break down the lesser sides in the league that United have struggled against.
On the left-side, Alex Telles and Luke Shaw provide the perfect 1-2 punch for the Reds and their form this season has reflected that.
With Solskjaer convinced of the 4-2-3-1 formation, the double-pivot of Fred and Scott McTominay is often strong but neither of them would fit into City's first-choice side, despite Fred looking close to signing for Guardiola in 2018.
Despite this, you need players like McTominay in a title-winning side; determined, tenacious players that are willing to fight for the shirt in rotation. The likes of Darren Fletcher and John O'Shea were cut from the same cloth in Sir Alex Ferguson's title-winning sides of the mid-2000s.
There is still Paul Pogba to return, but his recent strong form can only be trusted once he sustains it for a prolonged period of time – as yet, he is missed on the ball for the Red Devils, but would certainly help United to make up the 'margins'.
Sometimes Pogba struggles to play with Bruno Fernandes, but with an agile 'screen' in front of the two creative players rather than Nemanja Matic, this could be achieved. Perhaps West Ham United's Declan Rice could provide that solution, as could the in-house option of Fred or, perhaps an out-of-the-box suggestion, James Garner, currently excelling on loan at Nottingham Forest.
And Fernandes is obviously the star in the 'number 10' role, with him providing the counterpunch to Kevin de Bruyne's creative flair. However, City have players that can come in to provide respite, which United do not. De Bruyne has played 1661 minutes this season compared to Fernandes' 2292.
If Donny van de Beek can find some form with a consistent run of minutes in the side, he could come in and fill that role, but he has not yet shown he can provide the same creative spark that has led to twenty-five goal involvements in twenty-seven appearances. While that is not a fair comparison, there are several players that United could look towards to provide such output.
If it is true that United still hold an interest in Jack Grealish, then that looks to be a perfect match – the only deterrent being the extortionate price the Aston Villa midfielder will undoubtably command.
An in-house option could be the aforementioned Van de Beek, or perhaps the French youngster Hannibal, who has been effective for Neil Wood's U23 side.
A fluid and free-flowing attack
As the second-top scorers in the league, United don't have too much of an issue in finding the net, with Marcus Rashford in flying form, and Mason Greenwood providing an effective outlet, his scoring numbers likely to increase in the near-future.
Amad Diallo looks to be an intriguing option off the bench, but the main shortfall of the attack is Anthony Martial, who has not impressed this year. Compared to Gabriel Jesus and Sergio Aguero, the Frenchman doesn't look to be the quality of a title-winning centre-forward.
If he was to play the same role as Roberto Firmino for Liverpool, he could perhaps be the required man, but he does not look able to press with the same intensity, and rarely contributes to the attacks like the Brazilian does for the Merseyside club.
The rumours of Jadon Sancho have flared up once more, and United are in desperate need of a competent right-winger with Greenwood struggling this season. Daniel James has impressed when featured and is likely to start in the derby. However, a world-class option is needed and Sancho could well fulfil that role.
With regards to a centre-forward, Edinson Cavani provides the talent required – for now. The Uruguayan is 34 and a replacement will be needed – perhaps the prospect of Erling Haaland will be too much to pass up. But the striker looks more likely to sign for United's rivals across town, and so United's interest in the likes of Kylian Mbappe, Harry Kane or Lautaro Martinez may need to be explored, should the Norwegian follow in his father's footsteps in choosing City blue.
United are currently second in the Premier League table – a second-placed finish looks to be possible, but their recent dip in performance shows the chasm in quality between them and their local rivals.
For the Reds to improve, they need to make up these fine margins – but whether they will strive to win titles over settling for UEFA Champions League qualification is a different matter.