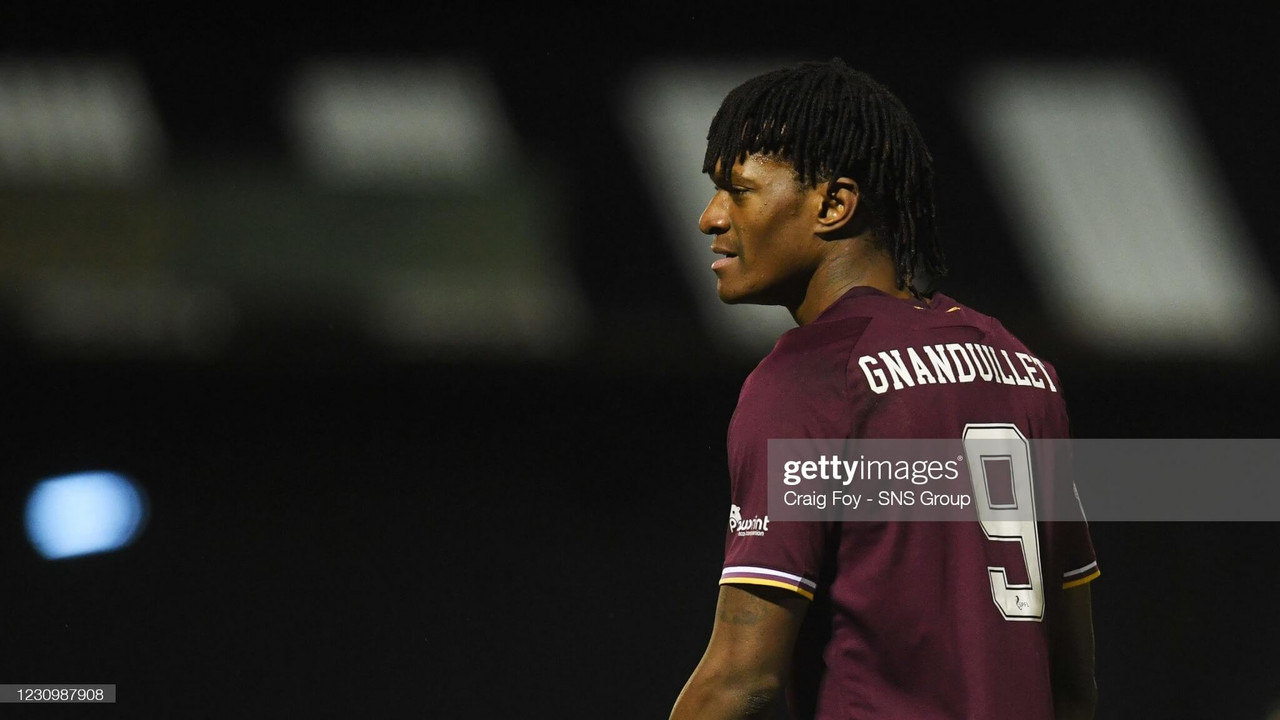 A familiar name within English and in more recent times Scottish football, Armand Gnanduillet has had his fair share of experiences, both highs and lows, during his career so far.
The 29-year-old, perhaps most recognised for his time with Blackpool currently plies his trade with Hearts of Midlothian and played a key role in their promotion back to the Scottish Premiership last season, having scored five goals in 13 appearances after arriving in Edinburgh in January on an 18-month contract.
I was fortunate enough to catch up with the Frenchman recently, as he talked openly about an array of different topics such as his time with Blackpool, his brief spell in South Africa and being happy with his current club.
The beginnings
Born in Angers a city in Western France, Gnanduillet had a keen interest in football from a young age, the 29-year-old spoke about his beginnings in the sport and why it was an easy choice to dedicate himself to football.
"Well I always wanted to practice sport in a high level and football is so famous in France so it was an easy choice, but the journey has been tough and it's still hard"
Moving to England
After beginning his career on the books at Le Havre and having a short spell with AS Poissy, a team based in the outer suburbs of Paris, Gnanduillet found himself on the radar of the then Chesterfield boss Paul Cook in early 2013 who offered the Frenchman an opportunity in English football after a successful trial period. Gnanduillet explained the move in more detail and revealed the significance of moving to the UK to fulfil his football dream.
"It was good, Chesterfield was my first club in England and where I signed my first professional contract, so I will not forget it."

"Every true lover of football wants to come and play in the UK, so that's why I made the choice to come over there."
The Blackpool years
After three years with Chesterfield and a brief spell with Leyton Orient, Gnanduillet joined Blackpool where he'd enjoy four successful years in two spells with the Seasiders, the 29-year-old was happy to reflect on his time in Lancashire.
"The first two years were hard individually cause I didn't really play as I wanted. But we were promoted and I had a big part in the playoffs so I was happy."

"My two last seasons with Blackpool was when I showed what I was capable to do, scoring goals, giving assists and playing some good games."
The short spell in South Africa
Gnanduillet's two stints with Blackpool were divided by a brief and underwhelming spell in South Africa, when the Frenchman swapped Blackpool for Baroka before returning to Lancashire after just two months. He revealed what prompted his initial move to the South African team and why he returned to Blackpool so shortly after bidding farewell to Bloomfield Road.
"It was just not the right choice. I was disappointed (at Blackpool) to be a squad player who played just few minutes every game and in the cup games, I was gutted and not enjoying myself anymore that's why I left."

"But it wasn't the right decision (to move to Baroka) I wasn't focused at that time at Blackpool and that's why I made the decision, but over there it didn't turn how I was expecting so I had to come back."
Happy with Hearts
After a brief spell in Turkey Gnanduillet returned to the UK in the winter, joining Hearts and playing a key role as the team earned promotion back to the Scottish Premiership. The Frenchman expressed his happiness in the Scottish capital and talked about the recent promotion, as the Jam Tarts returned to the top flight of Scottish football.
"For me Hearts is the best club where I could play after everything that's happened to me. I had a warm welcome from the staff and players who take care of me. I have scored and gave assists and I've enjoyed training and playing, I lost this feeling when I was in Turkey."

"To finish with a promotion is amazing for me, as the last season has been the hardest of my career. I am very much looking forward to next season now."
Game of his career so far
To conclude the interview I put Gnanduillet on the spot by asking him what has been the best game of his career so far, he singled out a recent encounter that springs to mind.
I don't really know which one I will choose... I will say for Hearts against Dundee last season, because it's the last one I've been satisfied of myself.