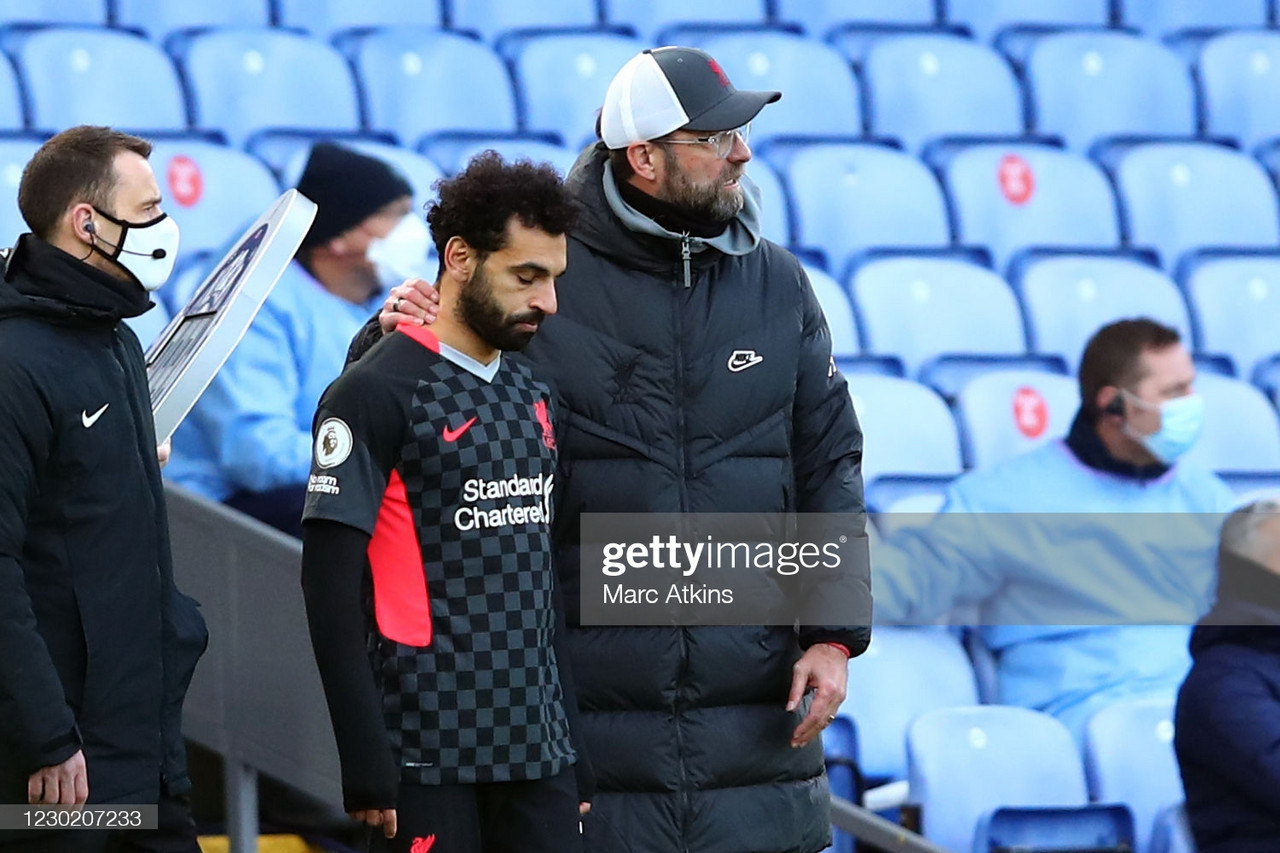 Liverpool manager Jurgen Klopp has revealed that the club are currently in talks with Mohamed Salah over a new deal.
The Egyptian has two-years left on his current deal, which was signed in 2018 following his scintillating debut season at Anfield in which he broke numerous Liverpool, and Premier League, records.
Following Virgil Van Dijk's new deal last week, Salah is understood to be the club's second highest earner, but it has been speculated that a new deal could see his wage packet exceed the one the Dutch international receives.
A deal to extend the 29-year-old's stay at Anfield, especially during his prime years, would be a huge statement for the player and club alike, with his future fueling speculation dating back to as early last season.
What did Klopp have to say?
When speaking to the media ahead of his side's first game in front of a full capacity Anfield since March 2020, Klopp confirmed that talks between the club and Salah's representatives have got underway.
"We are all adults, we're all professionals. When there are talks, and there are talks, and when there's a decision, I will tell you.
"But with two years left, you can imagine that there are talks, that's it.
"I'm involved in pretty much everything in the club, maybe some talks happen without me, that's possible. Apart from that I know about all the things.
"It's how it always is, we don't speak about these kind of things. I know it changed it little bit with Hendo [Jordan Henderson's recent contract saga] but that doesn't mean we will tell you [the public] about each little step we make in negotiations."
Salah has been a revelation since he made the switch from Rome to Merseyside in the summer of 2017. The Egyptian is currently placed 12th in the club's all-time top scorer list - with his 126 strikes ranking him above the likes of Ian St John and John Barnes.
And the Egyptian was on hand to, again, rewrite the history books last weekend as the Reds got their new Premier League campaign off to the perfect start with a 3-0 victory over Norwich. Salah's second-half strike ensured he was the first player to score on five consecutive opening matches of a Premier League season.
And his manager has insisted that his desire to break records is the driving force behind the No.11's remarkable exploits.
"I don't have to remind him [of records], he knows that. Mo is aware of all these things. So, it's absolutely fine. He enjoys the time here.
"Breaking records is great, absolutely. The records he broke already are absolutely insane. So, I obviously didn't know last week when he scored the goals that he was now the first player in the history of the Premier League to score in the first game in five consecutive seasons.
"If there are any records out there, he will know about it, he doesn't have to change his style, he can just play his football."
Salah's Anfield status was further increased last season as the Reds' season capitulated, just a matter of weeks into the new year. With the likes of Roberto Firmino, Sadio Mane and Trent Alexander-Arnold all struggling to find form, Salah, though, maintained his optimum level throughout, finishing the season 31 goals.
This, coupled with his form over his previous four years, has led to him being labelled, by many fans, as a Liverpool great. However, Klopp has insisted a place alongside some of Anfield's previous icons is not something he has spoke to his talisman about.
"I never told him that he could be one of the biggest Liverpool legends ever because that's nothing you go for. Records? Yes. But becoming a legend? People will judge you like that after after your career probably and that's fine. So, now he's in a good mood. Hopefully that can say like this."