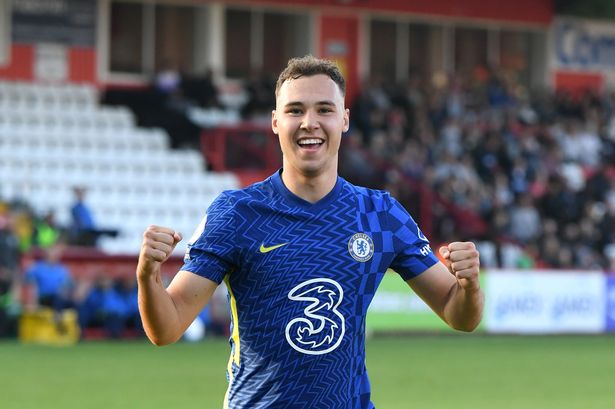 Who is Harvey Vale?
The Chelsea under-19 team swept Malmo's equivalent team away this afternoon with a 4-2 victory. One player who was absent from the team though was Crowborough born 18-year-old Harvey Vale, who travelled with the first-team squad for the second time in a week.
Vale, a versatile midfielder joined Chelsea from Fulham as a pre-teen and signed his first professional contract last September, though he began last season with the under-18s, he was soon involved with the Development Squad, contributing seven goals and eleven assists from various starting positions in 28 games[1].
As a child he asked his mum if he could change his name to Ronaldo[2] despite beginning life as a left-back and tonight he will hope he is able to make his professional debut in the Champions League, as a peer of his Portuguese idol, who at 36 is double his age.
A substitute in Sweden:
With first-team regulars Mason Mount and Mateo Kovacic not having travelled to Sweden with the squad, tonight could be Harvey Vale's chance to follow in the footsteps of the few players who have gone straight out of the Academy and into the first team without having been loaned out at any point.
Vale and his Academy teammate Jude Soonsup-Bell have been catching the eye of those who play close attention to the club's youth teams, with impressive and consistent performances. Most people are now aware of the strength of the Academy set-up at Chelsea, based on the players who have progressed into becoming regular starters not just for Chelsea but also national teams, and the serial trophy wins in domestic competitions against rival peer groups. Just last month, the Development Squad beat League Two sideBristol Rovers 2-1 away from home in the Papa John's Trophy, a team of men vs boys.
Getting game time:
Eagle-eyed viewers of Antonio Rudiger's Instagram feed will have spotted Vale sitting behind him and Trevoh Chalobah on yesterday's flight to Malmo, the only player without a professional appearance to his name to make the trip. Also on the flight was Christian Pulisic who will be looking to make his first appearance since the opening game of the season against Crystal Palace and will likely compete with Vale for a substitute role in tonight's game, with Thomas Tuchel keen to get the American back to fitness.
It is unlikely that we will see Vale make his debut for Chelsea unless the score line is comfortably in their favour with minutes left on the clock, but that is not impossible with this team as we know. His inclusion shows that he is a player in transition in the eyes of his manager Tuchel, who sees Vale in his team's future, and as a good man-manager knows, he needs to nurture that development now and acclimatise the player to what it means to be a professional.