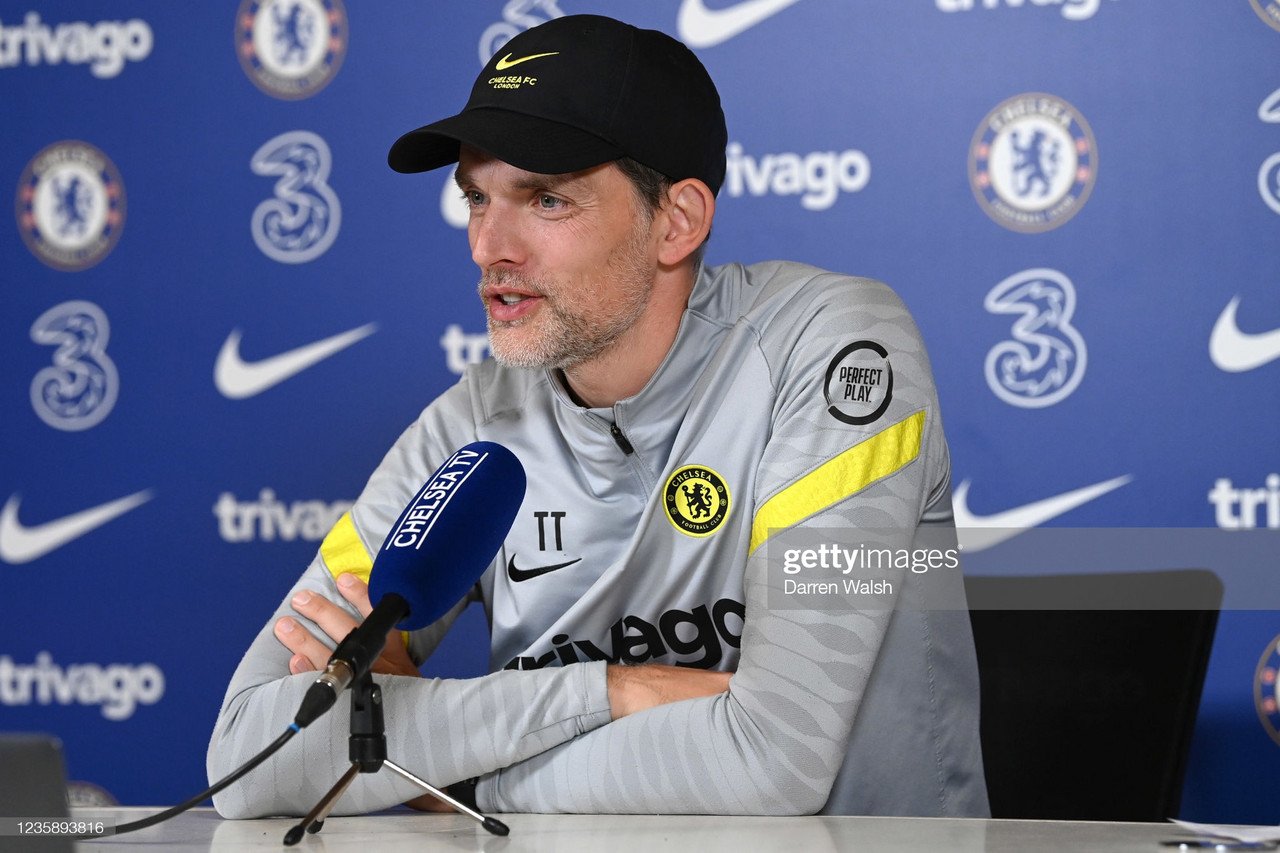 Prior to Chelsea's Saturday evening Premier League clash against Thomas Frank's Brentford, Thomas Tuchel spoke to the press about the South West London derby.
The Blues go into the game top of the table, though their opponents are an impressive seventh, so it's set to be an interesting clash between the two sides.
During the press conference, Tuchel gave updates on team news and injuries, the recent Newcastle United takeover and on the the Ballon d'Or award with five of his players nominated.
Here are the five most important quotes from when the German coach spoke to journalists earlier today...
Tough Game Ahead
'They will be up for it but we will need to be. They will play with a lot of enthusiasm and they caught momentum already after getting promoted after so many years when they were trying hard.'
'They have so many points and such good results. They are doing a fantastic job and the atmosphere will be like this. They will play with a lot of courage and confidence but we cannot be surprised. We know all of this and it is up to us to adapt to it and to accept the situation like it is.'
💬 "We are playing against a world class team but in the end it is 11 vs 11. 𝙏𝙝𝙚 𝙗𝙧𝙖𝙫𝙚𝙧 𝙬𝙚 𝙘𝙖𝙣 𝙗𝙚, 𝙩𝙝𝙚 𝙗𝙚𝙩𝙩𝙚𝙧 𝙘𝙝𝙖𝙣𝙘𝙚 𝙬𝙚 𝙝𝙖𝙫𝙚"

Thomas Frank on this weekend's derby 👇#BrentfordFC #BRECHE https://t.co/8IWws0fKGr

— Brentford FC (@BrentfordFC) October 15, 2021
It's clear from Tuchel's comments regarding the opposition this weekend that he is ensuring his side don't underestimate Brentford as other teams this season appear to have done.
The Bees have been mightily impressive thus far, surpassing many expectations from those who may have expected them to struggle after being promoted so recently.
In quite the opposite fashion however, Thomas Frank has led his side to three wins, three draws and only a single loss in the Premier League so far this season - on par with the likes of Manchester City, Manchester United and visitors Chelsea.
Team News
'Thiago [Silva] will be back in the afternoon, hopefully safe from his match in Brazil. We had our talk today about Brentford, had our tactical training today and he missed all that. [So] he is not available. Toni Rudiger is injured [...] so he is not available.'
'Christian Pulisic is still injured and we have doubts over Hakim Ziyech, he missed the last two training sessions with a headache [...]. Romelu [Lukaku] is fine, doing all the training sessions and doing OK for tomorrow.'
As is often the case after an international break in which players' fitness is truly tested, there are a selection of injury concerns to pick out from the Blues' squad.
The absence of Thiago Silva is no surprise given the travel arrangements he has been forced into, and Antonio Rudiger's injury was known about before Tuchel addressed the media.
Two players who remain out are wingers Christian Pulisic and Hakim Ziyech in a blow to the selection options for Saturday but Romelu Lukaku's readiness to play is a huge advantage if he can continue the form he found during Belgium's game against France.
Newcastle Takeover
'In general yes, in general yes, and I think it's normal to have concerns [about where the money has come from]. But we trust the Premier League and they have accepted - they are the authorities in this case.'
'This is a fact now that they allowed it, they have new owners, the new owners seem to be very promising for the fans and for a famous club here in England. And it seems that we have a new competitor for titles and for places in the top ranking and this is what we are here for.'
After news broke this week that Newcastle's long-talked about takeover saga had finally been completed, Tuchel was relatively tight-lipped on the situation.
While he shares the view of many that it is concerning over where the investment money has originated from, he is also among those who believe it is advantageous for the competitive nature of the Premier League.
Whether his proclamation that there are new title challengers will come to fruition quite as soon as this season is uncertain, but it does seem likely that the Magpies will be fighting near the top of the table some time soon.
Ballon d'Or Nominations
'I am not into individual awards. It is a team effort. What we did last season was a team effort. We were more than just single players. We were a team and a group of friends almost. We felt like a strong club, the guys were a strong team in every single game.'
'I'm happy when there are five names from us because it shows that is is valued and that the guys did a good job and are in the spotlight. I hope that one of our players gets it because then it will increase the confidence and everything you need to become a good player.'
No clubs have more Ballon d'or nominees than Man City and Chelsea 🏆 pic.twitter.com/TkGDdpKq8v

— ESPN UK (@ESPNUK) October 12, 2021
From the German boss' words it's not hard to understand his opinion on such awards as the Ballon d'Or, and these views were referenced back when he won UEFA Coach of the Season in August.
He sees football as an entirely team game which, while recognising individuals for their ability, requires everyone to be at a top level in order to function properly and win competitions such as the UEFA Champions League.
That said, it's important to point out that Tuchel is still proud of his players, noting his hope that one of the five who are on the nominations list go on to pick up one of the most-coveted awards in the game.
Easy Run Of Games?
'I cannot agree with you less because you used the word easier. I can agree if you mean like that we have seven games where we are seven times the favourites and we have seven times to prove we are the better team because we want to be the better team.'
'It is seven different ones and tough ones and I have coached an underdog team long enough in Germany to know how capable you can be as a group to close the gap in modern football. It is possible in modern football.'
Matchday minus two! 👊 pic.twitter.com/ByfBRe7zMT

— Chelsea FC (@ChelseaFC) October 14, 2021
With Tuchel immediately wanting to shut down any suggestion of Chelsea's upcoming games being so-called 'easier' fixtures, it's clear he refuses to ever underestimate any opponent, regardless of form.
While he wants his side to be confident going into all games, believing they can win, he recognises the need to not be arrogant, always ensuring the same effort is put into each 90 minute fixture.
In fact, his experience in his native Germany with Mainz will serve him well as a reminder of just how possible it is for apparent 'underdogs' to usurp the big guns at the top if they are not fully at their best each time they go onto the pitch.