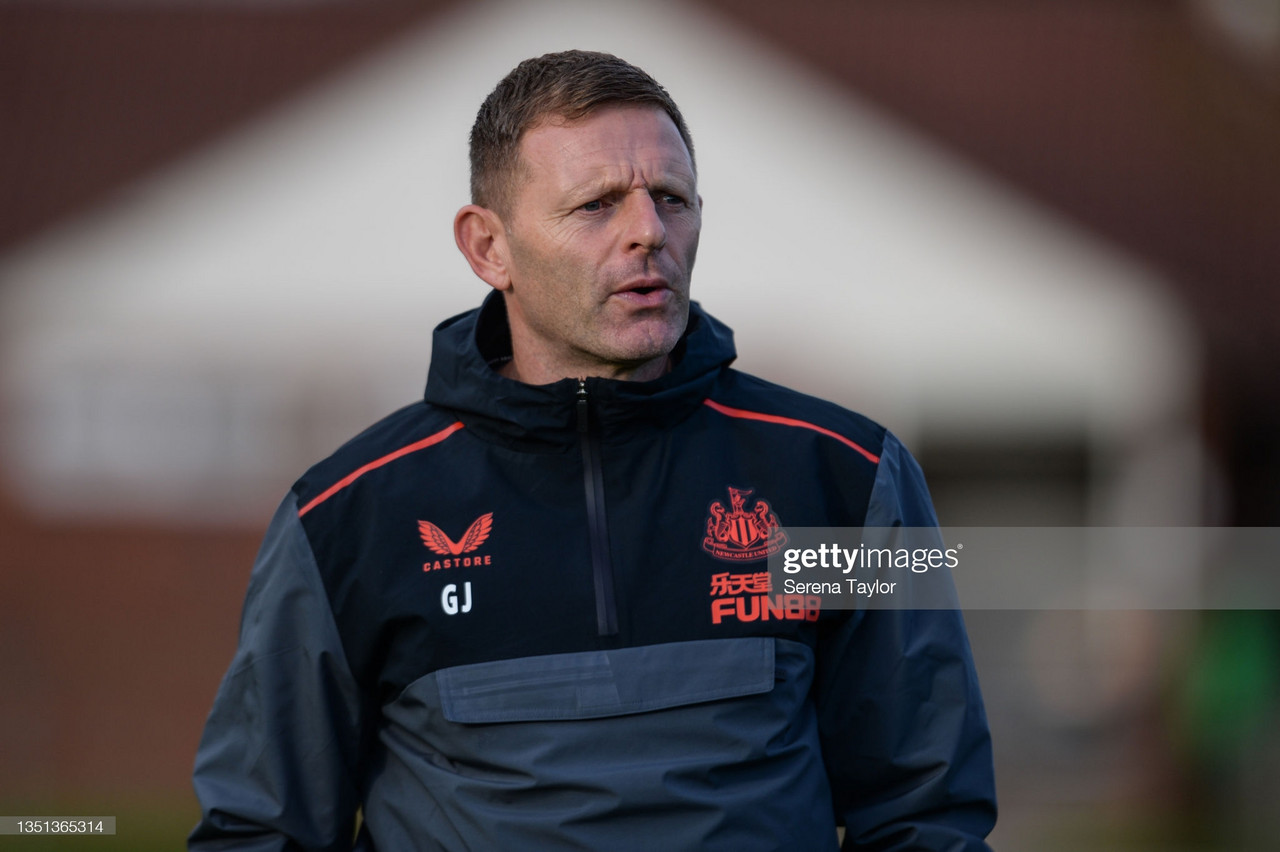 Newcastle United's hunt for a permanent manager goes on, meaning that interim boss Graeme Jones will take charge for a third match running at Brighton & Hove Albion on Saturday evening.
It appears that former Bournemouth Head Coach Eddie Howe is very close to taking over the reigns at St James' Park, and he may well be sat in the stands at the Amex Stadium to keep a close eye on his new players.
On Friday afternoon, Jones, who is likely to return to his coaching role at the club, spoke to the media ahead of United's trip to the south coast.
"I think the team are well prepared."
Fans have been uncertain about who would be replacing Steve Bruce ever since his departure from Tyneside over two weeks ago.
Multiple names have been thrown about with the likes of Paulo Fonseca and Unai Emery both appearing to have signed along the dotted line, only for that to be revealed as false news.
This can't have been easy for the players to deal with either, however Jones insists that the players "haven't lost focus" and are aware of the big game ahead on Saturday.
Jones also hinted that a deal to bring Eddie Howe to the club is imminent after he "communicated with the owners" to get an idea of where things were with the managerial situation.
"The biggest quality in football is to be adaptable."
Jones confirmed that he will take charge, most likely for the final time, at the Amex Stadium on Saturday night.
From a personal point of view, the boyhood Newcastle United fan has had to step up when Bruce's departure was announced, something which was hardly easy for the interim Magpies manager.
The two results under Jones' reigns so far have hardly been inspiring, with a defeat to Chelsea in a game where they were outclassed coming after a 1-1 draw at Crystal Palace. On another day, Palace would have won that game easily if they had their shooting boots on.
Jones is clearly prepared to take the step down once a new manager is confirmed to have taken over and he accepts that after "doing the best for the football club."
"We've managed to get everyone fit apart from Paul Dummett."
Newcastle are really going to need all of their players to step up when a new manager does eventually arrive, but they are leaving themselves in good stead with almost all first-team players being available for selection.
Given the fact that The Magpies still haven't won a game yet this season, passion is going to be key if they are going to get out of the relegation battle that they find themselves in.
Arguably one of the most passionate players at the club in Paul Dummett remains to be sidelined however.
But this is still no excuse and Newcastle need to make the most of their squad in the coming weeks as they look to get closer to those sides not currently in the bottom three of the Premier League.
"Eddie has a wealth of experience but it is not written in stone."
As expected, a big feature of Jones' press conference was on the potential arrival of Eddie Howe.
It is clear that Jones feels a deal is close to completion given his comments but he did remain cautious in what he said.
If Howe is the man to come in, he deserves respect for what he has achieved in his management career and the vast majority of Newcastle fans are keen to see how he will get on at St James' Park.
"It would absolutely be the right appointment."
It seems that more of the press conference was on Eddie Howe arriving, rather than on the game at Brighton!
Having worked with Howe at Bournemouth, Jones knows the likely incoming manager all too well and feels that the new Newcastle United owners are making the right call.
Some just expected a big name manager to come straight in after the takeover but people need to understand that this will need to be a steady process.
Howe will also be keen to show how he brought so much success to his former side by playing an attractive brand of football.