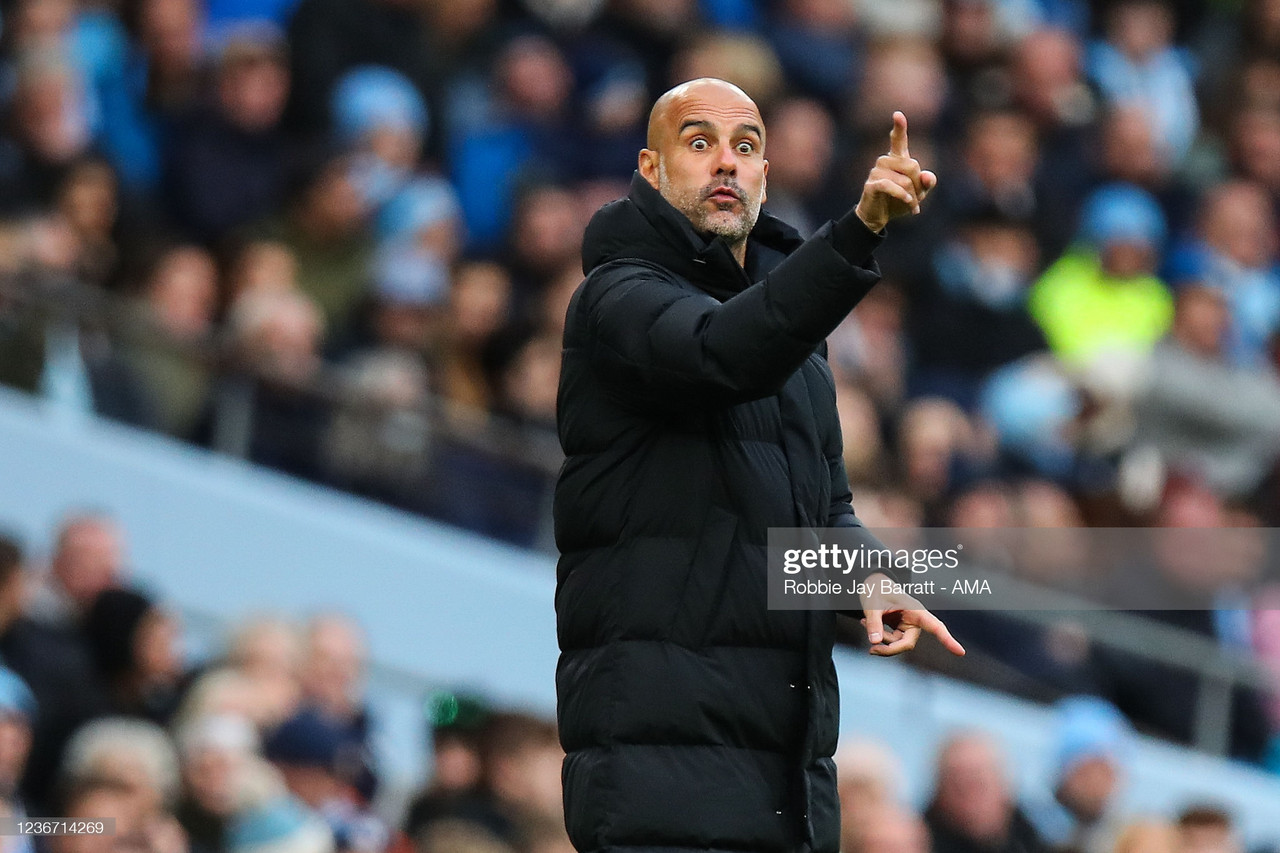 Manchester City were back at their scintillating best on Sunday, brushing aside Rafa Benitez' Everton by three goals to nil.
Pep Guardiola was full of praise for his side following the game, as the Spaniard now turns his attentions towards a crucial Champions League clash with PSG on Wednesday evening.
Here are the key quotes from the post-match press conference.
On Stubborn Everton Defence
Everton's game plan was clear from the get-go, to sit deep and try to hit City on the counter attack.
Guardiola spoke of his delight in the performance against a "master" in Rafa Benitez.
"Rafa is a master of doing the movements defensively.
"When a team doesn't want to attack and they just defend defend defend for a counter attack with (Demari) Gray, (Anthony) Gordon or Richarlison. You have to be careful after set pieces.
"You have to be patient but at the same time give rhythm and make a lot of passes right left left right and when you lose the ball you have good transitions and be patient.
We handled it emotionally much better than other games in the past especially and I am so satisfied and pleased with the performance we have shown after the international break."
Guardiola spoke of his delight in the performance of Raheem Sterling, who has struggled for form of late.
"He needed it and in the first half he was an important player on the right side, going to the by-line and making exceptional crosses.
He scored a brilliant goal, with an exceptional pass from Joao again. He made a good game in a difficult one for the fact that they defend really well."
On Tough Winter Schedule
It was at this point last season that Manchester City began their incredible 21-match winning run.
Guardiola insisted that he is not thinking about that as the side enter their busy festive period.
"We won today, we are going to try and win on Wednesday and then against West Ham. I never thought about the runs."
"What is important that we have an incredibly tough calendar away and at a home. We are not top of the league but we are not far away.
"We will not stop, one game at a time and then we will see how our level is at the end of the season."
On PSG
Manchester City face a huge test on Wednesday evening, as they welcome PSG to the Etihad Stadium.
Pep spoke of the quality that PSG possess, not just up front but across the whole side:
"On Wednesday we have a dream to play against one team that is so special for the huge amount of quality that they have in all departments.
"People talk about up front of course but also in the middle and behind and we hope it will be a good game for us."
On Palmer & McAtee
It was a proud day for Manchester City's academy, with Cole Palmer handed a first Premier League start and James McAtee making his Premier League debut with a late cameo appearance.
Pep spoke of his delight in the performances of the teenage duo:
"It was difficult for the people who play in the middle to find spaces.
"In the beginning we struggled to find him, striker is the most difficult position in the team, but as the game went on he felt more comfortable and showed good quality and good aggressiveness in the final third. He made a good assist and made a good performance.
"Now already he has almost 90 minutes in his mind and his legs in the Premier League, fighting with experienced players."
"I am pleased for his performance and for the few minutes that James McAtee played. He was really good as well, he is an exceptional player too.
On Solskjaer Sacking
There was contrasting emotions on the red side of Manchester on Sunday, after it was announced that Ole Gunnar Solskjaer's three-year tenure at the club was over.
Guardiola wished his fellow manager the best in the future ventures:
"I wish him all the best. It was a pleasure to face him, he beat me more than I wanted!
"When you are in charge of one team like City, like United, like Arsenal, Chelsea, Liverpool or Tottenham you have to win. You have to win otherwise you are in trouble.
"I am still sitting here because we won otherwise it would be another player sitting here. I wish him all the best and hopefully one day we can see each other again."