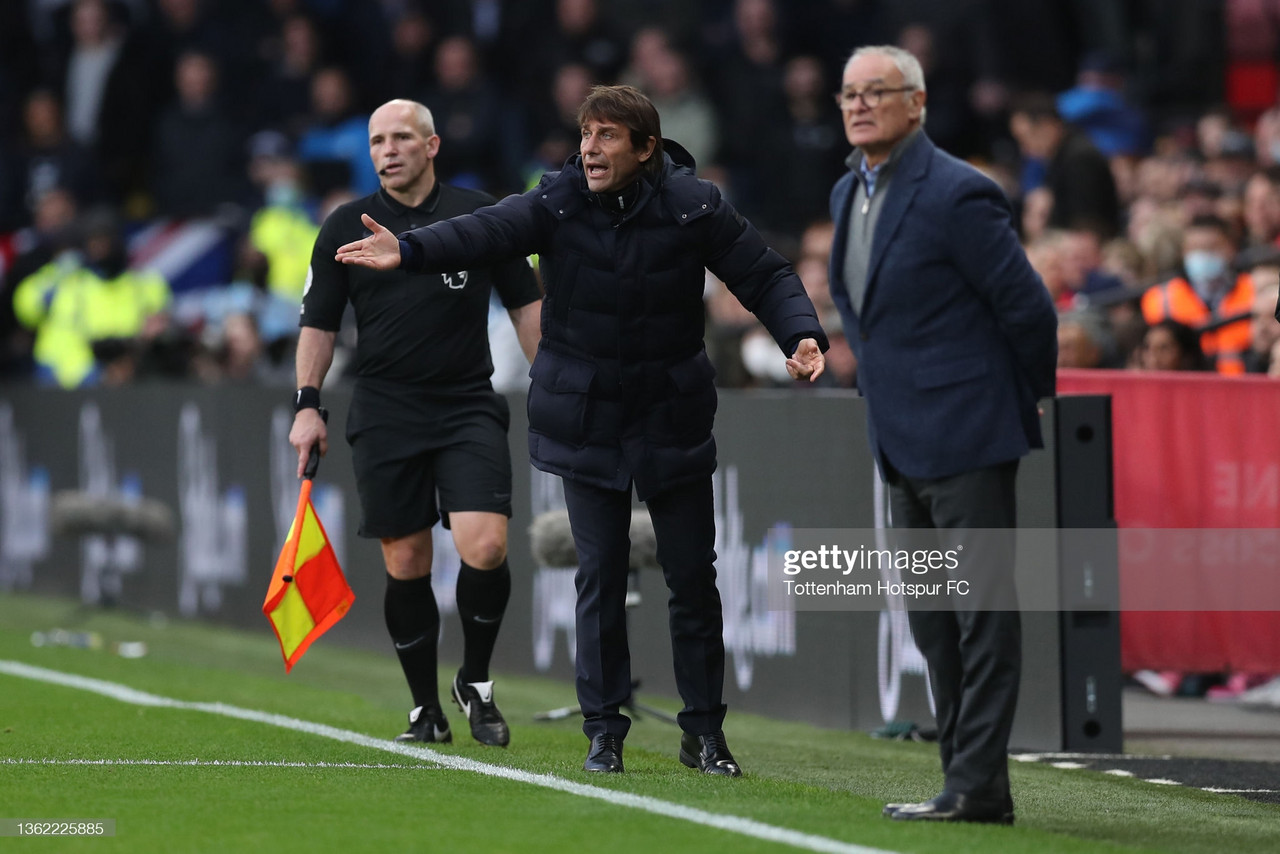 Watford fell to a 1-0 defeat at Vicarage Road on New Years' Day, thanks to a very late Davinson Sanchez goal to win the game for Tottenham Hotspur.
The hosts' had held-off a dominant Spurs for much of the game, leading to a fixture of few big chances.
But with eight additional minutes, following a medical emergency in the crowd, Watford eventually succumbed to Tottenaham's endeavour.
Sanchez rose highest to a Son Heung-Min free-kick from the left side of the penalty area, prodding home in the 96th minute to take three points back to North London.
Here are the key comments from the post-match press conferences.
Conte pleased with chances, but further improvements needed
Since taking over as manager of Tottenham in November, Antonio Conte had gone on an impressive seven-match unbeaten run.
Having extended this run to eight with their victory at Watford, the Italian was pleased with his side's performance.
'We tried and tried for the whole game' despite scoring at the death, he said. 'In this type of game, you have to be intelligent: to attack; to create chances; to score.
Despite an apparent lack of big chances for Watford, Conte was nonetheless pleased with how his side quashed any chance they may have had.
'You have to pay attention to losing the balance, because Watford are very dangerous on the counter-attack, being strong physically and also fast'.
However, the former-Chelsea manager also stated that despite his side's calibre, there were things to improve. Pointed out here was Spurs' often poor final ball.
'I think we controlled the game for sure. But when you arrive at the last pass, sometimes we have to improve, because that's so important.'
Ranieri disappointed with unlucky result
Claudio Ranieri's fortunes as head coach of the Hornets has been quite the contrast to Conte's. Defeat on Saturday made it six defeats in a row for the fellow Italian, marking a run of eight losses from a possible nine.
'What a pity, what a pity', Ranieri said when questioned on the result.
'My players made everything to try to win, or to not concede a goal.'
Feeling that his plan had been pursued throughout - to limit the space Spurs had, which for much of the 90 minutes was maintained - he also made evident that the second half had been stronger.
'I wanted to create more. In the first half, we missed a lot of passes.
'The second half was much better. We had a very good moment with Joao Pedro, and also with Josh King, when [Hugo] Lloris made a fantastic save.'
In true Ranieri fashion, he concluded simply by stating, 'That's it!'.
Watford have things to build off
Despite a frustrating afternoon, Ranieri still sees opportunities where his team can improve.
When asked whether Watford can build off this defeat and take lessons, the Premier League-winning manager replied 'Yes of course.
'But we must now think about everything. That means everything!'
No doubt some tough analysis will be underway at London Colney, in preparation for Watford's next league match two weeks away against fellow strugglers Newcastle United, following the FA Cup 3rd Round next week.
Ranieri also felt that the defeat was one to take some pride in.
'I am proud of my team. And the fans should be proud of the match today'.
Conte ready for the future
Asked on how important the three points were, Conte responded in saying that 'it's always important. We know in every game we have to suffer to get three points.
'We are building our team to try and be competitive in the future, but at the same time we have to be competitive in the present - because we have to play through this season'.
Bearing in mind the run his side have been on, the idea of additional improvements to the team in the future will be music to many Spurs fans' ears.
'We know very well we have to fight in every game but it's important to be humble. To be humble, and to know that in every game we have to fight and suffer to get three points.
'If we know this, then I think everything can improve.'
Tottenham now sit just two points behind rivals Arsenal with two games in hand. To overtake the Gunners would put Spurs back into the top 4 for the first time since August.
For Watford, the wait for a clean-sheet continues as the situation grows ever perilous in their fight for survival.