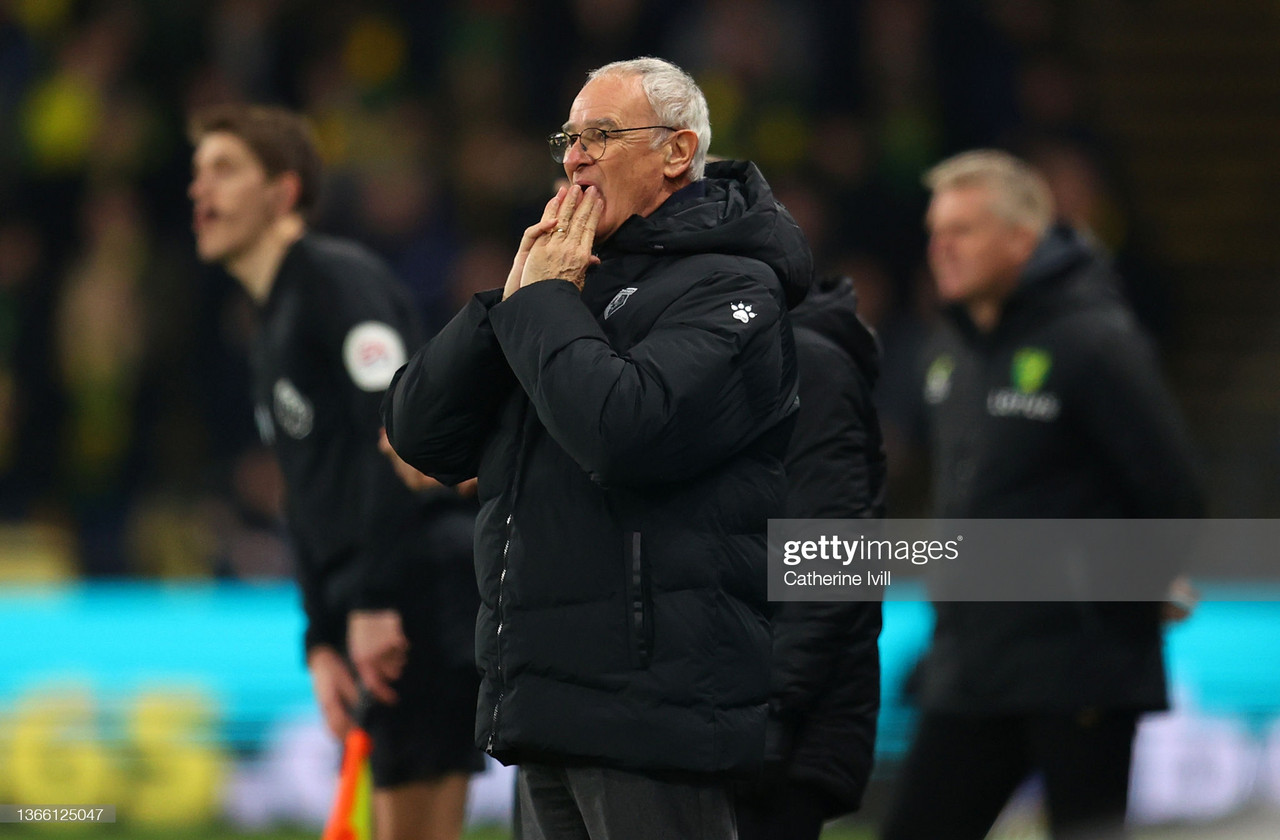 After only securing a point away at Newcastle United last weekend, there was a sense that Watford's Friday night clash with fellow strugglers Norwich City, under the lights at Vicarage Road, was now even more vital.
If The Hornets were going to stay in the Premier League, this was a game they really had to win, or, at the very least, they dare not lose.
So much so, that in week, club captain Moussa Sissoko wrote to fans attending the game in an effort to get the crowd fully behind the team.
Come kick-off, Vicarage Road was loud, fireworks had gone off, and the atmosphere was electric. Unfortunately, the Watford players were not.
Norwich had started the match the brighter, but as the half progressed, Watford did begin to keep the ball better and take control of possession, albeit creating very little from it.
As the half-time whistle was blown, both teams went to the changing rooms needing a big improvement when they returned in the second half.
It was Norwich who were to be the team that improved, taking an early second half lead through Josh Sargent's back-heeled flick in the 51st minute, which just about found its way over the line after hitting the cross bar.
Watford were still in the game at 1-0 down, but Sargent's and Norwich's second goal, shortly followed by Emmanuel Dennis' second booking and red card, soon put to bed any hopes of a Watford comeback.
The final blow for Watford was to be self-inflicted, with an overstretched Juraj Kucka putting the ball into his own net in the 92nd minute to make it 3-0 to the Canaries and send their travelling fans into pandemonium.
Another crucial game gone
Going into a fixture run of Newcastle, Norwich and Burnley, Watford had a real opportunity to stake a claim for Premier League survival and with two of those three games behind us, The Hornets have gained just one point from a possible six.
With Watford grabbing a late point thanks to a fantastic Joao Pedro header, the draw at Newcastle was temporarily considered a potential turning point for the season ahead, but two dropped points at St. James Park meant three points against Norwich were essential.
No only did Watford lose to Norwich, they were embarrassed in defeat.
It's Burnley up next, but the lack of fight shown against Norwich on Friday night suggests the Hornets will continue their downward spiral to the Sky Bet Championship.
Chants of "you're getting sacked in the morning" from some sections of the Watford supporters sum up the mood at Vicarage Road after such a devastating defeat. Claudio Ranieri must now be under serious pressure to keep his job.
Watford's record under the Italian is incredibly poor, with The Hornets losing 11 out of his 14 matches in charge, conceding a staggering 34 goals - an an average of roughly 2.4 goals per game.
Ranieri has been afforded time due to the difficult run of fixtures he faced when he first took the job, but now the time has come to start putting the points on the board in more 'winnable' games, Watford have continued to fail to deliver under his leadership.
At times under the Italian, The Hornets have looked much improved, for example, the Manchester United victory, or the defeat to Chelsea, but these performances were never used as a platform to build on.
In the defeat against Chelsea for example, Watford played brilliantly and had success with Imran Louza at the base of a midfield three, with Watford pressing their opponents high up the field.
However, after losing to Man City, Ranieri moved away from the approach taken in the Chelsea game and opted to sit back and defend against Brentford, dropping Louza for Juraj Kucka.
After a late defeat, it felt like Watford were back to square one.
Ultimately, as endearing as Ranieri has been, he has failed to turn things around when it really mattered after being given leeway due to a tricky fixture run. Games against Southampton, Brentford, Newcastle and now Norwich, were all opportunities to pick up some much needed points, but bar the point at Newcastle, Watford under Ranieri's stewardship, failed to do so.
That isn't to say things are all on the Head Coach though.
Where do Watford go from here?
After the defeat on Friday night, and Newcastle United's win over Leeds yesterday, Watford are now 19th and into the relegation zone for the first time this season. Something which in itself is remarkable given how poor The Hornets have been.
The business done early in the January window - bringing in Hassane Kamara, Samir, and Edo Kayembe - has been fast and decisive, but it all feels like it has come a little bit too late. These were signings that should have been made in the summer.
Despite having the best defensive record in the Championship last season, Watford's defence in the Premier League has been an issue for a number of years now, including the season The Hornets were relegated in 2019/20, yet, at times this season, Watford have fielded mostly the same back line as that season.
After that relegation, Watford fans were promised by club leadership that they had learnt from their mistakes.
Seeing how things have transpired this season, it doesn't appear they have learned much at all.
In the summer, Chairman Scott Duxbury promised young, hungry signings that would help Watford compete in the Premier League. For the most part, Watford signings have been neither young, nor helped them be competitive in the top flight this season.
Duxbury has previously spoken about the Watford model and that, due to the operational structure beyond the dugout remaining consistent, the head coach is essentially dispensable. But what happens when that structure is not working and becomes the problem?
With Burnley up next and a two-week winter break between now and then, the Watford hierarchy will likely make yet another Head Coach change at Vicarage Road, but whoever they put in charge, Watford are a sinking ship, with issues that go far deeper than the man in the dug out.