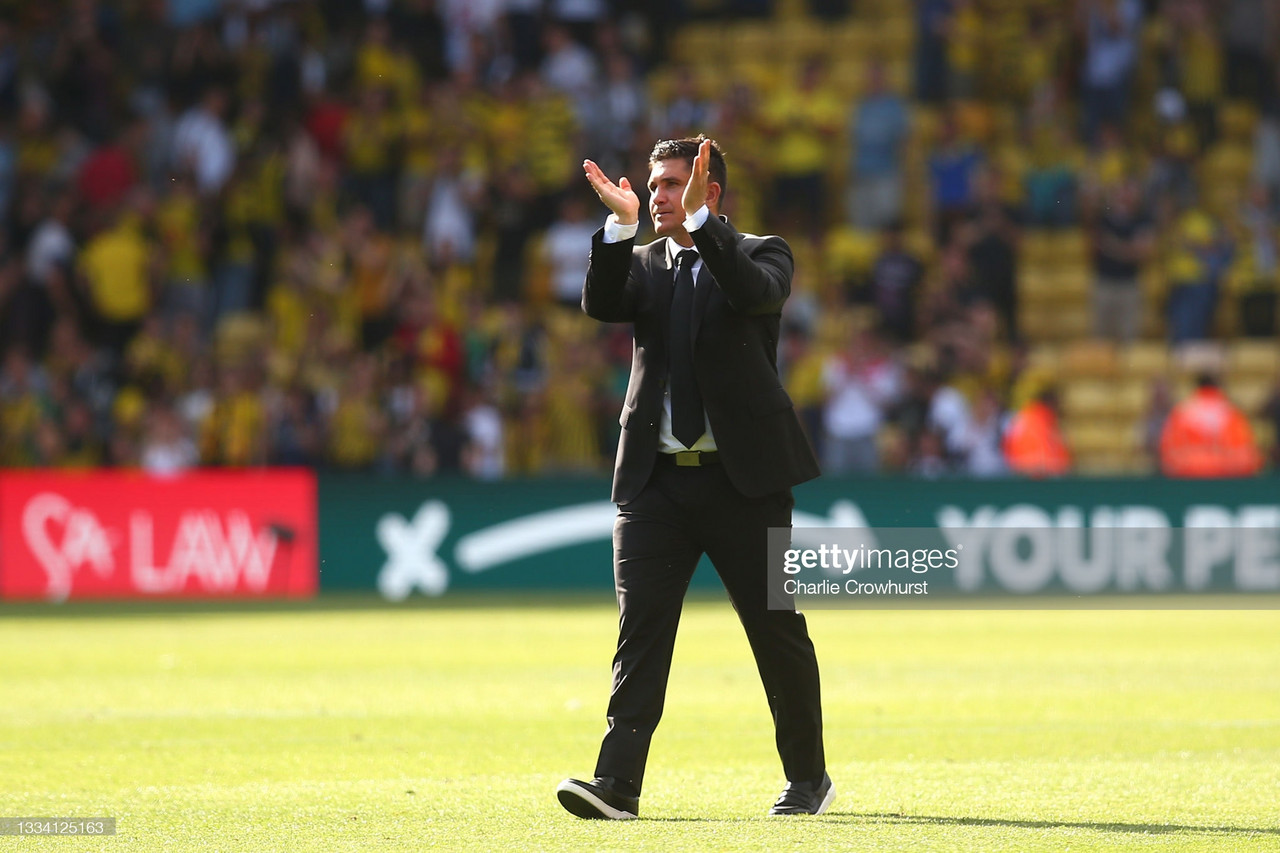 Watford Head Coach Xisco Munoz has spoken to the media ahead of his side's short trip to North London to face Tottenham Hotspur this weekend.
Amongst other things, Munoz discussed learning from last weekend's defeat to Brighton, the challenge of facing Tottenham, and the potential arrival of Frenchman Moussa Sissoko.
Here are five key quotes from the Spaniard's press conference.
Learning from Brighton
Watford made a slow start on the south coast last weekend where they were defeated 2-0 by Brighton at the AMEX stadium. This Sunday, Munoz is keen for his side to learn from that defeat and start quickly.
"It's very important that in the first 10 minutes we give all our best," he said.
"It's important we keep concentrating. The team learned about this situation in the last game away. And it's important when we arrive, we stay in the situation and immediately try to give all the best from the first minute until the last minute of the game."
The challenge of Tottenham
Spurs head into this weekend's game on the back of a Europa Conference League Qualifying win in mid-week and back to back wins in the Premier League. Xisco Munoz was clear on the sort of challenge his Watford side is set to face at the Tottenham Hotspur Stadium on Sunday and explained how they must go about their task.
"We know which team we have in front in the next game, how strong they are and the capacity they have and we know what we need to do." Munoz explained.
"We know they are very good in transition, it's important we try to stop this situation. We will try to have more control of the ball than against Crystal Palace but it is important to not give them the space they want. It's important we stay strong mentally and physically, and also it's important that we play as a team."
Will Hughes' potential exit
Having been in a contract stalemate with Watford this summer, Will Hughes finally looks to be on the way out of Vicarage Road, with Crystal Palace Manager Patrick Vieira confirming that Hughes was having a medical with the club.
When asked about Hughes, Munoz kept it short but sweet.
"All I can say about Will is I wish all the best for him." Munoz explained.
"He's a very good person, a very good player. I wish all the best for him."
Moussa Sissoko's arrival
A few hours after Munoz's press conference, Moussa Sissoko was officially announced as a Watford player, but prior to the announcement, Xisco was happy to discuss the Sissoko links and what the Frenchman would bring to his Watford side.
"He is a very good player." said Munoz
"I think everybody knows he's an experienced player. I think he's a top player and I think he'd be very good for us." Munoz continued.
"We will see if he arrives and if he arrives, always I say the same thing. We will have one option more in our squad to try to give all the best for our team."
Emmanuel Dennis' impact
Summer signing Emmanuel Dennis has impressed so far in his short time at Watford, scoring and assisting in the Hornets' opening day win against Aston Villa and showing a general willingness to work hard for the team.
Xisco Munoz explained that the Hornets were aware of his talent prior to signing him and wants him to continue in the same vain.
"We knew about him, we saw videos of him and we knew his level," he said.
"It is important he continues with the same. He gives us very good things in the last games, and it is important to give this attitude and level in future games."