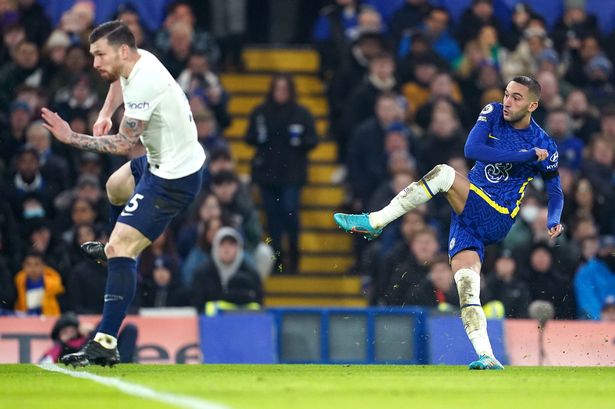 January Blues:
Very few things about Chelsea's last 64 days could be described as worthy of a ten out of ten rating. In that time the team have played 18 fixtures, and though they have earnt a place in the League Cup final next month, they have seen their title hopes dissipate and then ultimately, disappear.
During that time, few players have stood out. Reece James and Ben Chilwell, the two stricken full backs, have been notable for their absences and Romelu Lukaku has largely shouldered most of the criticism from the media, the manager and the clubs' supporters. The tide needed turning against Tottenham, and for the fourth time this season, Chelsea managed a win against their London rivals, with the Man of the Match performance of Hakim Ziyech managing to bring a smile to his face.
Ziyech Delivers:
His third goal in his last four Chelsea starts was by his own reckoning a "ten out of ten", a brilliantly curled left-footed strike that left Hugo Lloris stationery as it sailed over him and high into the net following some dynamism from Callum Hudson-Odoi to take on defenders and find Ziyech on the edge of the penalty box.
When Ziyech didn't celebrate his goal against Brighton last week it seemed defiant, that he had a point to prove, and he had done so. Perhaps not just to Thomas Tuchel but also to the Morocco manager, Vahid Halilhodzic who left him in London instead of taking him to Cameroon and the African Cup of Nations. He cut a clearly frustrated figure when cameras picked him up remonstrating with his team-mate Lukaku at Brighton's AMEX Stadium as they made their way to the dressing rooms for the half-time break. After the game, Tuchel said that he didn't care if he didn't celebrate, if he kept scoring.
It's a Numbers Game:
Against Spurs, Ziyech appeared to almost surprise himself with the quality of his finish, and as he lifted his arms aloft, a broad smile stretched across his face. Over the course of the game, he won 10 duels, recovered the ball 10 times, created 2 chances, and out of his 5 shots, 4 were on target. His strike brought him goals in back-to-back league games, making him Chelsea's most in form attacker and the kind of player we saw in an Ajax shirt a few seasons ago when his signature was secured. Tottenham will also remember those performances.
In Transition:
Ziyech might have been forgiven for questioning his role since arriving in London, and he will be all too aware of the experiences of former team-mate Donny van de Beek over in Manchester, keen to avoid the same alienation. The criticism he received from his national team manager raised the question of whether Ziyech possessed the characteristics desired of a professional footballer, but it is important to note he disputed Halilhodzic's claim that he refused to play for Morocco.
Despite largely being on the periphery since signing for Chelsea, Ziyech has made no public comment if he has felt disgruntled, choosing to do his talking on the pitch in a way that Lukaku must surely envy. The broad grin that appeared across his face said it all. It was the gift that Chelsea needed to break their recent run of bad form and it was the effort of a man who has had the finger pointed at him on a regular basis since his arrival.
Feeling 22:
Ziyech showed the relief that many inside Stamford Bridge felt, and he will doubtless enjoy riding high during the extended break before Chelsea take on Plymouth Argyle in the FA Cup, in the best form of his Chelsea career so far with six goals in total this season. Thomas Tuchel got the goal he wanted from Ziyech, and the smile you can assume, is an added bonus, a sign that Ziyech is happy with the impression he is giving of himself, and that Morocco's loss has certainly been Chelsea's gain this January.