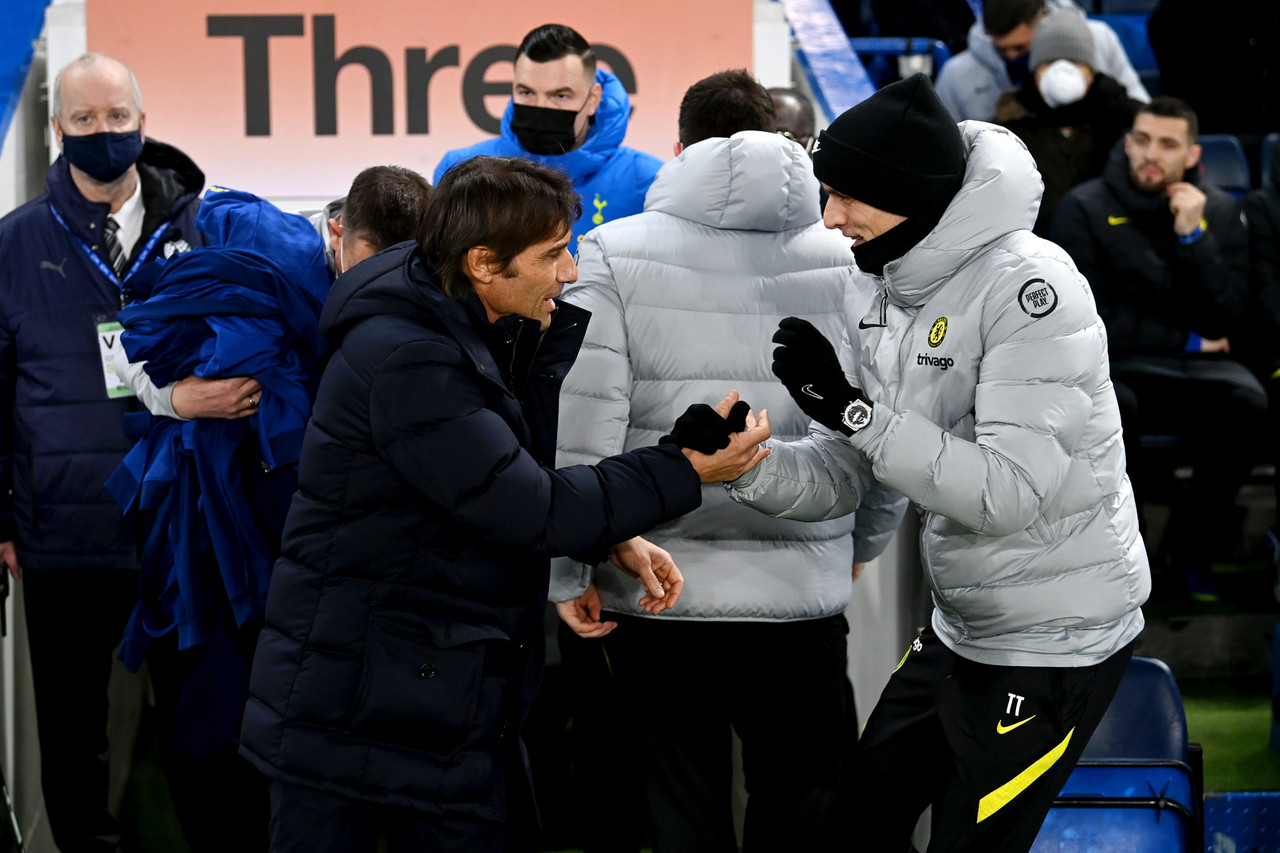 Chelsea host London rivals Tottenham Hotspur at Stamford Bridge on Sunday afternoon in a 4:30pm kick-off with Antonio Conte's side hoping to cut the eight-point gap between the two sides.
Thomas Tuchel's side go into the game having won just once in their past seven league fixtures, leaving them in third place.
Here's what the German had to say at his press conference on Friday afternoon…
Tuchel on Spurs
With Sunday's fixture set to be the third meeting between both sides in January, Antonio Conte's side are one that the former PSG head coach knows all about.
"It's a London derby, it's a big rivalry. And now it's the third time in a very short period of time," were Tuchel's words on the fixture.
In the previous two contests, Chelsea have been victorious in both, booking their place into the Carabao Cup final. However, Tuchel believes the wins does not give them an advantage going into Sunday's fixture.
"We do not have an advantage because we won the other two games. The best way to stay ahead of them is to directly beat them. It's a big match – they know what we do and we know what they do.
It is not about having an advantage or being philosophical – it is about delivering."
With both managers often paying a huge attention to detail, it's set to be nothing less than a cagey affair in West London.
The 48-year-old continued: "Do not get confused and think that because they lost twice they won't have ambition. Antonio will prepare his team to win and beat us."
Spurs are still unbeaten in the league since the Italian took over and come into the game after a tremendous turnaround on Wednesday night at the King Power Stadium. Steven Bergwijn's double within the last two minutes meant Spurs took home all three points in midweek.
Squad Morale
With the Blue's currently on a difficult run of form and losing ground on league leaders Manchester City, Tuchel spoke a lot regarding the squad and the mood in the camp.
He confirmed he gave his players two day off after the Brighton game to "de-connect a little bit."
Tuchel said: "The two days alone does not solve everything. It was good to have, and after this game we will have another chance to give the majority of the players another two days off, because we simply need it."
The difference in squad morale is something the Blue's boss feels last Saturday's fixture at the Etihad Stadium had a huge part to play.
"After the loss against Manchester City and the gap opened enormously for us, and playing two days later on a Tuesday again, I could see, I could feel from myself and from the team, that some emotions took over, maybe frustration, maybe disappointment.
This was the first time it has happened so we should not make too big a deal out of it."
With second place Liverpool playing before Chelsea on Sunday, Jurgen Klopp's men have the opportunity to open the game between the two sides to four points. Thomas Tuchel will be hoping to have all his players fully fit and firing for the London Derby.
Romelu Lukaku
After Chelsea's record signing recently spoke out regarding his desire of one day returning to Inter Milan, Lukaku has come under scrutiny, with the goals also drying up for the Belgian international.
Lukaku had been dropped by Tuchel earlier on in the month for the fixture against Liverpool.
When asked whether the spotlight had been unfairly trained on the 28-year-old, Tuchel replied: "Welcome to the reality. We are judged and that is the daily business. But it's rare in football that any problem is a one-thing solution – Romelu is not the only one we rely on to win games."