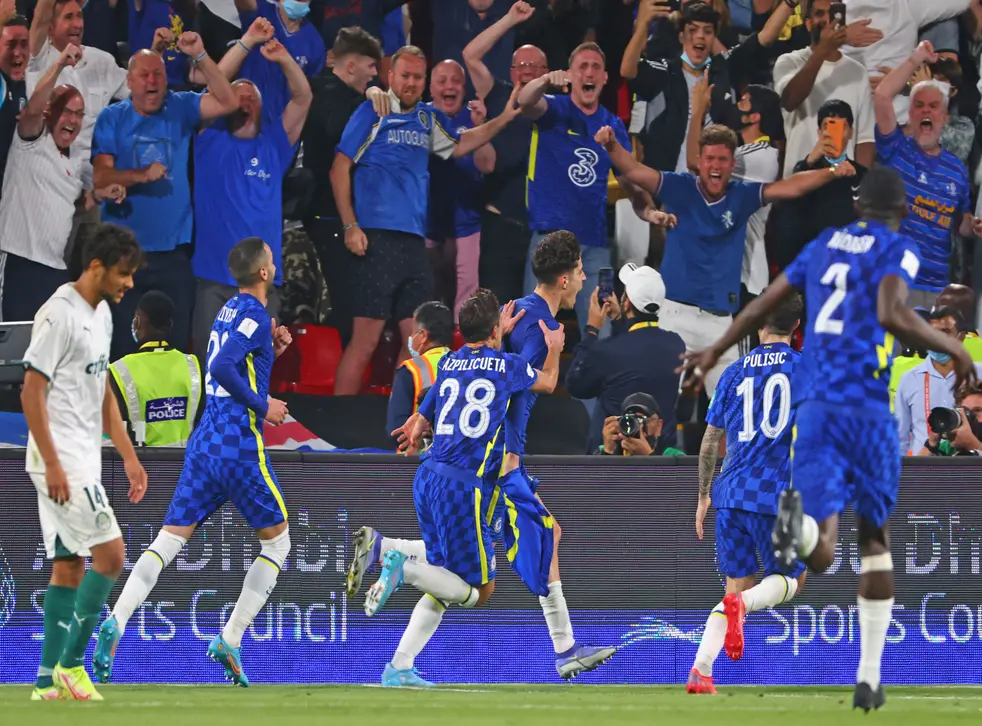 In what would be the first of two finals in just over two weeks for Chelsea, manager Thomas Tuchel restored the returning AFCON Champion Edouard Mendy as his first choice goalkeeper, with Kepa dropping down to the bench. Callum Hudson-Odoi replaced Marcos Alonso on the left wing. Romelu Lukaku, whose goal against Al-Hilal sent Chelsea through to this final was the only member of their starting line-up who was not involved in Chelsea's Champions League winning campaign.
Kick-off in Abu Dhabi:
If you didn't manage to catch the first 30 minutes of this match then you would have missed Mason Mount's appearance which was unfortunately cut short due to injury, but little more.
Dudu was Palmerias' brightest player but neither side looked comfortable in front of goal. Chelsea weren't able to create or threaten in or around the opposition penalty box in a slow-paced game, not managing to hit the target until the 35th minute.
Thiago Silva had arguably the best chance in first half stoppage time, shooting from over 30 yards out and forcing an acrobatic save from the keeper earning a subsequent corner but it remained scoreless at the break.
Second Half:
Tuchel's side came out for the second half playing at a much higher tempo but still lacking the quality and delivery from set pieces to cause any real trouble for the Brazilian team. But, ten minutes into the second half, and Hudson-Odoi delivered in a pinpoint cross from the left hand side that was met by a thunderous Lukaku header that sailed past the goalkeeper Weverton.
Just a few minutes later, Palmeiras were awarded a penalty through a VAR review after Chelsea's Thiago Silva committed a handball offence with his arm raised above his head. The spot-kick was taken by Raphael Veiga, who sent Mendy the wrong way, scoring his second goal in two games.
The stadium was rocking with the noise of the Palmeiras supporters and it was all to play for with 25 minutes left.
Who could breakthrough?
Palmeiras were growing in confidence but it was Chelsea who came closest to securing a winner with opportunities coming for Christian Pulisic and Kai Havertz.
Slightly surprisingly both managers chose to take off their goalscorer's with over 15 minutes of the 90 minutes still to play and whilst it seemed like Palmeiras were beginning to tire, it was Chelsea who were playing with the intensity to try and win the game in the closing moments.
Extra-extra!
Extra-time remained tightly fought and the first 15 minutes passed by with Chelsea substitutes Timo Werner and Hakim Ziyech causing Palmeiras problems as they attacked down each wing. It appeared as if the Brazilian's were going to be happy to see the game decided via a penalty shoot out when the game began to slide away from them.
The unfortunate Luan was hit in the arm by a shot from Chelsea captain Cesar Azpilicueta as the game entered its last ten minutes and VAR again awarded the penalty. With Jorginho on the bench it was Kai Havertz, Chelsea's match winner in the Champions League final, who stepped up and coolly slotted past Weverson.
Luan's misfortune was to continue when VAR again intervened to deem his last ditch challenge on Havertz, again bearing down on goal, a red card offence as the last defender. This was to be the last significant action of the match before the referee's whistle signalled Chelsea's second trophy win of the season so far, adding to the Super Cup.
Champions of the World!
So, Chelsea can now proudly say that they have won every competition that they have played for in their history, and Cesar Azpilicueta has won every trophy he could as a Chelsea player. Achievements worthy of being witnessed by the club's owner Roman Abramovich who was applauding his team's latest success from the stands.
Chelsea will be heading back to London with some extra baggage but cannot afford to revel in their glory as a return to the gruelling Premier League schedule awaits, and the small matter of another final this month to come.