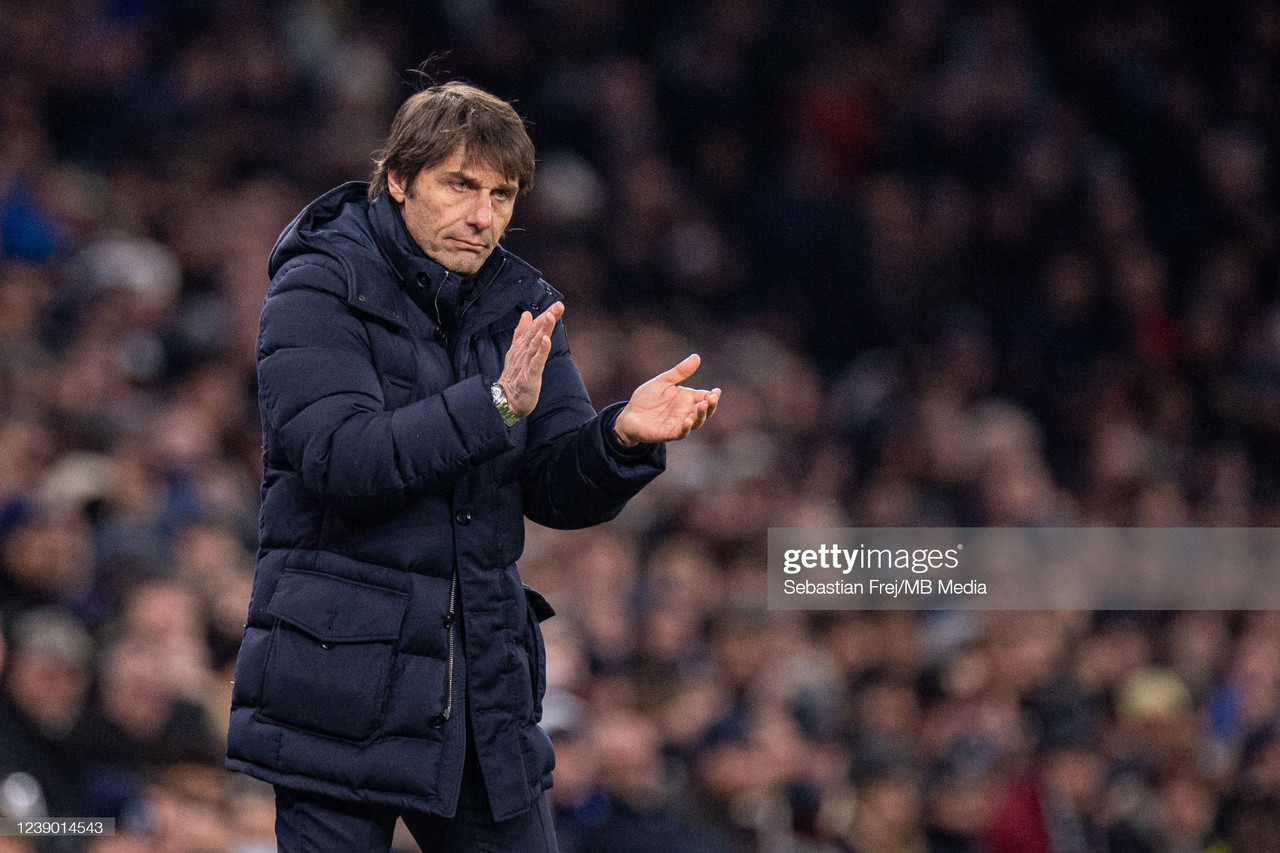 Monday night's result was a much-needed one for Tottenham Hotspur, who registered a supremely good performance to put relegation candidates Everton to the sword and earn their first home league victory since Boxing Day.
Michael Keane's own goal just 14 minutes in gave them an early advantage and Heung-min Son and Harry Kane both struck to make it three before the break. Spurs had a fourth less than a minute into the second-half through Sergio Reguilon, before Kane completed the rout with a sublime volley in the 55th minute.
Head coach Antonio Conte addressed the media after the match — these were his most noteworthy quotes.
On the overall performance
This was about as comprehensive as it gets: 5-0 up just 10 minutes into the second-half, it could have been even more by that point, and Tottenham noticeably took their foot of the gas thereafter. A victory margin of five goals was the very least they deserved in a fine display of their attacking capabilities and intent.
The performance, unsurprisingly, delighted Conte, who insisted that having longer to prepare for this encounter — with a full week on the training ground since the FA Cup tie at Middlesbrough — was hugely beneficial on the night.
"It was a really good performance tonight," he said. "We scored five goals and created chances to improve the result. Many, many positive aspects and I have seen with my staff that when we have more time to prepare for the game, to play against us is difficult for anyone."
On stamping his philosophy
Tottenham were able to win this match so comprehensively for two principal reasons: firstly, their strikers were clinical when it mattered; but secondly, and more pertinently, Conte's three-at-the-back formation caused Everton problems they were simply powerless to resolve.
The performances of right-flank duo Matt Doherty and Dejan Kulusevski were particularly pleasing, with the pair notching a couple of assists each, however this was a collective triumph: they stifled and suffocated Everton brilliantly and Conte's tactical formation and ideology clearly had a lot to do with that.
"I haven't had the possibility of one month to work with the team in pre-season and instil my idea of football. We did this playing games, important games for three points. But I am seeing what we are working on every day, what we are trying in this situation where I'm trying to improve them."
When Kane plays well, he lifts Tottenham up a level or two. His performances can have a transformative effect on those of Spurs and he did just that on Monday night: dropping deep, holding the ball up, finding pockets of space and, most importantly, applying the finishing touches. It was a complete performance from the 28-year old as he overtook Thierry Henry in the all-time Premier League goalscoring charts.
The head coach was full of praise for his striker, but insisted he still wants to see more from a player of such high ability.
"We are talking about a world-class striker," said Conte. "But I tell you after Manchester City, where he scored twice, he didn't score against Burnley. At Leeds he scored again and didn't score against Middlesbrough. Tonight he scored and my expectation is to see again on Saturday a great game, not only for Harry but the whole team."
On staying focused
Such a positive result had 60,000 Spurs fans leaving N17 delighted and likely feeling on top of the world, but Conte was keen to emphasise that he and his players will not be getting ahead of themselves with more crucial battles on the horizon.
In particular, the Italian wants the focus of his squad to shift immediately to Saturday's trip to Manchester United, an encounter which will doubtless prove crucial in the race for European qualification.
"I want to tell you that I said to my players, 'ok, this is the past, enjoy the result tonight but from tomorrow you have to think about Saturday's game against United.' They're a really strong team, a squad that in my opinion is ready to fight for the Premier League. It will be a real challenge for us and I want to see the answer about my players and also myself."
On ambitions for the remainder of the season
This season has been eventful to say the very least for Tottenham thus far, but it might not have been what many of the Spurs faithful were hoping for with trophies eluding them once more and the possibility that they may fail to qualify for the Champions League for the third season running.
Conte insists that all he wants from his side for the rest of the campaign is for them to give a mighty good go at sneaking into 4th and thus entering Europe's elite competition next year.
"I don't like to speak about ambition and reaching a place in the Champions League because I like to play to win trophies, but in this situation, this could be our Champions League or Premier League title if we are able to reach 4th place."