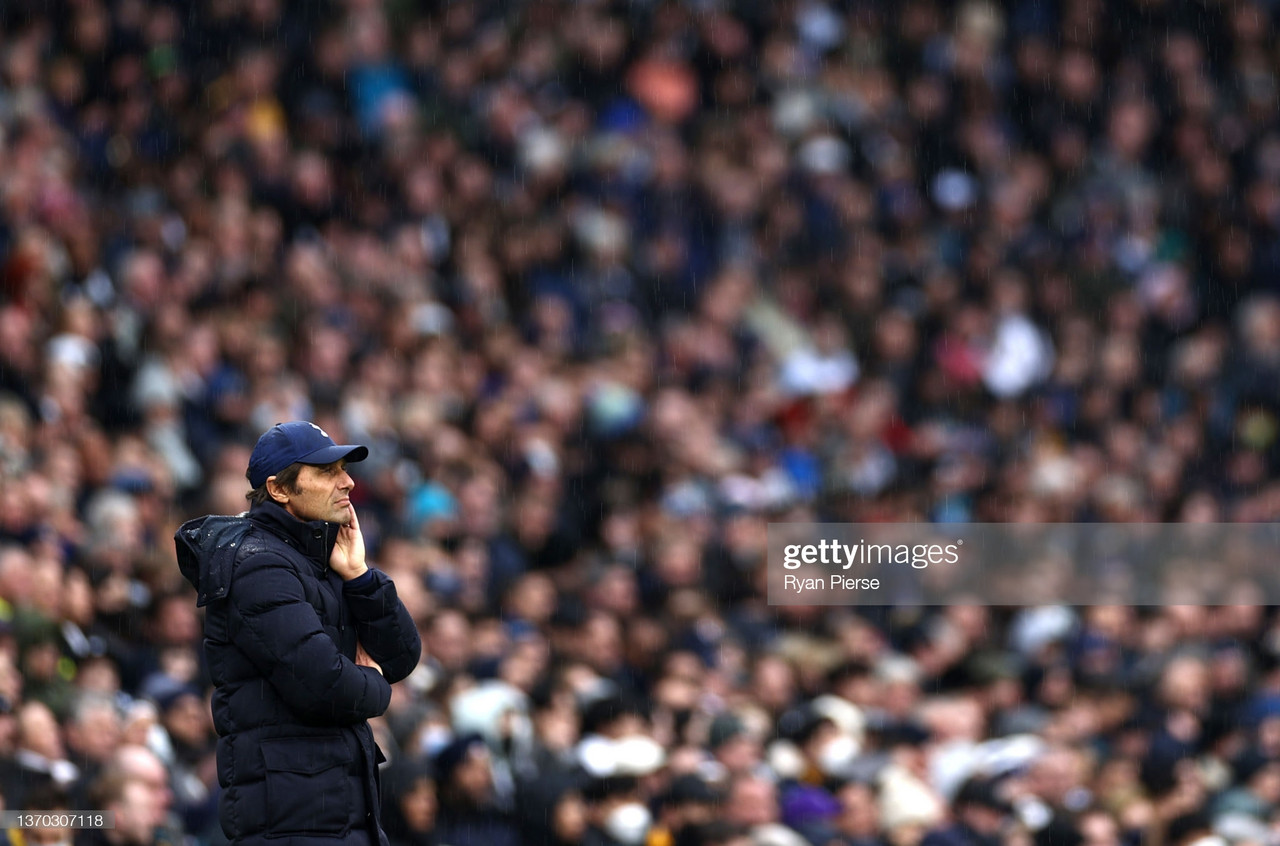 It was pathetic fallacy in north London on Sunday, as Tottenham Hotspur's performance mirrored the gusting wind and heavy showers in their home defeat to Wolverhampton Wanderers.
Spurs got off to the worst possible start when Raul Jimenez volleyed home from inside the area just six minutes in, and Leander Dendoncker soon added another when he pounced on a loose ball after Daniel Podence's deflected effort rebounded off the upright.
With his defence at sixes and sevens, Tottenham switched things up before half-time but struggled to break their resilient opponents down in the remainder of the encounter.
Head coach Antonio Conte addressed the media after the match — these were his most noteworthy quotes.
On feeling the pressure
After Wednesday night's late collapse against Southampton, also at the Tottenham Hotspur Stadium, two home defeats in a row now spells trouble for Conte's side.
But it was the manner of the defeats which likely concerns the head coach, players and supporters alike — especially here, where Spurs were simply outclassed by their opponents in the opening 20 minutes and floundered in their numerous attempts to claw themselves back into the contest from there onwards.
Each poor result and worrying performance increases the pressure of Conte and his squad, but the Italian insists it is part and parcel of the task at hand.
"Confidence and pressure are part of our job, for me and for the players," he said. "I continue to say the same things: there is a long road in front of us and we can't be scared to face it. But for sure there are many aspects to improve."
On commitment and confidence
Another aspect of the mental playing field on which Tottenham are struggling at the moment is confidence — going down so early, it never felt as though the hosts really had the mettle to restore parity and eventually go on to win.
This manifested itself particularly in the final third, where a number of fairly good chances fell the way of talismanic duo Heung-min Son and Harry Kane, but neither managed to summon up the finishing touches they have become renowned for.
Even Tottenham's best players are suffering from a lack of confidence currently, it would seem, however the head coach would not go as far as to question their commitment to the cause.
"A lack of confidence can happen; we have to live with the pressure," asserted Conte. "It's a difficult situation but these players are very good, their commitment is very high every day, during training and during games. Today I can't speak about bad commitment, they pushed until the end and I'm proud of this, but there are many aspects to improve if we want to be competitive."
On tactical tweaking
The first 20 minutes were, in many ways, a continuation of the final 15 against Southampton, and such a stuttering start prompted Conte to shuffle his pack early on in the contest.
Dejan Kulusevski replaced the struggling Ryan Sessegnon in an apparent shift to a four-at-the-back shape which allowed Tottenham to compete better in midfield. The Swede was arguably Spurs' brightest spark following his introduction but those crucial goals to halve the deficit and eventually cancel it out remained elusive.
Conte was keen to emphasise that the focus of his thinking lay on why they started the match so poorly, and not on why they improved following his early tactical alteration.
"After thirty minutes I decided to change tactically, to go man-to-man in midfield and we did well after that, but when you concede two goals you have to understand that there are reasons for this. There are different situations we have to try and manage much better, and we have to improve a lot mentally."
On winning mentalities
When Spurs lose, it does appear that doubts about the mental capacity of the squad always arise in subsequent discussions.
A couple of decades ago, Conte was a player who would never have been questioned in such a manner. As someone who won it all as a player he is likely fairly receptive to what it is that is currently holding this Spurs team back.
And the head coach had two words to sum it up: winning mentality. A state of mind which Conte insists will take some time to cultivate.
"You cannot buy a winning mentality," he said bluntly. "You transfer this mentality day-by-day in training, but there are players who are more open and understand more quickly the process, others need more time. Winning mentality is when you show better desire than your opponent and when you understand that defeat has to hurt you a lot and not a little, but this is not a simple thing and we are working a lot on it."
A message to Spurs fans
The frustrations of the supporters were evident at full-time as Tottenham suffered their third league loss in a row having gone undefeated in Conte's first nine at the helm.
He clearly sympathises with their grievances and very much appears to share their frustration at how the last two matches in particular have panned out, but the head coach emphasised once more that this is a long process which will not see Tottenham's fortunes transform overnight.
"Our fans have to understand that maybe they need to have patience to rebuild again the situation they were used to in the past. The situation has changed recently but it was the same with other coaches in the past. We must be patient and continue to work. There is great commitment, but that is not enough."