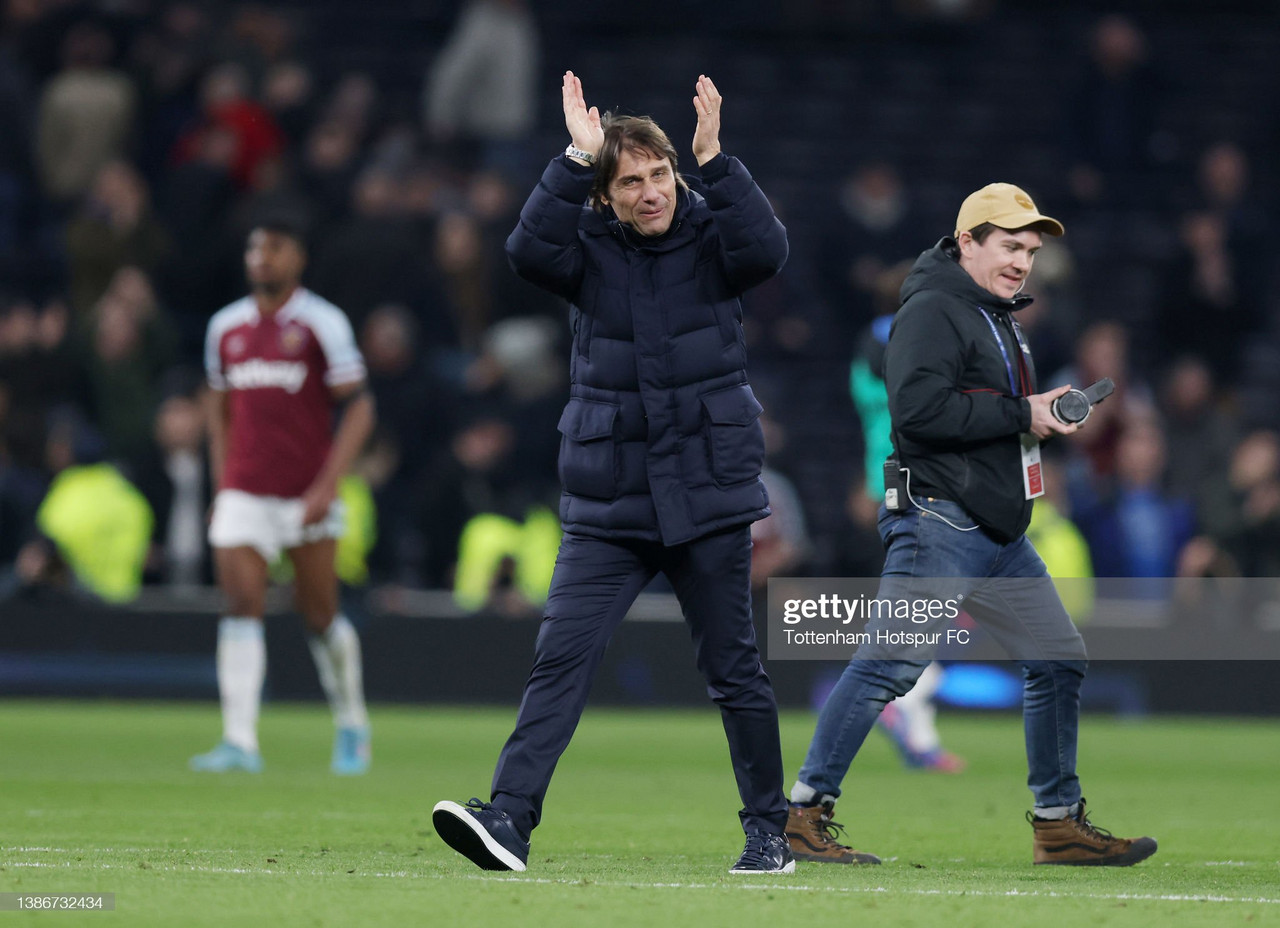 Tottenham Hotspur managed to secure two consecutive victories in all competitions for the first time since early January, ending their inconsistent run of form with a 3-1 home victory over West Ham United on Sunday.
They got off to the best possible start when Hammers defender Kurt Zouma turned the ball into his own net just nine minutes in, and Spurs doubled their advantage through Heung-min Son's strike on 25 minutes.
The visitors at the Tottenham Hotspur Stadium did get one back before the break when Said Benrahma found the net from a corner situation, but late in the match Son notched his second to secure the three points in this London derby, a match which may also hold great significance in the race for European qualification.
Spurs head coach Antonio Conte addressed the media after the match — these were his most noteworthy quotes.
On evolution
Putting an end to their recent spell of inconsistency was one of the major positives to be taken from this thoroughly impressive victory for Tottenham, and Conte believes this was indicative of how the team have developed under his stewardship.
"I am seeing a lot of improvements and I'm happy for my players," he said. "The staff and I work very hard, we try to push them every day because the only way to improve the team is to improve the level of every single player. This is happening now in Tottenham and in this way the team is becoming a very strong one."
Talismanic striker Harry Kane carried his fine form into this match, having a hand in all three goals and continuing his productive partnership with Son. The 28-year old's ability to hold the ball up, make space for his teammates and play passes is proving, in many ways, just as impressive as his knack for finishing, which has already seen him become the fifth most prolific player in Premier League history.
Conte was delighted with Kane's contribution, but would have been even more so had his striker found the back of the net, something which his performance undoubtably merited.
"He is brilliant in both phases: when he has to score and also when he makes assists. He's two players in one, because he can be a number ten or a nine. It was a pity today because he deserved to score another goal to improve his record for the season but in the end we had to wait to score the third goal, and if I had to find a situation that we can improve it is to really kill the game off."
On Son Heung-min
Son's form had dipped a little prior to this match — with the forward failing to provide any goal involvements in the last two encounters against Manchester United and Brighton & Hove Albion — however the 29-year old was untouchable here. His head coach views his bouncebackability as testament to Son's mental reserve.
"Sometimes you have a lot of confidence and you can do anything on the pitch, sometimes the confidence can go down, but the important and top players manage these moments well. In Son we are talking about a very good, important player but at the same time a good person — he suffers if the performance is not good or we don't get the three points. First we must think not about ourselves but about the team."
On ambitions for the run-in
This was a crucial and extremely beneficial victory for Tottenham, hoisting them above both West Ham and Man United into 5th and strengthening considerably their prospects of achieving Champions League qualification this season — for Conte and his players, that is the sole aim.
"There is only one target in our minds: the fourth place," asserted Conte. "We know very well the difficulty of this target but Tottenham needs to have the ambition to play in the best competition. I know in England it is not simple, but we want to fight and to have this target and ambition. It's very important and the players have to take responsibility, they have to trust and to show confidence in the target."
On the international break
Spurs now face a two-week wait until they play their next match as domestic competition suspends for the upcoming International break. Conte is wary that having more matches sooner would have been beneficial in terms of continuing the momentum they have doubtlessly now found, however he also insisted that he and his players will put the break to good use.
"Honestly, it's a pity to have this international break because are in good form with the results and performances. There are some players who I will see in nine or ten days but we want to try to exploit this period for the players which are not going away with their national teams to try to improve the tactical aspects."