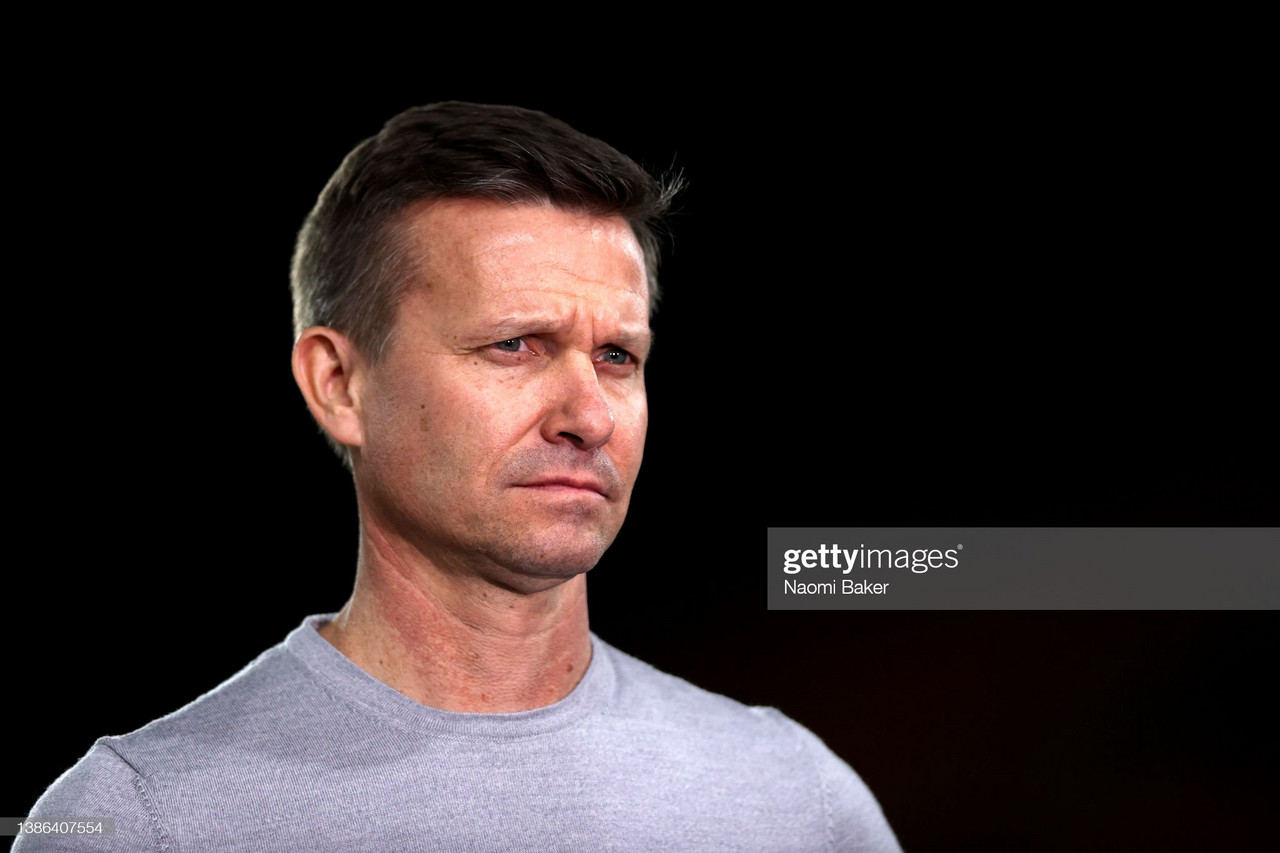 Leeds United manager Jesse Marsch spoke to the press as the Whites get to host Southampton at Elland Road.
Among the topics discussed were the absence of Patrick Bamford, the progress of Raphinha from injury, his admiration of Ralph Hasenhuttl and the development of Joe Gelhardt.
Here are some of the key moments from the press conference.
On playing a different way without Bamford
With Patrick Bamford still sidelined with a foot injury, Marsch was asked if he has altered Leeds' style of play in the striker's absence.
"That's where we're at right now in evaluating the entire situation without Patrick. It's an opportunity for me to get to know Joffo or Sam Greenwood and some of our young players.
"I don't think we need to alter that much because we have a really good group of options that have flexibility. I put Sam Greenwood sometimes as a nine, sometimes as a central 10, sometimes a wide 10.
"I like when we can have flexibility with players so that we can tactically alter match plans so we're not totally to that level of sophistication yet, but certainly the group has flexibility and quality."
Marsch was asked about his relationship with the Southampton boss, whose side sit 11th in the table, but haven't won a league match in almost a month.
"He's really a gentleman. When I was first there, he took me on a tour of the facility and kind of talked about some of the things he was doing in the gym.
"He allowed in every meeting they ever had as a staff and as a team and obviously there were a lot of tactical discussions. He's a gentleman, like through and through."
On Raphinha
The Brazilian has been the club's best player and most creative force in Bamford's absence and the manager spoke about his return to action.
"Speaking about this test match/little game we had, Raphinha was incredible in the 45 minutes. He, for me, is a massive talent and my challenge is to have the type of relationship where we can focus on his development.
"I just want him to become the player that I know he can. I think everyone here sees how talented he is, how committed he is, how hard he can, how confident of a young man he is. He's a fantastic player and a really good person."
On the development of Joe Gelhardt
The Leeds boss is high on the 19-year old, who was held out of the previous match against Wolves with back spasms.
"It's a shame because we were considering starting him against Wolves and the whole week he didn't train. He just had this back spasm that prevented him a little bit from training.
"We got him training a little bit last week and then this week, so that part's been good. Young players have to play in order to improve and he has the quality to do so.
"I believe in him entirely and I know he's going to get better and better and when we had a little bit of a test match on Friday, he played really well. I think he had a goal or two and it was a strong performance."
On playing Dan James up front
James has been the lone striker in the place of Bamford and Marsch described what qualities he has that allows him to fulfill that role.
"I think Dan will be a threat for any team when he plays along the back line in any of the front four positions because he's so fast and his timing to get in was often very, very good.
"Trying to position him and have him understand how to fit in the game so that in the box, he can still be in really dangerous spots. He can score more goals and have more assists.
"He's also very aggressive when he gets into pressing moments. I'm just trying to get Dan more integrated into the system of play more and more and into the philosophy of what we're trying to achieve."