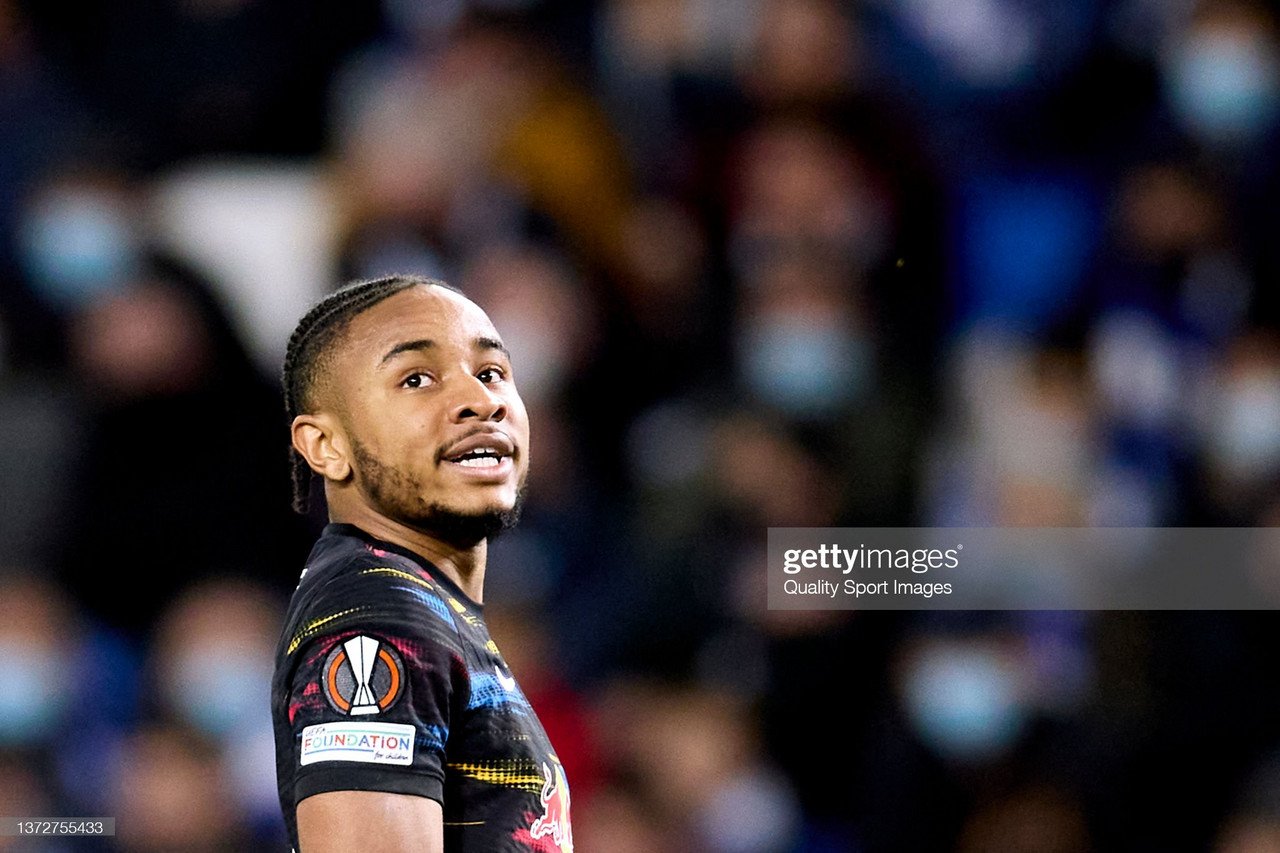 "I've been told that I need to work on my killer instinct, because I sometimes don't try my luck or I might miss the odd chance. This is important. I aim to work on this because attacking players must be decisive."
These were the words of Christopher Nkunku before he joined RB Leipzig from PSG in the summer of 2019. The words from the young Frenchman are hardly surprising, given his reserved and humble background.
But despite his polite nature off the field, the attacker has slowly started to become ruthless on the pitch and has been one of the standout players in the Bundesliga this season, scoring 25 goals and gaining eight assists in all competitions so far.
His first move abroad
Nkunku grew up in the Paris suburb of Lagny-sur-Marne, the same area as Paul Pogba, and much like the World-Cup winning midfielder, Nkunku really made his name outside of his homeland's borders.
He rapidly rose through the Parisian youth ranks, and in 2015 joined up with Laurent Blanc's senior team, linking up with the likes of Zlatan Ibrahimovic and Angel Di Maria in his maiden season and by 2019 he left a PSG squad that was fronted by Kylian Mbappe and Neymar.
He made 77 appearances throughout his four-year stay in PSG's squad and upon his exit, he was on the radar of top clubs across Europe but left the glitz and glamour of Paris for RB Leipzig's striving football project, which was led by sporting director Ralf Rangnick.
He joined with huge expectations around him and now in his third season in east Germany, he has taken the hype to the next step.
RB Leipzig's poster boy
No better game sums up Nkunku and Leipzig's torrid autumn than their 6-3 defeat to Manchester City in September. Die Bullen shipped six goals, with the only shining light being the Frenchman, who took the match ball home after scoring a hattrick.
Leipzig were split apart multiple times at the Etihad and looked disorganised, but Nkunku was a threat to Man City throughout the game and showed his quality in an underperforming team.
The side's form saw American coach Jesse Marsch sacked and replaced by Domenico Tedesco and despite Marsch short and dismissal run as the head coach, he played a vital role in Nkunku's explosive form.
Under Julian Nagelsmann, the Frenchman was played as a left winger but when the Marsch came in, he shifted Nkunku into a more central role. The American's decision to transition him more centrally was Marsch's greatest success during his time in Germany.
It isn't an unusual position for the former PSG player, who, when coming through the youth ranks in France, was touted as a similar player to Marco Verratti, who Nkunku labelled as his biggest influence when he was in the academy.
But as he has gotten older, his playstyle has differed from the Italian's and he has gained that killer instinct that was missing in his earlier years, to become RB Leipzig's main attacking outlet under Marsch and, now, Tedesco.
His change in style
From being compared to Verratti in his younger years, to being a goalscoring midfielder, Nkunku has adapted his game throughout his career and has seemed to reach a stage now where he is a complete attacker.
His diminutive stature allows him to creep into spaces, and when found in the gaps he possesses rapid speed and dribbling to get past a marker. In his earlier seasons in Germany, he would have continued to try to take a man on rather than find a teammate, but now he is more aware of when to dribble past a player or try to pick out his teammate.
His time out wide also meant that he is a productive player when supplying the ball from out wide, but is also, despite the smaller frame, a threat from attacking the cross, scoring four of his goals with his head.
He has moulded himself into an incredibly effective and intelligent all-round footballer who is being watched carefully by football's top clubs, just like when he moved to RB Leipzig and has now become a Bundesliga star.
What is next?
Despite his electric form so far this season, France's under 21 is the highest international point he has reached and with France's attacking options, including Karim Benzema, Mbappe and Kingsley Coman, it is a difficult task to break into but Didier Deschamps, gave the Frenchman some hope that his maiden call up is on the horizon, Deschamps said, Nkunku is "one of the serious candidates who can aspire to have this opportunity."
It isn't just on the international stage, where Nkunku could reach the highest level, he has been linked with Juventus, Manchester United and Arsenal consistently throughout his time in Germany, with Leipzig slapping a £61 million pound price tag on him, with the aim to try and ward off any suitors.
Oliver Mintzlaff, Leipzig's chief executive, told Sky Germany, "Nothing is ever certain in football, but that is our plan. Players like Nkunku and Dani Olmo are pillars of our team, and we want to strengthen our squad, not weaken it."
Keeping Christopher Nkunku, beyond this season, would be a real statement of intent from RB Leipzig, who have seemed to have unearthed the next Bundesliga gem that'll light up the European stage for years to come.