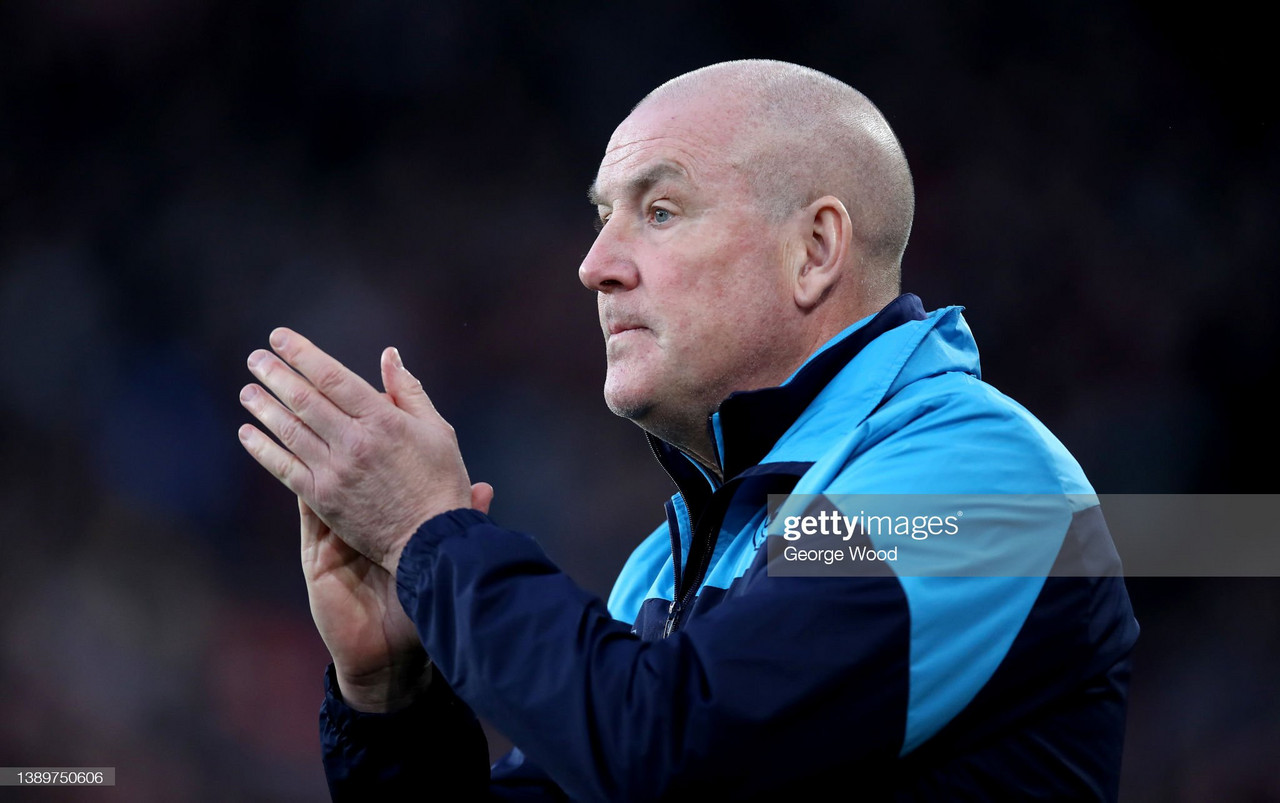 Queens Park Rangers boss Mark Warburton dismissed the rumours of his sacking after his side were beaten 1-0 by Sheffield United at Bramall Lane.
It was a tight, uneventful evening in South Yorkshire as both sides cancelled each other out for the most part, with Oli Norwood's 9th minute strike being the difference, as the Blades climbed back into the top six.
And with speculations circling about his job, under-fire Warburton was quick to squash those claims after just two wins from their previous 12 games.
"I cannot control rumours," he said. "It is just football.
"Me, John [Eustace], Neil [Banfield], and all the staff are working with the players, and you just have to be honest with them and tell them the situation.
"We need to stick together and have that belief because we know we are good enough and we have been in the top six for the vast majority of this season.
"It didn't affect the players; they want honesty and in any business or any environment, just be honest with people and the fact is I cannot control rumours and 95 per cent of them are nonsensical.
"My contract is up in a few weeks; that is why people have latched onto it. We have players out of contract, but we stick together.
"We cannot control things out of our control; what we can control is how we prepare, how we train, how we deliver the performances, and it is plain and simple, so no, it hasn't affected the players and we are still very much together.
"They're a quality group but that is their job and as professionals, they need to turn up and deliver those performances because we have paying fans and they are travelling up from London to give us great support, so we have a responsibility that will never change."
On the game…
QPR failed to trouble the Blades on Tuesday evening with only one of their seven shots hitting the target.
Rangers struggled to deal with United's early onslaught, which led to them conceding an avoidable early opener.
They kept the ball for large periods, and a late push saw them hold 67.4 per cent of the possession stats in the final 15 minutes of play; however, their effectiveness with the ball was insufficient.
"We lost one-nil to a shocking goal to give away from a set-piece that they rehearsed and practised for, so that was frustrating," vented Warburton.
"I thought we started poorly; we started on the back foot and lost too many duals and didn't get out to the ball and they had too much of the ball for the first 25-to-30 minutes.
"We then started to get out to the ball and finished the half better but we didn't force any saves from them.
"The second half was better, but again it was about that bit of quality, that bit of guile and class in the final third whether it is a cross or a cleaver little ball, we lacked it and we didn't show enough. We had lots of the ball in lots of good areas, and they have a good home record, but we have lost to a set-piece goal, so it was frustrating.
"We changed the shape second half; we got out more and looked to play more and we weren't brave enough first half and I don't understand because we were more than ready for tonight. The key is now to come in after conceding an awful goal."
On Injuries…
QPR's poor form has coincided with a big injury list that has forced Warburton to put square pegs in round holes at times.
He added: "I was speaking with some of the staff members and for the squad, we have had players stepping up, but we have lost some key players.
"Westy [Keiren Westwood] has been fantastic and to have not played all season and show that quality with the saves that he has made in the games he has been in; tremendous. We have asked a player to come in and play with no notice and play in a different style to what he has for the last four years.
"To lose Seny Dieng and David Marshall, of course it's a blow, but to lose Chris Willock with his eight-or-nine goals and all his assists and he is one of the best in the league and we have lost him for the season. We have had four goalkeepers out; we have had four wingbacks out.
"That's football; you cannot just sit there and moan at that and it gives opportunities for people like George [Thomas], Dozza [Andre Dozzell] and Jeff [Hendrick] to come in and show what they can do.
"We have a tight squad due to covid and we have some big injuries but that's no excuse because Paul [Heckingbottom] has also suffered from Billy Sharp and [Rhian] Brewster being out, and everyone is suffering because of the schedule."
On their play-off chances…
Even though QPR are only three points behind sixth-placed Middlesbrough, their form has seen them freefall from a comfortable position in the play-offs.
However, the 59-year-old stressed that his side will continue to fight to turn around their fortunes as they prepare to go into the final run-in.
"We have six massive games left and teams will drop points – there are 18 huge points to play for," he said.
"If I thought for one second that there wasn't [a chance of the play-offs] then you would put your hand up and say something.
"The players are angry and frustrated down there and this is a really good dressing room and there are some quality people – and not just players – and they're hurting right now because they know we have put ourselves in a poor position after being in a strong position at the end of February, but all you can do is stick together and play.
"We go to Preston, we go to Huddersfield, we go to Derby, and we have got to play – it is that simple.
"We know what we have to do; we have to go there and put in performances to get us points; plain and simple."