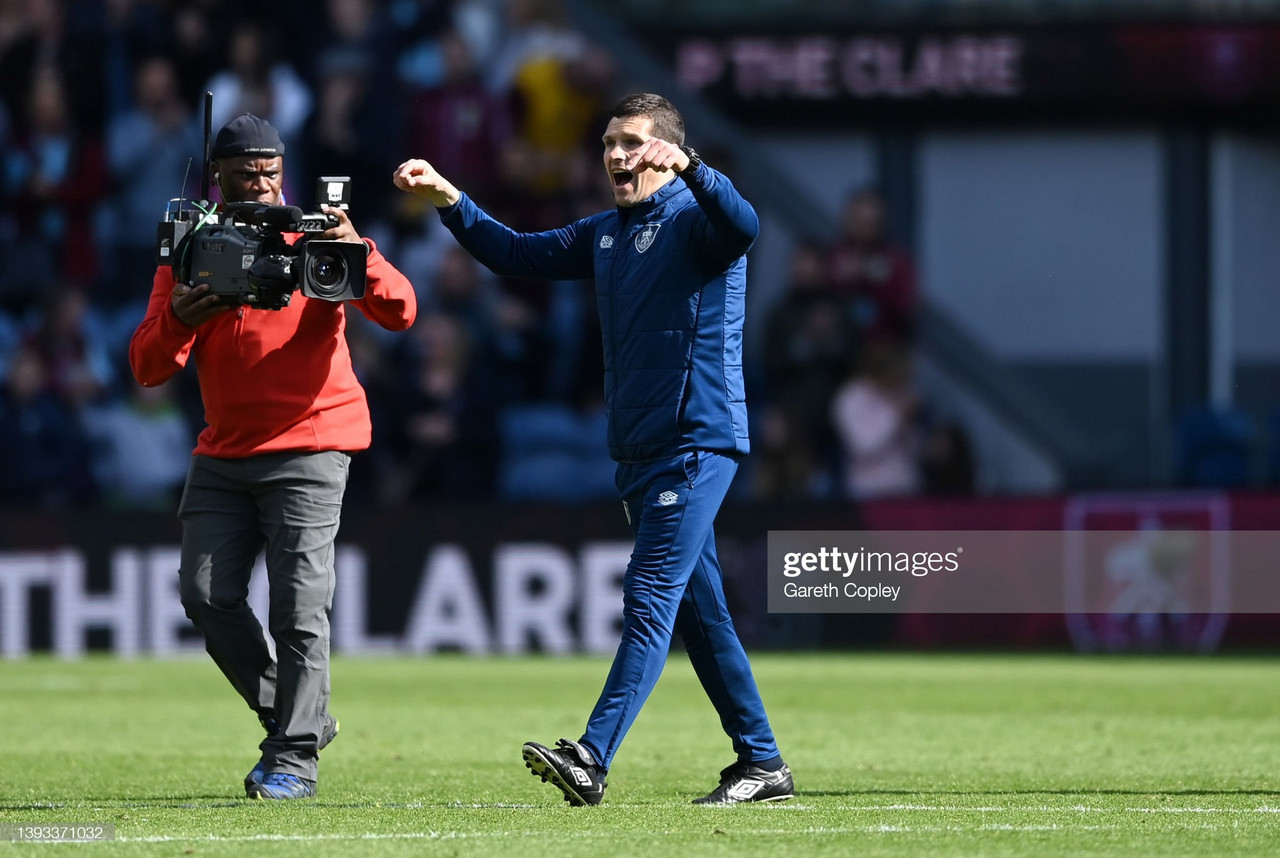 Caretaker boss Mike Jackson admitted some of his players were struggling with niggles in Burnley's battling win against Wolverhampton Wanderers.
Matej Vydra's 62nd-minute winner ensured the Clarets won a hard fought Premier League clash in front of their supporters.
That makes it seven points out of nine for Jackson, who can seemingly do no wrong at present, and it takes Burnley out of the bottom-three for the first time since October 30 2021.
On the game
Jackson admitted that Burnley started the game slowly and he eluded to the busy schedule as a possible reason why.
"We didn't start great, but we grew into it, and started to come into it more," he said. "We tweaked a few things at half-time that we needed to get better.
"And we started well, and then obviously get the goal and it's about managing the game out then a bit, because we had a couple of lads carrying knocks and niggles.
"I think they've shown those attributes in all three games, it's a big part of this group, to dig in, run hard and adding those bits of quality as well.
"[This was the] third game in the Premier League in a week, the ground you have to cover, the intensity, and what they've dealt with, it's been outstanding.
"I don't like to mention players, but look at Jack Cork, he was unbelievable today, immense, and I could go through the rest of the lads.
"But the group has come together and it's all credit to them, the staff, everyone involved, and, adding on top of that, the reaction we're getting from the fans - they're dragging the platers through those little lulls, they've been terrific.
"You're trying to achieve that [momentum], and it's really hard to do that, what we've got here is a group that have come together and have a great team spirit, and any manager or coach will tell you that is one of the hardest things to do, to create, because that can carry you a hell of a lot way, rather than a group of individuals."
On injuries
The 48-year-old noted that his selection was determined as a result of niggles and injuries to several players.
Maxwel Cornet was also not fit enough to make the squad due to a niggling knee problem.
"Aaron (Lennon) has been carrying a knee injury and the thinking was that we didn't want to lose Aaron and [Cornet] at the same time. We couldn't take that risk but we knew Aaron could get a certain amount of game time and when he came on he did terrific.
"With [Matej Vydra], I watched Burnley play Wolves a year or two ago and he caused them murder so our thinking was 'let him go' because he is a threat and if we can get him proper match fit, because he hasn't played in a while, he is hard to play against."
Jackson added that he hoped Cornet would be fit for the Watford game next week.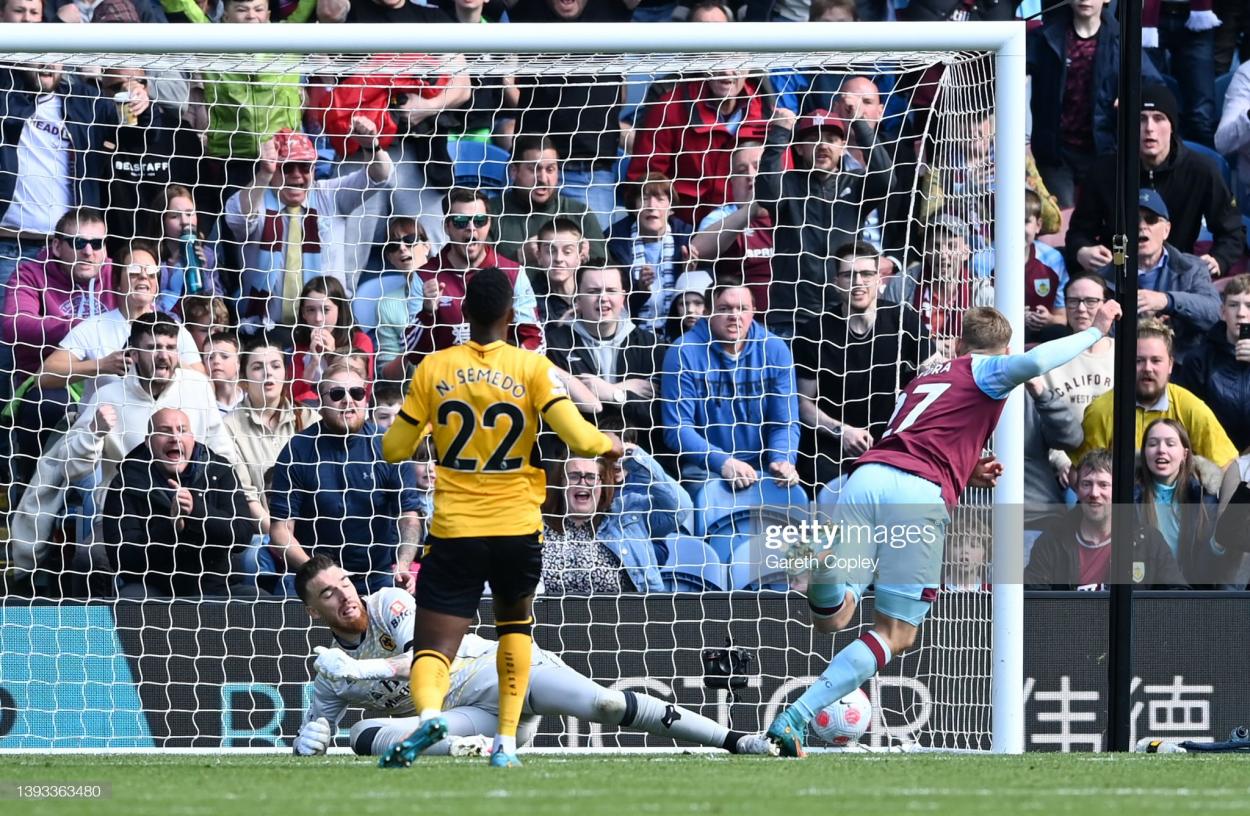 Jay Rodriguez left the pitch in the second-half for Ashley Barnes and Jackson added that the starting striker was always unlikely to play the 90 minutes.
"[Rodriguez] is struggling a little bit with his calf. We wanted to give him as long as we could because we didn't want to make too many changes too early. Fingers crossed he will be okay."
On post-match celebrations
The Clarets had moved two points ahead of Everton before their match with Liverpool. Liverpool's victory meant that the gap remained at two points going into next weekend's set of matches.
But Jackson was very laid back when he was asked about how he would be celebrating Burnley's win.
"I'd like to say [with] eight pints! But I'll be going home, sitting on the couch and seeing my family, and I'll go and see my dad tomorrow.
When you win a game, enjoy that, the next day start thinking about everything else that goes with it, but the lads deserve to enjoy this, they've had a really tough week.
I might try and catch a bit of the Liverpool-Everton game, but I've tried to stay away from those games, even the Everton-Leicester game I watched with my little boy, rather than watching that, I've been trying to get as much downtime as I can, in the meantime I just focus on what we can do."
On enjoying the job
Jackson was keen to stress that he enjoys the day-to-day coaching responsibilities that come with the job, even if he isn't a fan of his other expectancies!
!I enjoy the results. I enjoy being on the grass. I enjoy being on the pitch. The other bits around it, no disrespect to you guys, but that's the part and parcel of it. I've learnt a lot in the past week."