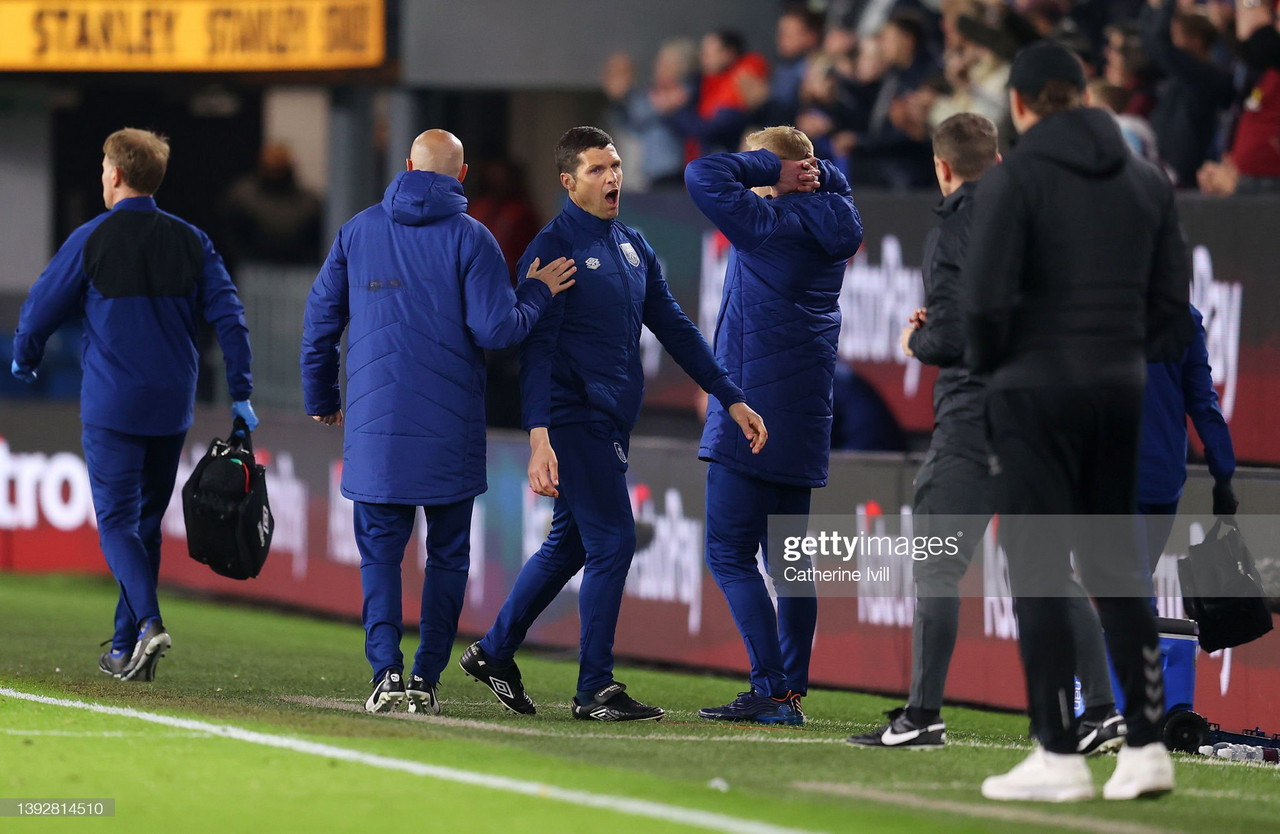 A week ago, Burnley Football Club was in a sombre state following the shock sacking of the long-serving Sean Dyche. Now – with the aid of a man who shares his name with a pop icon – the Clarets are moonwalking into some momentum at the best possible time.
Michael Jackson – Burnley's caretaker manager – must wonder how he is in this position.
The 48-year-old was preparing for another match as manager of the Burnley Under-23s team – currently sitting 6th in their league – when he received an unexpected call from chairman Alan Pace. Pace told Jackson that Dyche had been relieved of his duties and that he was expected to temporarily fill the void. Talk about taking things fast!
Jackson had approximately 48 hours to get the players together and create a plan for the game against high-flying West Ham United on the Sunday. The timing of this dismissal – on the eve of a big Premier League match – remains nothing short of nonsensical and it really threatened to throw Burnley's hopes of survival to the dogs.
With that in mind, Jackson and his makeshift team of coaches – including skipper Ben Mee – deserve tremendous credit for getting a point at the London Stadium and battling to a vital win against Southampton last night.
Fine margins
The Southampton match was the first at Turf Moor without Sean Dyche in the dugout since October 2012 – a 1-0 victory over Blackpool in the Championship. And if the club legend was watching on from his sofa, he would have noted that Burnley got the benefit of the fine margins.
Oriol Romeu missed a glaring chance inside the opening ten minutes, when Southampton were the team in the ascendancy. An early goal from Ralph Hasenhuttl's men could have had a huge detrimental effect on the confidence of the players and, in turn, affected the progressive nature of how Burnley started to play after taking the lead.
At 1-0, Romeu missed another glorious opportunity to find the net after being left unmarked from another James Ward-Prowse corner. Burnley had wasted several opportunities to get a second goal and it would have been a real sucker punch to be pegged back as a result of slack defending from a set-piece.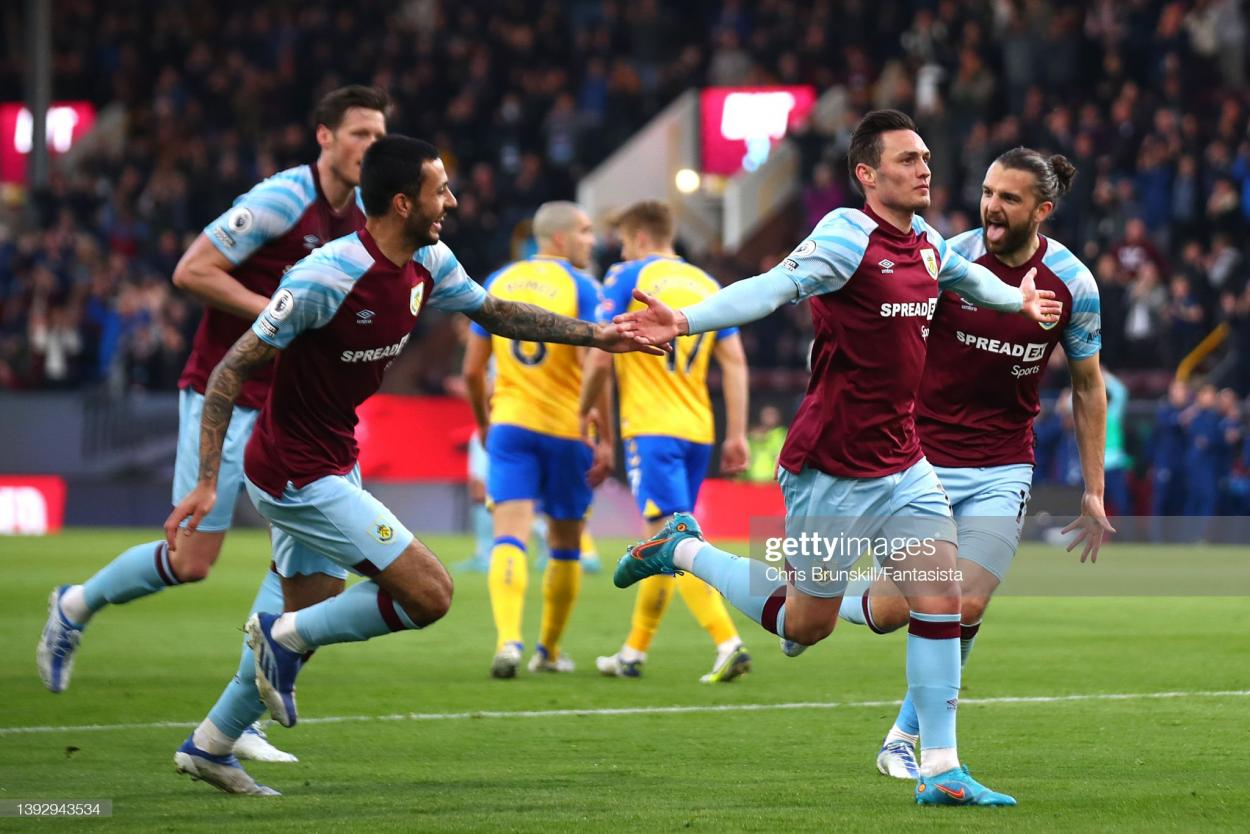 Invariably, Nathan Collins got a vital second goal on the stroke of half-time and that allowed the players to have some breathing space and calm. A two-goal lead was warranted on the balance of play and Burnley – despite riding their luck at the other end – managed to get it.
Dyche would have liked some of that fortune. If he had been in the dugout, Romeu would have probably opened the scoring and crippled Burnley's confidence levels. It was that kind of season for the former manager; his pot of luck was dry to the bone.
A shift in style
Nonetheless, anyone who doesn't think that something has changed since Dyche's departure is not watching properly.
Jackson is nowhere near Dyche as a manager and he never will be. But, while Dyche's Burnley could have won the game on Thursday night, it's unlikely that they would have done so in the same manner. Burnley's performance was a progressive, front-foot effort that was arguably the best display of the campaign.
Sources claim that Dyche's backroom staff were akin to army lieutenants. They were said to be very blunt with players on the training ground and after matches. Their approach could be compared to an old-fashioned method of character building and it worked wonders with the likes of Joey Barton,, Scott Arfield and Ashley Barnes.
Nonetheless, the main men in this Burnley group are not necessarily players who want to play gritty football with a mentality on the edge. Many just want to get the ball down and play with a freedom; the freedom to make mistakes by taking risks without being collared for those mistakes.
So, while suggestions that Dyche had lost the dressing room were wide of the mark, it is quickly becoming apparent that there is more quality in this squad than some people would have assumed.
Wout Weghorst, Connor Roberts and Dwight McNeil have already illustrated more impactful displays in recent matches than they managed during Dyche's final set of games.
There is quality in Everton's squad as well. Dele Alli showed glimpses of his worth with an important assist for Richarlison's equaliser against Leicester City. And Burnley could easily be relegated if it comes down to a battle of who has the best individual quality; the Toffees have a lot of talent on paper in those attacking areas.
It does feel, though, that if Burnley are to go down, they will be doing so in the right way. Jackson is not some tactical maverick or genius but he and the players clearly share one common goal: they want to have a go. If they lose, they lose, but there seems more of an urgency to now control what is happening on the pitch.
And this isn't the time for a tactical revolution. What can you push through with six games until the end of the season? Not a lot! The Burnley players need a leader who can keep them happy and playing with their spirits up, channelling positive vibes. Jackson clearly has the backing of the squad and he therefore deserves to see out the season.