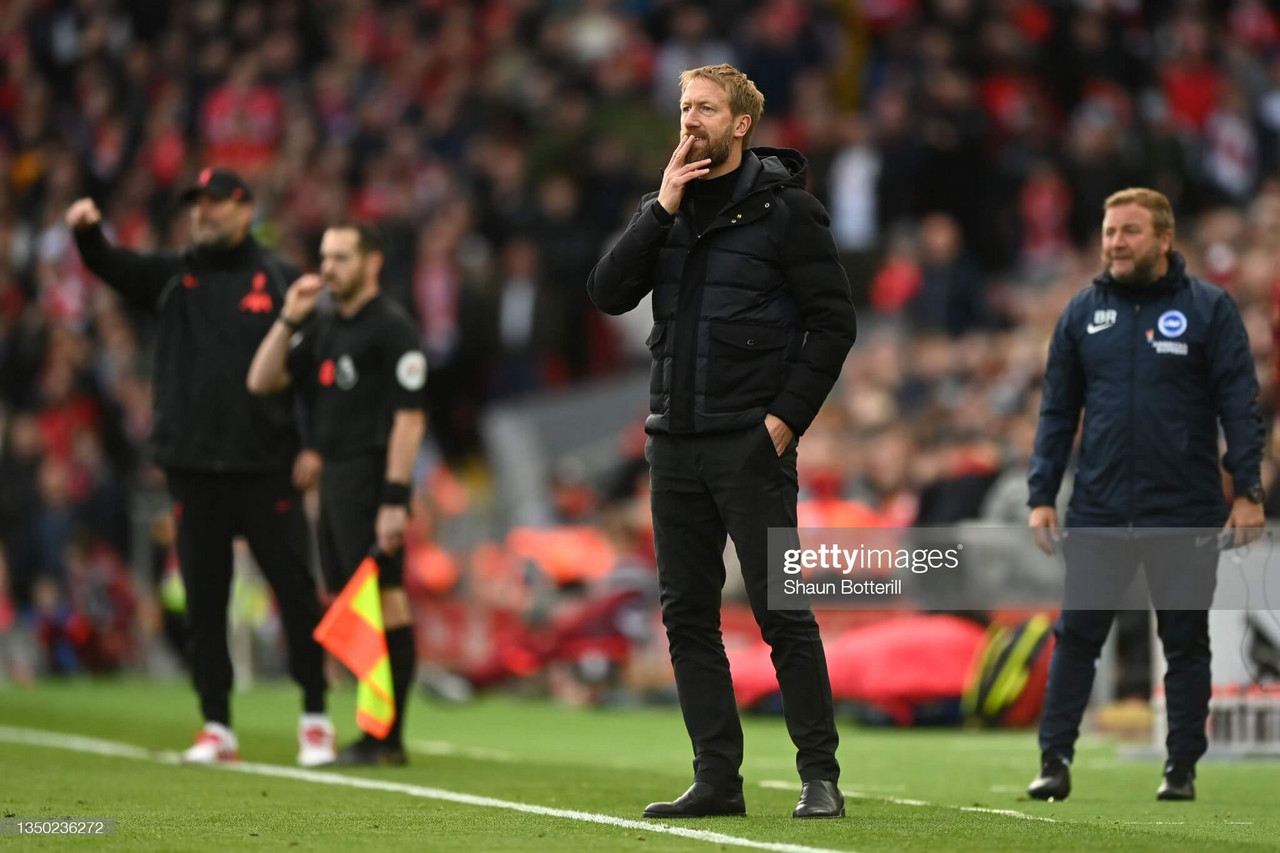 Graham Potter praised his Brighton & Hove Albion team and labelled their comeback from two goals down away to Liverpool as an "incredible" performance. Brighton couldn't manage the complete turnaround despite dominating the second-half but a point was a just reward for their never-say-die attitude.
Jordan Henderson and Sadio Mane had given Jurgen Klopp's team a two-goal lead after 24 minutes and Potter acknowledged that had Liverpool scored another from their two offside attempts then his side would have been in a very precarious position. However, a superb strike from Enock Mwepu and neat finish by Leandro Trossard brought the visitors level to secure a merited point.
"It was a wonderful game, one of the best games I have been involved in I think," Potter said. "I can't think of another one better. In the second half it was an incredible performance. I didn't think we were too bad in the first half, we were just punished by a really good team.
"They had some really good moments and that can happen here especially. We survived the disallowed [Sadio Mane] goal and that gives us a chance to keep going, we're still alive at that point and to score before half-time to make it 2-1 was big and then the second-half performance was good. I thought it was a fantastic game."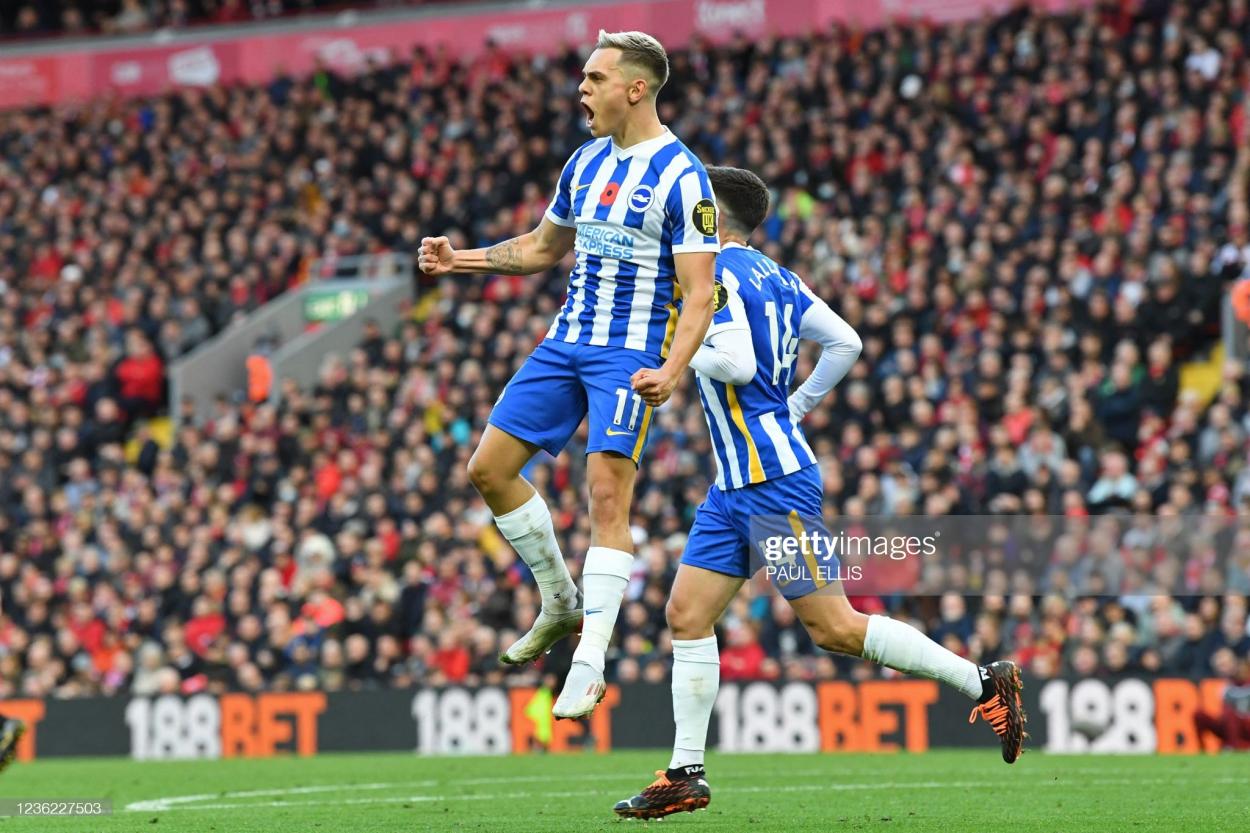 The draw means that Brighton are still without a win in their last six league and cup matches, however, they thought they had snatched a winner when Trossard rounded Alisson to finish but the Belgium striker was a yard offside, denying Potter's side their first Premier League win since September 19.
"It was a fantastic move, great goal but it's offside so that's life," Potter said. "But take nothing away from the performance of the team. The way they played, showed togetherness and trust in what they were doing. Resilience, character; all the things you want — and also quality."
'Not happy with body language'
Klopp, meanwhile, was unhappy with some of his players' body language in the second half. His side may be on their best unbeaten run since a similar 24-match sequence in 1989 but this was two points thrown away from his point of view.
"It's a deserved point for Brighton for different reasons," the Liverpool manager said. "In our good moments we were really good, we showed how to play against Brighton, but with not playing enough football any more we opened the door.
"The best way to play against Brighton is to keep the ball but that's what we didn't do for long enough. We slowed the game down in the wrong moments, didn't show enough initiative. "I think after Mo [Salah] scored in the second half – which was disallowed – maybe only the last five minutes we were on the front foot.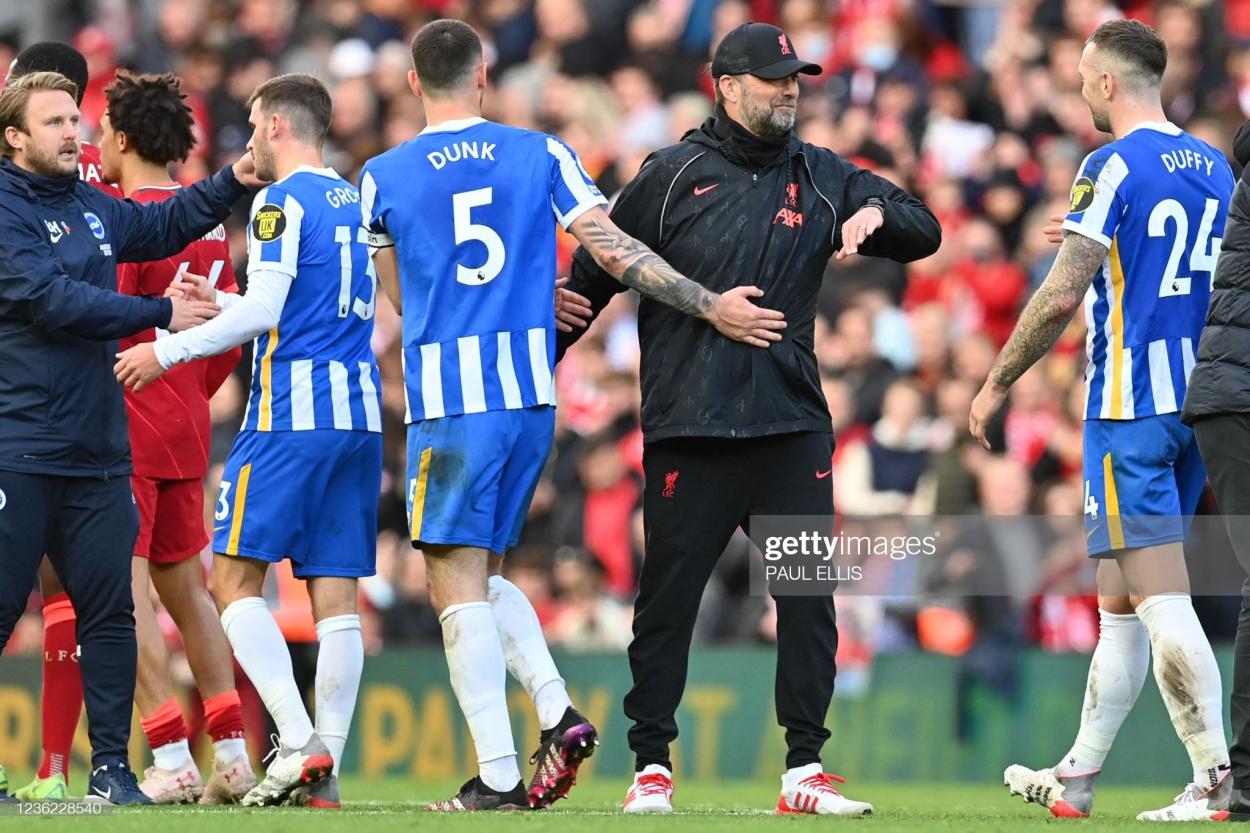 "In the second half I was not overly happy with the body language of some and that's never helpful. I don't want to take anything away from Brighton, I respect what they did, but today was the day when we could have given them a proper knock and we didn't."
Klopp couldn't confirm the extent of Naby Keita's injury after the midfielder went off midway through the first half. Liverpool were already without midfielders James Milner, Fabinho and Thiago Alcantara and now Keita is looking like he is set for a lengthy lay-off. "He showed me the hamstring and people told me it is hamstring, I cannot say more," Klopp said.