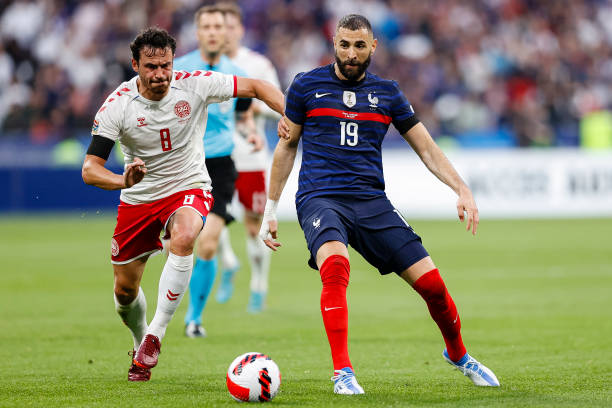 Two big names in European football clash at Parken Stadium, where the World Cup winners challenge Denmark in League A Group 1 of the Nations League.
According to the FIFA world-rankings, Denmark are positioned 11th in the world and France are placed in 3rd.
However, recent form suggests that the gap between the two clubs may not be so great.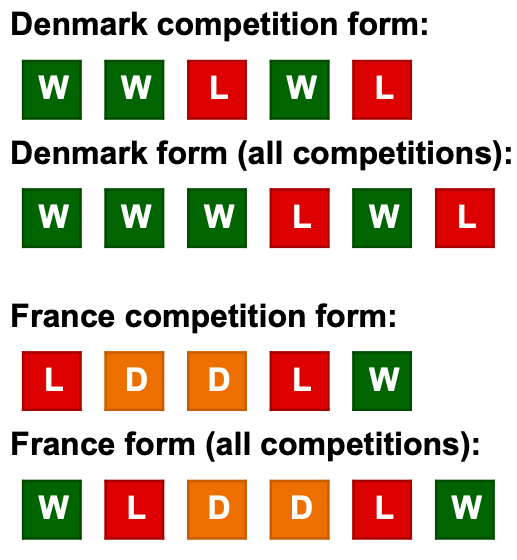 France were defeated by Denmark three months ago, losing 2-1 courtesy of a Andreas Cornelius brace. Moreover, Denmark sit above France in their Nations League group, almost doubling their points tally.
Some promising news for France would be that their side have not lost away from home in any tournament since June 2019. Despite their relatively poor form, Les Bleus are still expected to come out on top, displaying the plethora and depth of their talent.
And if Denmark are to pull another seismic shock against France, it again marks significant progression for the red and whites, who hope their dreams can materialise once again.
Denmark
Team analysis
Kasper Hjulmand has done a superb job at carrying his team through emotional turmoil with tremendous dignity. His team is strong. His team is tough. And, most importantly, his team plays as a unit; supporting one another, tracking back, covering positions, picking each other up.
It is hard to fault Denmark's character.
It is due to this togetherness, and their fearlessness to try and play their own unique brand of football, that they now stand as one of the most formidable teams in the competition.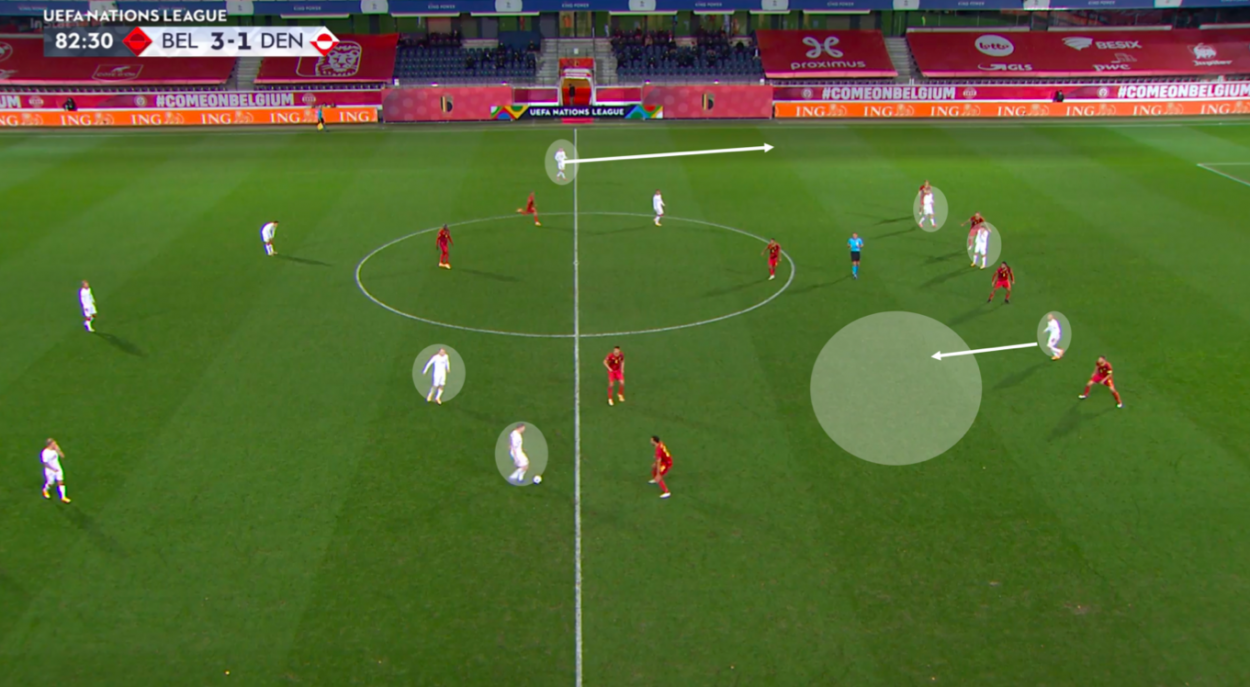 As shown above, this is a well-drilled side. They use an extraordinary compact back line, that stays rigid throughout defensive phases.
In this phase of play, the wingers often drop back into the midfield and keep close to the oppositions flank side runners. This allows the full backs to stay narrow and penetrate the half space when transitioning to attack.
Due to this defensive reinforcement the midfield is given a lot more freedom and sits a bit higher, and the attackers are much the same - although they will always be near and pressure the opposing teams centre backs.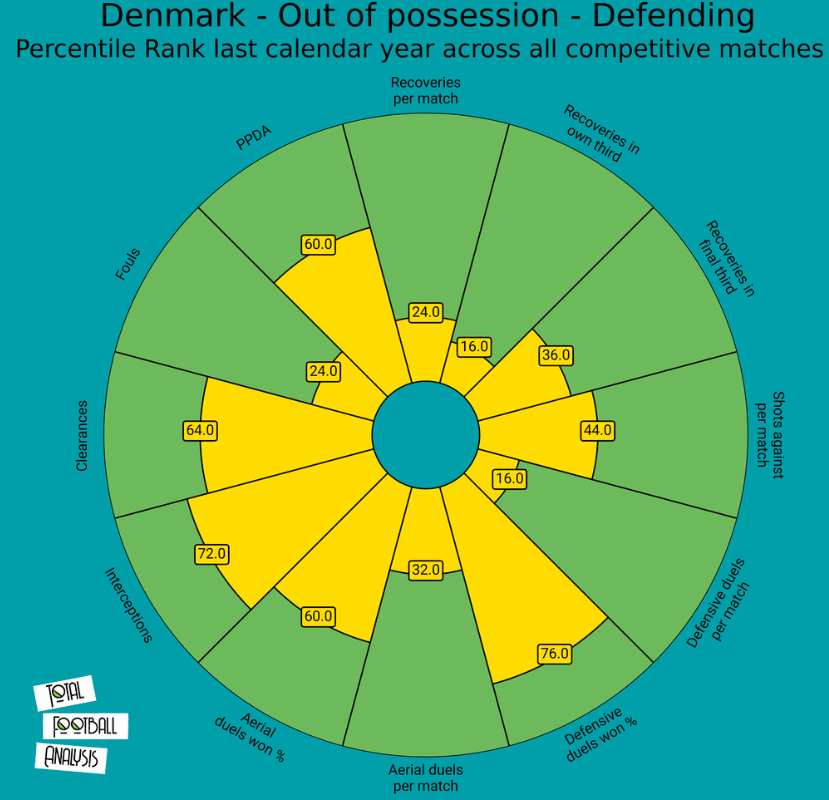 The data defines an unconventional team. A team who transcends the cliched tics of modern football, avoiding high pressing and slow build up play. Instead they are always capable on the counter attack, and do not look to hold onto the ball when sustaining pressure.
This team is also incredibly versatile. They have recently played 3-4-2-1, 4-2-3-1, 4-3-2 and 5-4-1. But most astonishingly, sometimes at least three of these positions are used in the same game. It is often seen that Andreas Christensen is given a tactical role where he transitions from a right-sided centre back in a back three to a more typical CDM role. Equally he has started in this holding midifeld position and dropped back into the middle of a back three whenever the game may need seeing out.
Dynamic. Strong. Fearless.
Denmark have all the skill and knowledge to play their best football against any team in the world.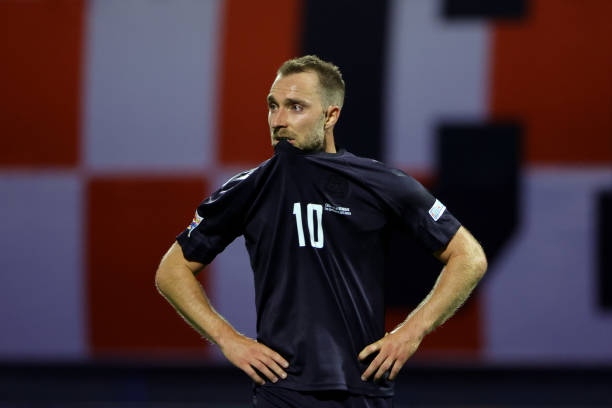 June 12 2021- the day Denmark stood still.
No football was being played after the 43rd minute for Denmark vs Finland at Euro 2020. Only panic-ridden faces and crying fans filled the ground. Parken was silent.
Christian Eriksen, who is one of the most beloved footballers in his nation and world, laid motionless on the pitch.
There was nothing but a barricade of his team mates covering his lifeless body and the worlds TV screens.
To think just 259 days later he would be playing Premier League football again. And now he is on red hot form with the biggest club in England and Denmark's most dangerous player in attack.
There are not many great players who have an even greater story to accompany them like Eriksen.
In the last 365 days, he sits in the 96th percentile for goal-creating actions and shot-creating actions, whilst falling into the 99th percentile for key passes and non-penalty goals and assists against all midfielders in the competition.
Creative with an elegant flair, he is Denmark's trigger. If he is firing, then the Danes will stand a chance.
France
Team Analysis
Whilst tactics are still vital for France's brand of football, they rely less on strategy and more on their teams assemble of world class talent.
They are, like Denmark, also very compact but in a different sense. They defend in a mid/low block, which suffocates the central areas and limits the spaces in between the lines.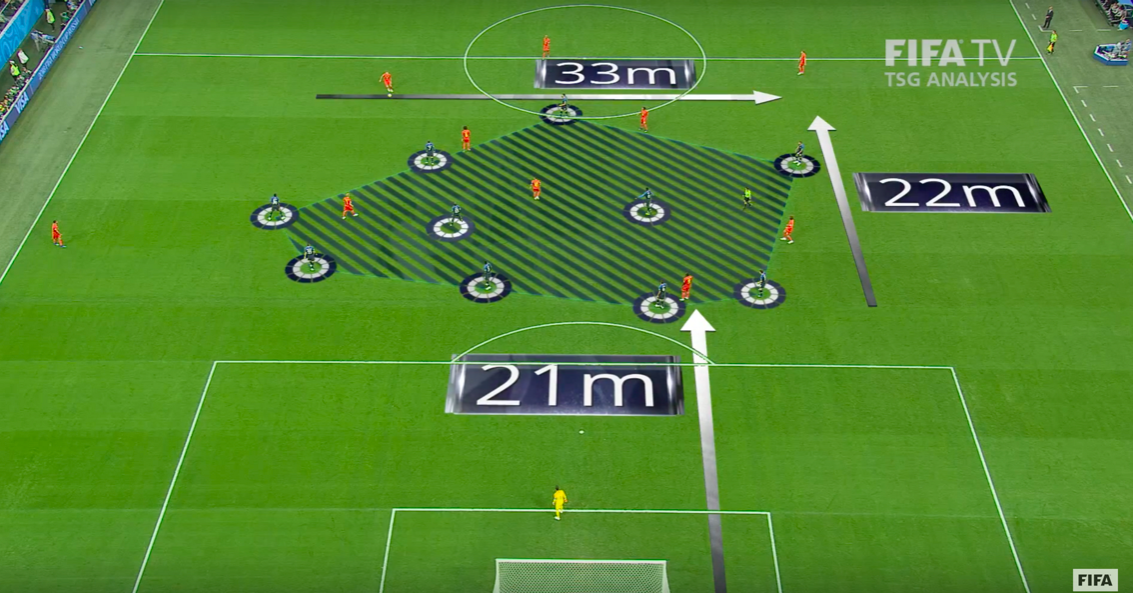 They also like to stay narrow, which leaves them vulnerable in wide areas, a weakness that Denmark will try to exploit. But the quality at France's fingertips means they often invite the pressure, deal with it, and look to counter attack whilst the opposition have been sucked in.
Didier Deschamps likes to play to his players strengths. This means we often get to see the best out of his players, for example take Paul Pogba, who at Euro 2020 showed all the talent and technique that has been absent for latter points in his career.
This will go for every French player on the pitch, many of whom will be trying to break into this formidable first XI.
Deschamps is the modern emodoidment of Frenh football. His graceful, free-flowing champagne football may just be too much for Denmark
When you think about world class players, you think about Kylian Mbappe.
The best on the planet right now.
It has been a very difficult job restraining from talking about the French striker until now, as he is the past, present and future of French football.
He has already written himself into the history books for his nation. During the 2018 World cup the whole world just stopped and watched, gawped and purred at this teenager. It is hard to shine in a team so talented. But Mbappe was head and shoulders above anyone in this World Cup winning team.
And he was just 19.
His stats truly do speak for themselves. He is in the top percentile in almost all relevant footballing areas; shooting, dribbling, passing and so on.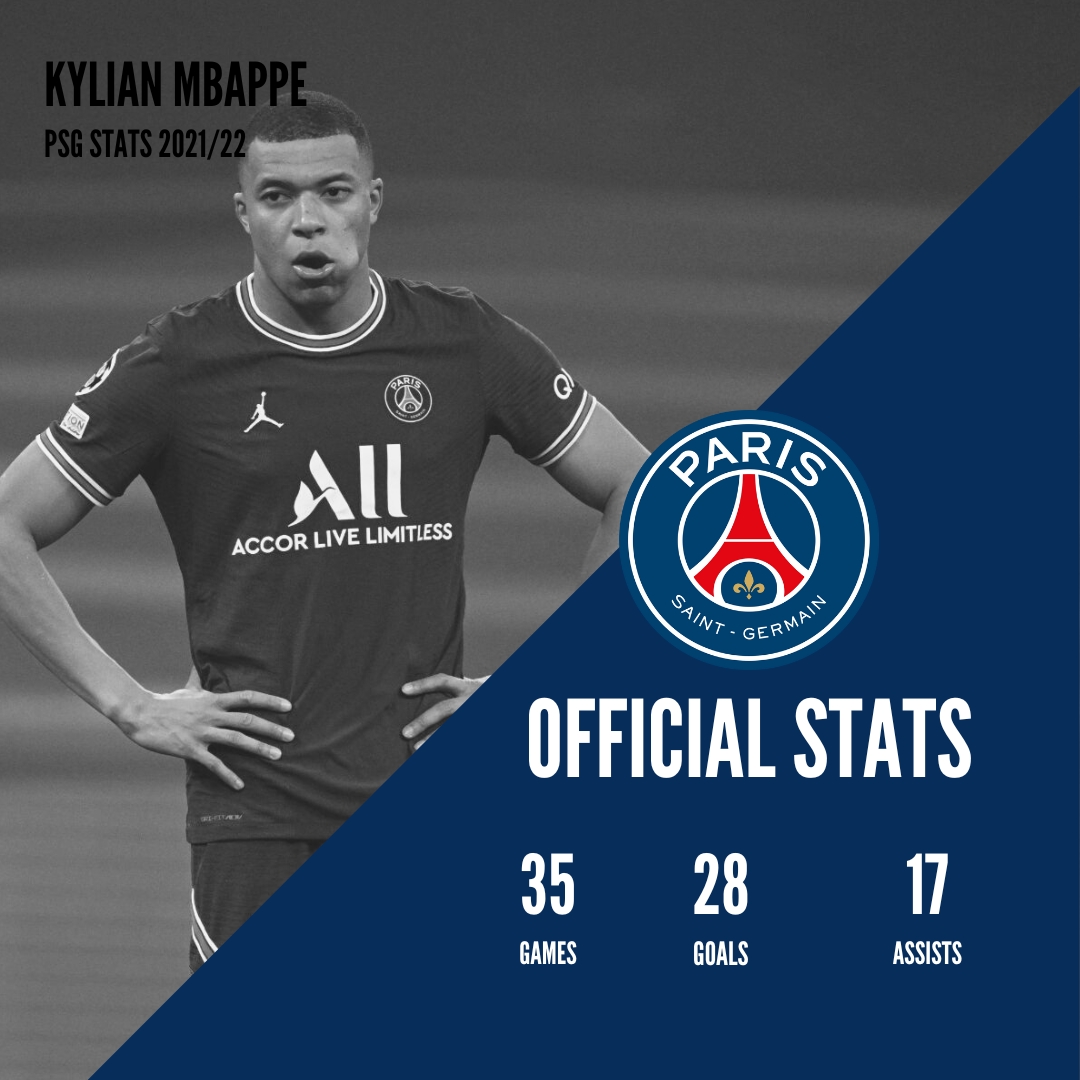 It is his pace which makes him terrifying. He hits a top speed of 36km/h, and he does so without breaking a sweat. He glides on the pitch - it looks too easy for him.
With 28 national goals and 17 assists in only 47 games, Denmark will do well to not get caught out by the threat that is Kylian Mbappe.