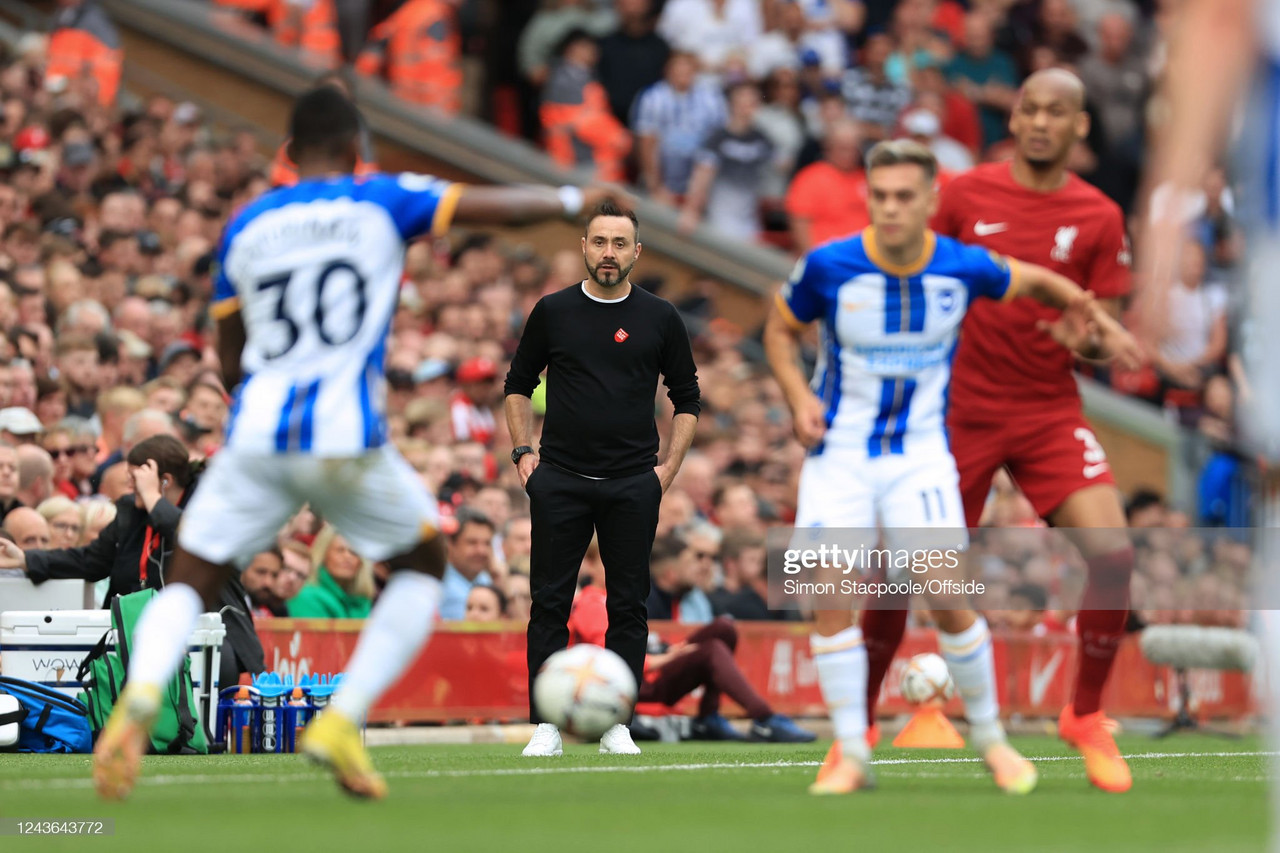 Brighton & Hove Albion's new head coach Roberto De Zerbi described himself as "happy" and "proud" of his team after his maiden game in charge of the club ended in a 3-3 draw with Liverpool.
The Seagulls started on the front foot at Anfield, as expected under the Italian tactician, and took a shock 2-0 lead within the opening 17 minutes through a Leandro Trossard brace.
The hosts fought back and levelled the score after Roberto Firmino scored his second of the game in the 54th-minute before an error from Robert Sánchez lead to the ball deflecting off Adam Webster and into the net from a corner.
However, the visitors fought back and secured a point as Trossard's left-footed strike in the 83rd-minute just about evaded Allison to make him Brighton's first-ever Premier League hat-trick scorer.
Speaking with what English he can in his first post-match interview, De Zerbi spoke highly of his team's performance against a difficult opponent.
"[It was] a crazy game. I'm happy, I'm proud for my players, for my club. There was a possibility to win the game, but Liverpool is a fantastic team. I knew before the game it can be difficult and it was very difficult."
Trossard hat-trick seals the deal
Trossard's Man of the Match performance also meant he became just the third visiting player, after Peter Ndlovu in 1995 and Andrey Arshavin in 2009, to score three at Anfield in Premier League history.
De Zerbi could claim he had a positive influence on the forward after contacting the 27-year-old during the international break and he was "happy" with his display.
"When he was with the national team, I sent a message to Trossard and I told him that he needs to increase the number of goals and I think that he made me happy!"
The Belgium international was delighted with himself but feels disappointed that the team couldn't secure all three points after being in such a promising position.
"It's always nice if you can score, especially three and it's at Anfield. It's a shame we couldn't get the three points, but, obviously, we are still happy with the point at Anfield."
"I think maybe a draw at the end is quite fair, but you always want more, of course, especially if you're two-nil up, but in the end we should be happy with a point and I think it's a great performance from us."
Liverpool head coach Jürgen Klopp spoke of two stories in his post-match interview. One depicted the tale of a "worst possible start" while the other he spoke of as a nice story as his side, at one point, overturned a two-goal deficit. In the end, he described the game as a "fair result".
Klopp praises Brighton display

"[It's] not the score we wanted, but I think being two-nil down there's really different stories to tell.
"Being two-nil down and coming back three-two up is a nice story, with a difficult start, obviously. Throwing that away and having a three-three is not a nice story but it's, for sure, what Brighton deserved."
"They played a really good game. We had moments but didn't particularly play a good game. The start of the game with the goal we conceded was, in our situation, the worst possible start.
The German was in the opposite dugout to De Zerbi for the first time and commended the 43-year-old's approach to the game, but admits it was difficult to anticipate how his counterpart would set up.
"Brighton set up in a really brave way. 3-4-3, the four midfielders in a box, two tens, two sixes, we couldn't really prepare for it because we had no idea what they will do, but that is very often in football the case.
"Then you have solutions for situations but before we had the solutions we were already 1-0 down and that changed the momentum extremely. They felt like they are flying and we felt like 'okay, does this rubbish start again', and that's what you could see.
"But again, we fought back in the game and that's positive, of course, it doesn't feel in the moment positive but it is and we have to accept a point."
Liverpool have now failed to win in five of their opening seven Premier League games, leaving them 9th in the table and 11 points off the top. Brighton, on the other hand, continue their strong start to the campaign and remain fourth with 14 points.