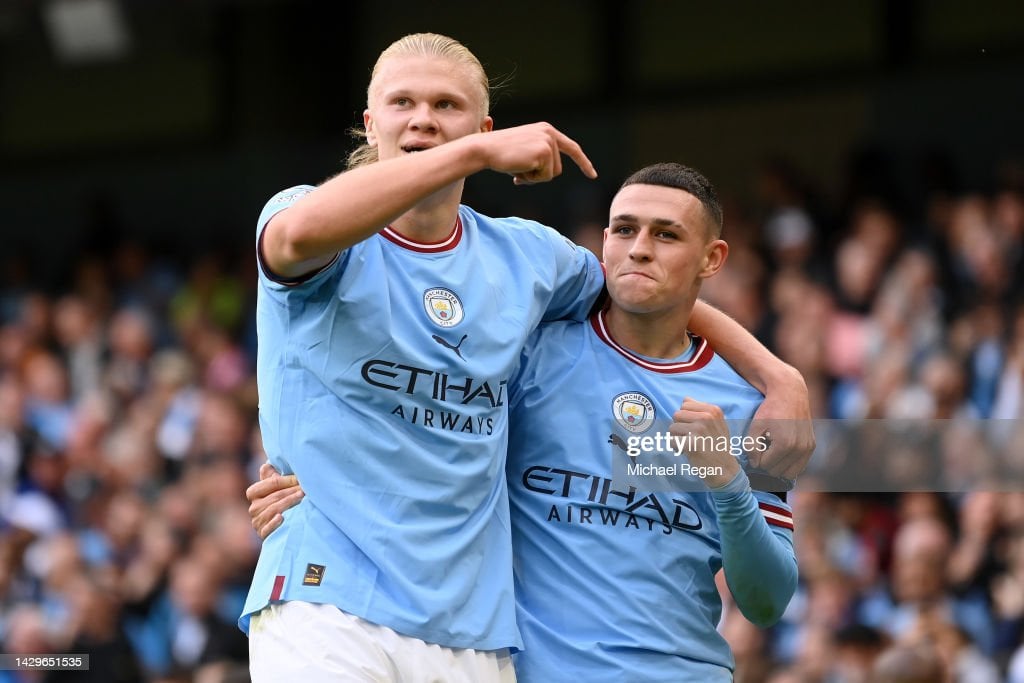 Henry & Bergkamp. Cole & Yorke. Haaland & Foden? There have been a collection of formidable strike-forces that have whipped up a storm in the Premier League, and further back in the old first division, and could we be seeing the blossoming of another such duo.
At first glance Erling Haaland and Phil Foden may not look like the stereotypical strike partnership, but they are already showing signs of an attacking unit that takes some stopping. They have the look of a modern-day strike-force — not the classical No 9 and 10 but something as equally devastating.
Observing how the two young attackers ripped Manchester United to shreds during Sunday's 6-3 Manchester derby humiliation, the level of chemistry and understanding that is already building between the pair was clear. Naturally, the hat-tricks which both scored take the headlines, but it was the sharp manoeuvres and quick interchanges that equally caught the eye.
Haaland has been nothing less than a revelation since arriving at Manchester City in the summer. This was probably his most complete performance yet for his new club and was capped off by a third successive home league hat-trick, a new record for the Premier League. The manner in which he tormented United's centre-backs — so much so that the experienced Raphael Varane couldn't get off the pitch quick enough when he felt an injury late in the first half — combined both physical strength but also a mental one too.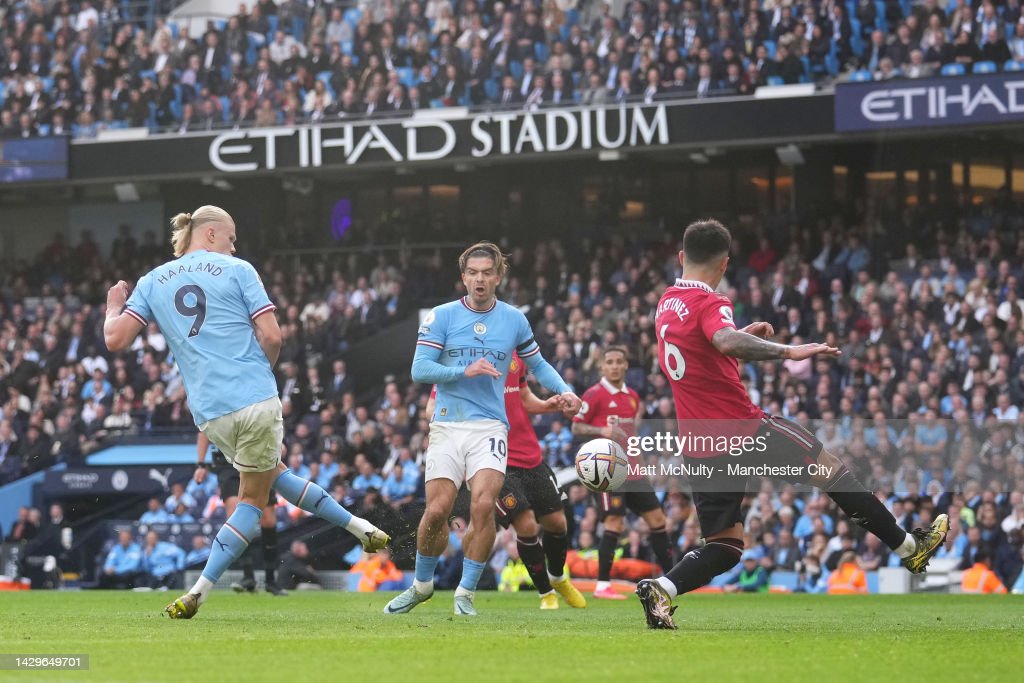 Goals may become harder for Haaland to come by, but eight weeks into the season and the numbers continue to swell at a staggering rate. The Norwegian now has 14 goals in eight Premier League games at a rate of 1.75 goals per match. Maintain that ratio and all Premier League records will be eclipsed: Mo Salah's 32 in 2017/18 (the most in a 38-game season), and the 34 managed by Andy Cole and Alan Shearer in a 42-match campaign.
Pep Guardiola stressed after the derby that he was pleased by Haaland's greater involvement to his team's play besides the goals. "What I like in the last period of the game is he is involved. He said 'I prefer to touch the ball five times and score five goals'. I don't like that, I want him to touch the ball more and more," said Guardiola.
"So he became a football player to score goals. I like that he's part more for the situations, but don't forget his biggest talent is to put the ball in the net."
Haaland and Foden make perfect duo
Haaland has also had an immediate impact on his team-mates. None more so than Foden, whose first City hat-trick was somewhat overshadowed by Haaland. It was Haaland who set up two of Foden's goals and their interchanges were a common theme as United stood off the pair.
Having Haaland and Foden as the fearless spearhead of a team is quite something and Foden's level of performance has increased at the start of this campaign no doubt due to the arrival of the Norwegian. Foden has now scored six goals in all competitions and assisted two more this season and his growing influence was noted by Guardiola who also pointed out his positional versatility.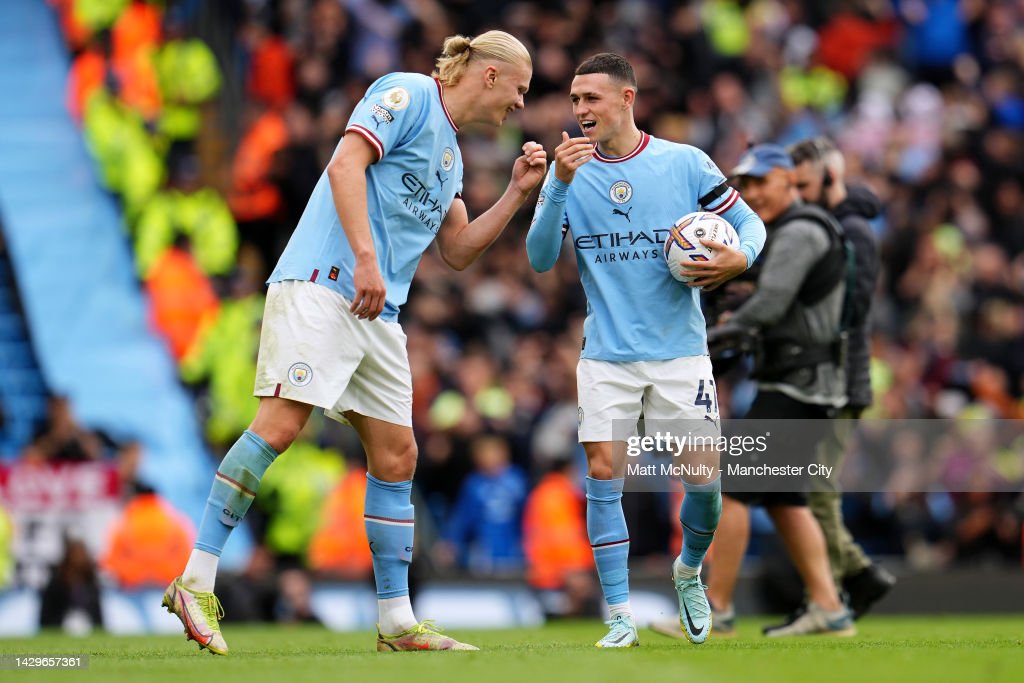 "Phil is a reality, still is a young lad, but he played important games in the last years with us, not just the quality he has, you see how he runs, how he presses, the intensity he does it and the quality he has," he said.
"Last season he played many games as a striker, at the end he will be able to play as an attacking midfielder. Close to the box he has incredible sense. What a talent, what a reality. He is a good lad, he lives for football. Hopefully, he can stay many, many years for us and his private life can be settled perfectly and just focus on what he loves, to play football."
Jack Grealish has also impressed in recent weeks and his runs were instrumental in City's early onslaught. Likewise, Kevin De Bruyne's ability to conjure gravity-defying passes and assists are also more pronounced with Haaland now dispatching them at an alarming rate. The days of Guardiola teams having a 'false nine' are well and truly over.
The City manager has a 'Gen Z' forward line at his disposal. Keep it up and records will tumble.