Liverpool can't afford any sign of complacency and must treat the second-leg of their Europa League last-16 tie with Manchester United as if they haven't got their first-leg advantage.
Goals from Roberto Firmino and Daniel Sturridge gave the Reds a comfortable 2-0 victory at Anfield prior to their trip to Old Trafford for the return tie, despite the goalkeeping heroics of David de Gea.
Jürgen Klopp's side can virtually end the tie down East Lancs Road if they can find an away goal, which would require United to score four to stand a chance of progressing to the next round of the competition.
United first-leg win was "a very big game" says German
Can told Liverpoolfc.com when asked whether his side were in control: "Of course we are, we won 2-0. We have to be happy with that.
The midfielder explained how the entire team were "very happy" with drawing their fierce rivals, who they had lost their last four successive games against prior to Thursday's first-leg, and said they "just wanted to play like recent games" in which he says they have "played very well."
"We did a good job and we have to keep going like that next week," continued the German, who said that it was "a very big game" for "the Liverpool family" and said it was "a great game, a great night, a great result."
Midfielder insists Reds want to win second-leg too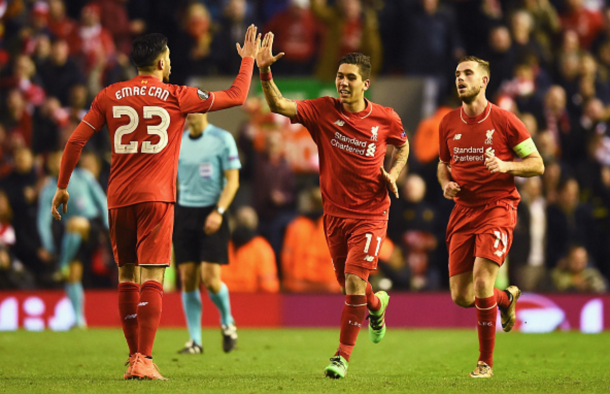 The 22-year-old, who was excellent in the centre of midfield, insists that Liverpool won't simply be going to Manchester to see themselves through.
Instead, he says they will be in search of their first win on M16 since March 2014 as they seek to replicate a similar kind of performance to their first-leg display.
Can added: "We have to keep going like in the first game. We have to press and we have to play to win the game."
The Germany international said that they "have to try and score again" and that he and his teammates "don't want to defend for 90 minutes."
He also said that they "want to go to the quarter-final" and "want to win this competition" because they have "played a lot of games in it already" and it is "very important" to the team.
Strong spirit in the Liverpool squad, says Can
Asked about Liverpool's response since losing the Capital One Cup final to Manchester City last month, winning three games from three in all competitions, Can said that the heartbreak of their Wembley defeat is in the past and "done now."
"This is very different," he described, insisting that the spirit in the squad is "very strong" but that there are "good teams like Manchester United" whom they have to "show our performances" against.