Marouane Fellaini's agent admitted that a summer move to Italian side AS Roma could be a "possibility" although there has been no bid or interest.
The Belgian midfielder was spotted at Roma's Stadio Olimpico on Monday evening as the Giallorossi beat Napoli 1-0. The Italian newspapers, such is their nature, were quick to jump on the story with Gazzetta dello Sport reporting Roma could offer just £15million for Fellaini.
Fellaini move to Roma a "possibility"
Much-lambasted Fellaini was bought for a staggering £27million by David Moyes in his first few months in charge of the club, more than his release clause. Despite his critics, which have rightfully come at times, Fellaini has offered United an alternative throughout his three seasons at the club. In this year's exciting FA Cup run for the Reds, Fellaini has taken them to the final with a goal against West Ham United in the quarter-final replay and the opener against Everton in the semi-final last Saturday.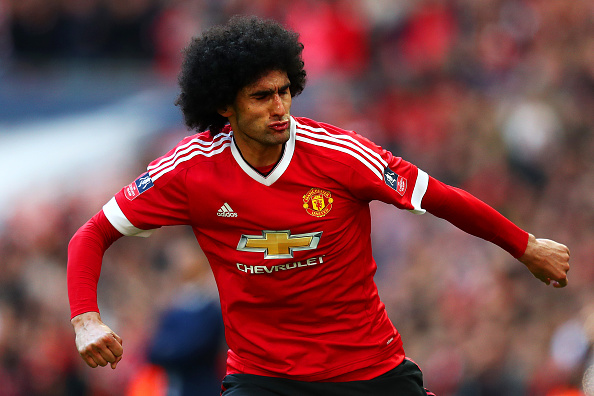 £15million appears a small fee for a Manchester United midfielder, but Fellaini is certainly not a fan favourite at Old Trafford and a new manager could be coming in to replace Louis van Gaal so the fee could be minimised to ensure potential suitors take him.
No bid for Fellaini from Roma, admits agent
The rumours linking Fellaini are tenuous, but his agent did discuss them. Luciano D'Onofrio said that "for the moment," he has "no other news" and he has "had no contact with Roma" for Fellaini despite his presence at the Stadio Olimpico on Monday. "He was probably there on holiday," admitted D'Onofrio.
Despite that, a move to Roma "is a possibility to consider", Fellaini's agent said.
Fellaini has become a necessary evil for United this season, particularly in the FA Cup. Recent performances have been impressive but there is no doubt that Fellaini is not United quality and a new manager is likely to see that too. A summer exit could be likely, and if Fellaini is allowed to be the main man at a club, possibly Roma, he could be a huge success.