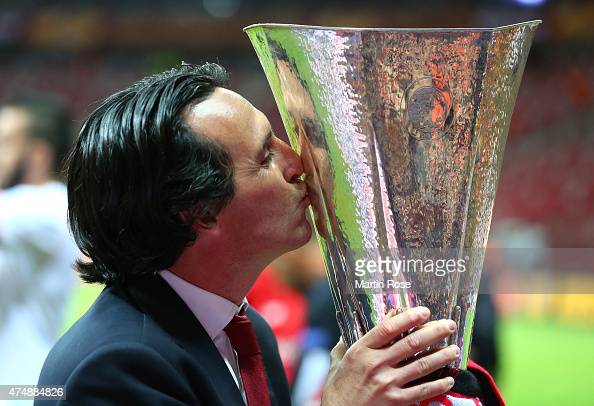 There is a vast difference in terms of experience between the two managers that will face off in the Europa League final tonight.
Manchester United manager Ole Gunnar Solskjær has never been in a cup final as the manager of Man United, he's almost always fallen at the last hurdle - until now.
The only cup competition that Solskjær has managed to win as a manager was the Norwegian Cup with Molde in 2013.
Now, he has a chance to win his first cup as Manchester United manager as the Red Devils face Villarreal in the Europa League final in Poland tonight. In the other corner though, is a proven winner, a serial Europa League winner.
Unai Emery is the manager of Villarreal. This will be his fifth Europa League final. He has won the competition three times (2014, 2015, 2016). That's tied with Giovanni Trapattoni for most by a manager in UEFA Cup/Europa League history according to ESPN.
It will be exciting to see how tonight's final will go, but what happened in those other finals that Emery went to? Let's find out.
(Sevilla 0 - 0 Benfica, 2014)
Sevilla, under the management of Emery, got to the final in 2014 the hard way. In the round of 16, they met local rivals Real Betis. They lost 0-2 at home but came back away. The tie went to extra-time and penalties, where Sevilla came out on top. Sevilla lost 1-0 away to Porto in the quarter-finals but again managed to come back; winning 4-1 at home.
The semi-finals were incredibly dramatic. Sevilla played against Valencia and they won 2-0 at home. They were 3-0 down in the second leg and on their way out of the competition when Stéphane Mbia scored in stoppage time to get Sevilla through on away goals.
In the final, Sevilla played against Benfica in a cagey affair. The teams couldn't be separated in normal time and neither in extra time, so penalties were the only solution. Sevilla won the penalty shoot-out 4–2 and Emery lifted the trophy for the first time.
That was just the start for Emery and Sevilla.
(Sevilla 3 - 2 Dnipro, 2015)
A year later Sevilla managed to get to the final again. The road to the final that time wasn't as dramatic as the year before. They finished second in their group and got through Borussia Mönchengladbach, Villarreal, Zenit and Fiorentina on their way to Warsaw in Poland where the final that year was held. The final this year is also in Poland, in Gdansk.
Sevilla beat Fiorentina 5-0 on aggregate in the semi-final where they booked their place to meet Ukrainian side Dnipro in the final. This was Dnipro's first European final but they gave it their all against a strong Sevilla side.
Dnipro opened the scoring in the seventh minute through Nikola Kalinic's header. Sevilla responded well and managed to get the 2-1 lead. The score at half-time, however, was 2-2 as Dnipro grabbed an equaliser in the 44th minute.
In the 73rd minute, Sevilla scored the winner as substitute Carlos Bacca converted after being supplied by Vitolo. Bacca now plays under Emery at Villarreal.
With this win Sevilla were record-holders; they set the record for most UEFA Cup/Europa League wins with four trophies.
(Sevilla 3 - 1 Liverpool, 2016)
And once again, Sevilla were Europa League champions. For the third straight year, the Andalusian side took home the trophy. In 2016 an English side met a Spanish team in the final, just like this year. That year the Spanish side came out on top.
Sevilla started their Europa League campaign in the round of 32 after finishing third in their Champions League group. They got through Molde and Basel rather comfortably in the first stages of the knockouts. Then came Athletic Bilbao in the quarter-finals and that tie went all the way to penalties. Once again, Sevilla won the penalty lottery. In the semi-final, they put Shakhtar Donetsk away.
Emery created a winning team that loved the Europa League, while Jurgen Klopp hadn't found the right formula with Liverpool at that point. Daniel Sturridge gave Liverpool the lead but Sevilla equalised early in the second half. Captain Coke then took care of business and scored twice as Sevilla won, 3-1.
Three wins in a row and it looked like Sevilla would win it every year. They became unstoppable in this competition. But then Emery left for Paris Saint-Germain.
(Arsenal 1 - 4 Chelsea)
Emery returned to the Europa League final in 2019 when he guided Arsenal to the final in Baku. It was Arsenal's first European final since that night in 2006 when they lost to Ronaldinho's Barcelona in the Champions League final.
Arsenal beat tough opponents like Valencia and Napoli to get to the final where they met fellow English side, Chelsea. Before the 29th of May Emery had never lost a Europa League final but there is a first time for everything.
That night in Baku everything went wrong for Arsenal in the second half and they ended up losing 4-1. That was the beginning of the end for Emery in England and he said his last "Good evening" as Arsenal manager in November 2019.
Manchester United - Villarreal, 2021?
Tonight is a big night for Emery and his men in yellow as they can get into the Champions League for next season with a win. If they lose they will be playing in the new UEFA Conference League.
The Europa League a competition Emery knows better than most people, and he knows how to win it. He's turned Villarreal into a team that's difficult to beat in this competition and tonight's game will be a tough test for Solskjær and his team.