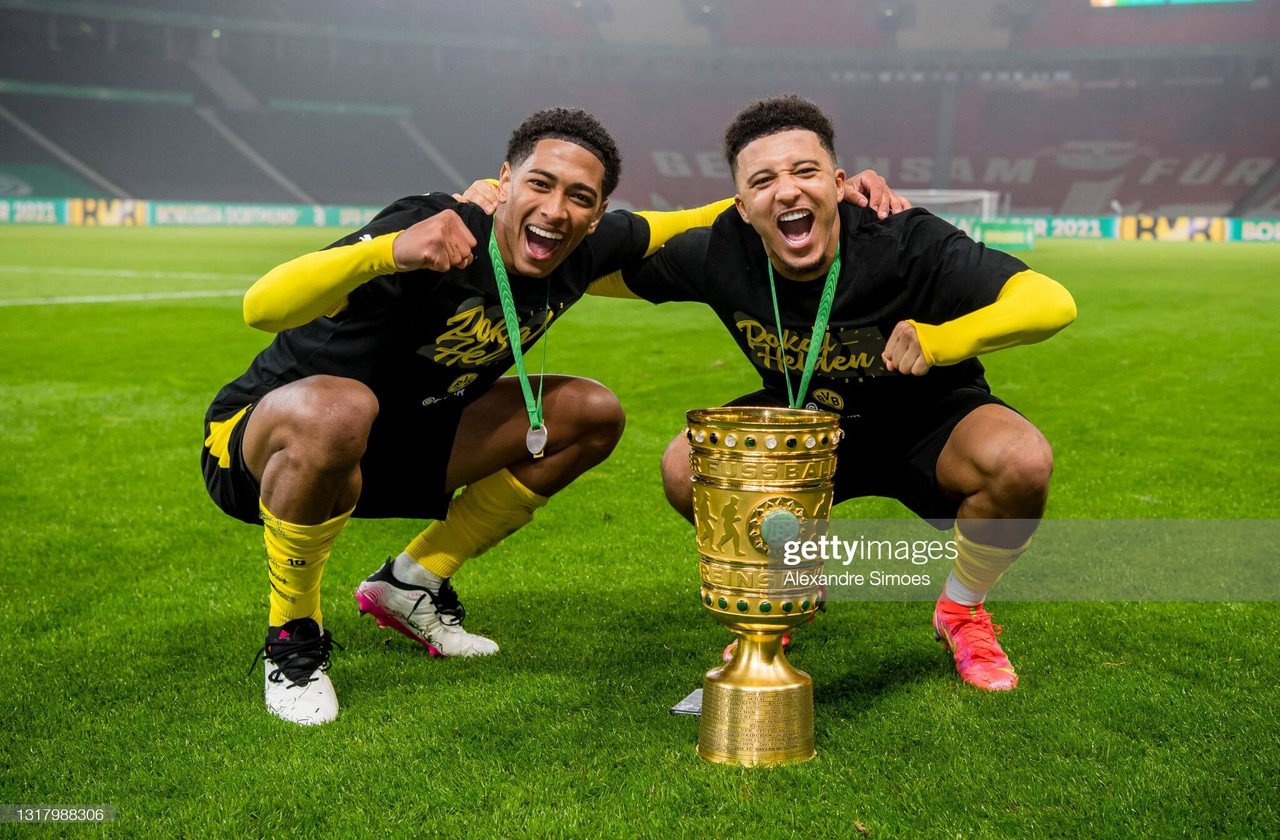 The last time England and Germany met in a tournament match at Wembley was 25 summers ago at Euro '96. On that June evening, none of the 25 players that were on, or entered, the field of play were on the books of domestic clubs of the other nation; there was no Englishmen plying their trade in Germany or vice versa.
Fast forward four years and things were a little different. When the teams met again for the final ever game at the old Wembley, it was a Premier League player who scored the only goal in a 1-0 Germany win. Dietmar Hamann was playing for Liverpool at the time. Furthermore, the England manager on that day, Kevin Keegan, was a rare example of someone who had made the opposite journey as a player.
Yet on Tuesday, a little over two decades hence, one can expect a German starting XI in which perhaps half the outfield players are, or were, employed in English football. Also, there is the possibility that two of England's participants, Jadon Sancho and Jude Bellingham, belong to a Bundesliga club.
Times change and with it there has clearly been a great intertwining of German and English football. One has helped the other in this cross-fertilisation of players, ideas and success.
Germany team of Premier League stars
Joachim Low has at his disposal 10 players within his 26-man squad who have links to English clubs. His No 2 goalkeeper, Bernd Leno, plays for Arsenal with his current home just a few miles across north London. Then there are three Chelsea Champions League winners in Antonio Rudiger, Kai Havertz and Timo Werner; all of whom played in the final in Porto last month and will feature at some point in Tuesday's game.
Ilkay Gundogan was the leading goalscorer from the Premier League champions, Manchester City. Robin Koch, of Leeds United, is in the squad as a back-up defender while Emre Can, another squad player, spent four seasons with Liverpool. Serge Gnabry was at Arsenal for much of his development before advancing his career back in Germany. Similarly, Leroy Sane moved to City aged 20 and then to Bayern Munich at 24.
Of all of Germany's links, perhaps Jamal Musiala is the most unique. The 18-year-old was raised in south London, part of the Chelsea youth system and representing England at under-21 level until last November. Now he is a fully-fledged German international, becoming the country's youngest international at a major tournament when he came on as a substitute in last week's 2-2 draw with Hungary.
Musiala's path is quite different to most, but his case, more than any other, highlights how footballing cultures between England and Germany have grown in tandem. Germany has been lauded as a great footballing scene for young players to go and build their early careers because German clubs, throughout the divisions, are willing to give youth a chance.
Duo taking Bundesliga by storm
That is why England duo Sancho and Bellingham made the move. Sancho became the pathfinder for a collection of young British players when he joined Borussia Dortmund at 17. Frustrated that a chance at first-team football was not forthcoming at City, he moved to the continent and hasn't looked back since.
The 21-year-old has become a Bundesliga phenomenon: scoring 50 goals and making 64 assists in 137 matches. He scored a brace and set up another goal in last month's German Cup final victory over RB Leipzig. There is plenty of reasons why Manchester United hope to bring the tiro back to British shores. All of this does beg the question as to why Sancho has only been afforded six minutes at Euro 2020 thus far.
Bellingham followed in Sancho's footsteps and the two have naturally become good friends in North Rhine-Westphalia. The 17-year-old's stock has risen even quicker and that is shown by Gareth Southgate including him in England's squad for this tournament and giving him more minutes than Sancho. The pair are just the most noteworthy of numerous young British footballers who have moved to Germany recently and consequently aided their international careers.
One could go even further and look at the sheer amount of cross-country activity that takes place in the transfer market. Christian Pulisic, Pierre-Emerick Aubameyang and Naby Keita have all notably recently switched the German top-flight for England.
What's more, Jurgen Klopp, Thomas Tuchel and Daniel Farke are three German coaches in the Premier League currently with Klopp having already brought huge success to Liverpool.
Everywhere one looks the growing ties between English and German football are seemingly becoming ever stronger. One might say that this is the same with other countries - France, Spain or Italy, perhaps - and it's just a by-product of an increasingly globalised world. But there is no doubt that there is something different too.
The footballing philosophies of English and German football are more closely aligned than the Iberian Spanish or the Mediterranean Italians, of that there is no doubt. This brings us back to Tuesday evening where the players on either side will be not only facing a familiar foe but also a recognisable opponent.