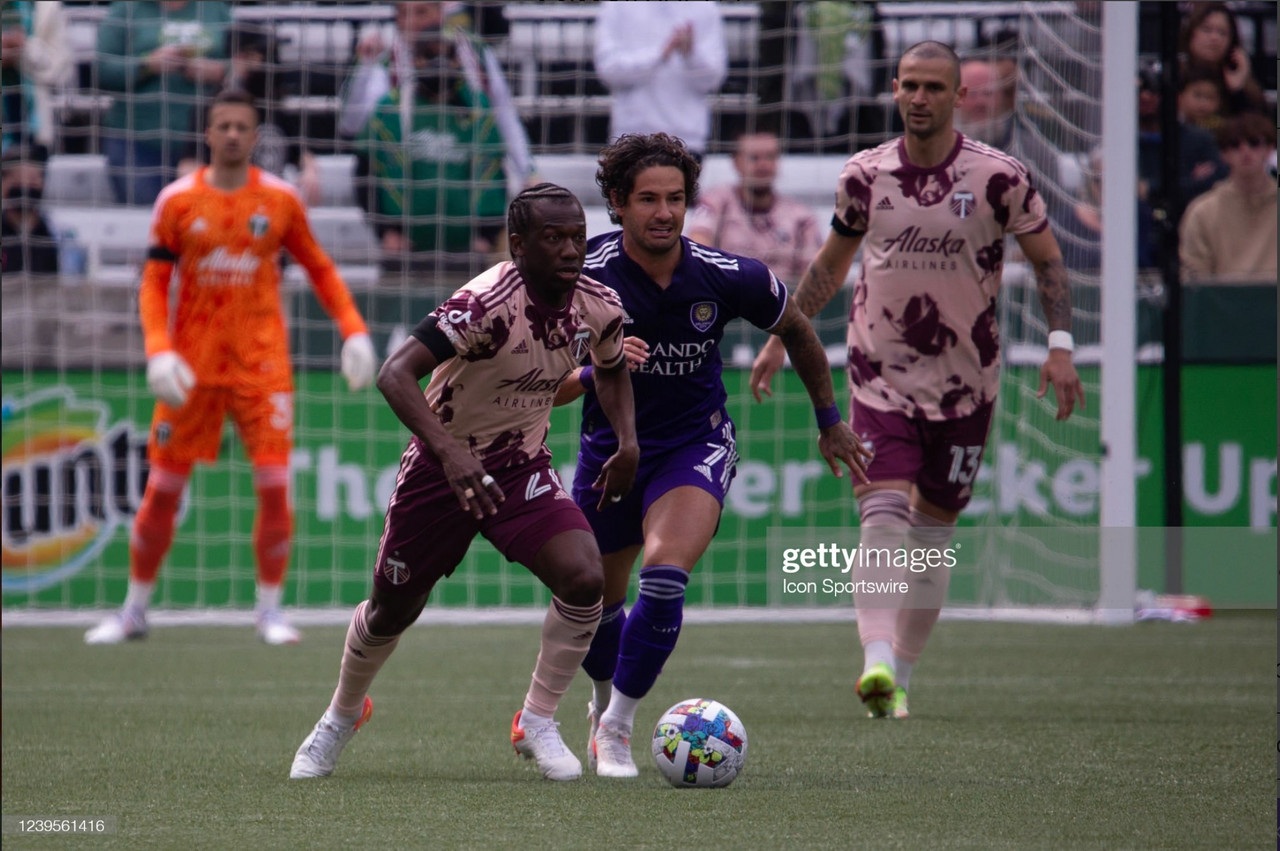 As the nations eyes were fixated on Orlando as the USMNT all but secured their place at the 2022 World Cup. The City's MLS franchise was taking part in a match on the other side of the country in Oregon.
How did the game play out ?
Both sides opted for a similar formation, a variant of 4231 with Jaroslaw Niezgoda leading the Portland attack while Alexandre Pato started up front for the visitors. The game on the whole was even as neither team was able to establish significant control as they took in turns to have periods of possession, this is highlighted by the stats with The Timbers edging it by 52 to 48%.
With the score level going into half time. A moment of magic from Pato was able to break the deadlock. The former AC Milan striker picked the ball up on the edge of the 18 yard box and initially tried to find compatriot Ruan who had made an overlapping run from his right-back berth but this was intercepted by Dairon Asprilla. Fortunately for the Brazilian the ball deflected back to him and nonchalantly delivered a floated pass into the penalty area where an untracked Junio Urso was picked out. Urso tucked the ball past Aljaz Ivacic and consequently ran off to celebrate in front of the Timbers Army much to their discretion.
The hosts though were able to find an equaliser ten minutes before the end. Paraguayan midfielder Paredes was brought down after Andres Perea hung out a wandering boot. The man who won the penalty was able to step up and smash home the equaliser to turn the Timbers Army's mood slightly around.
On the balance of play a draw seemed a fair reflection of the game itself. Portland like in possession slightly edged the non penalty Xg with 1.11 to Orlando's 0.79 while the shot count was very even 12 to 11 with the visitors having more shots on target four compared to three.
Van Rankin sees red
"A piece of brainless defending" was John Champion's verdict in commentary for the Portland right back's dismissal. With Giovanni Savarese's side seeming to take control of the game, Jose Van Rankin had five minutes of madness that could have cost his team dearly.
He picked up his first yellow card in the 71st minute and then five minutes later saw another appear from the referees pocket which subsequently was followed by a red. The challenge that the Mexican made was silly and unnecessary as he pulled back Pato who was looking to enter the Portland half. Pato who is now 32 doesn't possess the same pace he did when he was breaking through at AC Milan over ten years ago so had he got past Van Rankin the chance of a dangerous attack was minimal.
As for Orlando, they will be extremely disappointed that they were not able to see out the victory after the hosts had been reduced to ten men. Although, Yimmi Chara did an exemplary job of filling as a make-shift right-back after Van Rankin's red card.
Return of Eryk Williamson
When Eryk Williamson dropped to the floor in Seattle last August it was expected the 23-year-old would be out for around a year. Seeing him return after only seven months should be seen as a resounding success and a significant boost to both the Portland Timbers and the USMNT.
Like with most serious injuries, players are expected to be eased back into the action. Therefore, Williamson was only on the bench to begin with and managed to play five minutes coming on for Santiago Moreno as the Timbers looked for some fresh legs going into the latter moments of the game.
As the weeks go on it is expected that Williamson's minutes will increase but it is a fantastic first milestone for the midfielder to overcome as he steps up his recovery.
Blanco almost wins it
The buzz around Providence Park when Sebastian Blanco came on signalled the Timber faithfuls appreciation for the Argentinian designated player. With Portland icon Diego Valeri departing in the winter, Blanco takes over the baton as the supposed face of the franchise .
He hasn't started any games so far this season but after coming off the bench almost made the difference. With the last kick of the game, he found himself in the middle of the Orlando penalty area but was unable to get enough power in his shot as back-up goalkeeper Mason Stajduhar was able to comfortably save it and preserve the point for Oscar Pareja's side.
Internationals missing for both
Both sides had key players out on international duty with Orlando impacted more severely than their opponents.
Savarese was only without Bill Tuiloma who was with New Zealand as they look to make it through the Oceania qualifying section. Tuiloma who before Sunday's game had played every minute at centre-back so far this season, scored off the bench in the Kiwi's 7-1 demolition of New Caledonia before starting in a more nervy 1-0 win over Tahiti.
As for Orlando they were missing three players including their new designated player Facundo Torres. He was only able to make the bench in Uruguay's 1-0 victory over Peru where Orlando's starting goalkeeper Pedro Gallese started for La Blanquirroja and conceded the sole goal to Giorgian De Arrascaeta. The other unavailable member was Jhegson Mendez who was also in action in the CONMEBOL bracket as his country, Ecuador secured qualification despite losing 3-1 to Paraguay. Mendez played 75 minutes.
Impressive performances from two youngsters
Alright Zac McGraw might not necessarily qualify as a 'youngster' as such at the age of 24. But the Portland centre-back was only playing his 16th professional game on Sunday as he put in a solid shift next to seasoned pro Dario Zuparic. McGraw has played every minute of the campaign so far and other than the Dallas debacle last weekend, has looked like a MLS centre-back on all occasions so far. His manager, Savarese clearly thinks the same as Larrys Mabiala continues to sit on the bench.
As for Orlando, 20-year-old Cesar Araujo impressed in midfield. He arrived from Uruguyan side Wanderers in the off-season and like McGraw has started every game so far this campaign. He has that aggressive nature that is often associated with the best Uruguayan midfielders like Federico Valverde and before him Walter Gargano. This does have its draw backs though with Araujo already picking up three yellow cards in only five matches and at Wanderers last season managed 10 yellows and a red in 29 outings. Although, on Sunday he avoided adding to his collection despite one slight altercation with Portland winger, Asprilla.
What else went on in MLS this weekend ?
With the international break in full flow only two other fixtures took place this weekend with both happening on Saturday.
Charlotte got their second win in a row as Karol Swiderski is becoming quite the hero in North Carolina with another brace to follow after his double last week against the New England Revolution. His first against Cincinnati was a sumptuous free kick, thats well worth viewing if you haven't already.
While in the Western Conference, Sporting Kansas City ended Real Salt Lake's unbeaten start thanks to a goal from Johnny Russell.