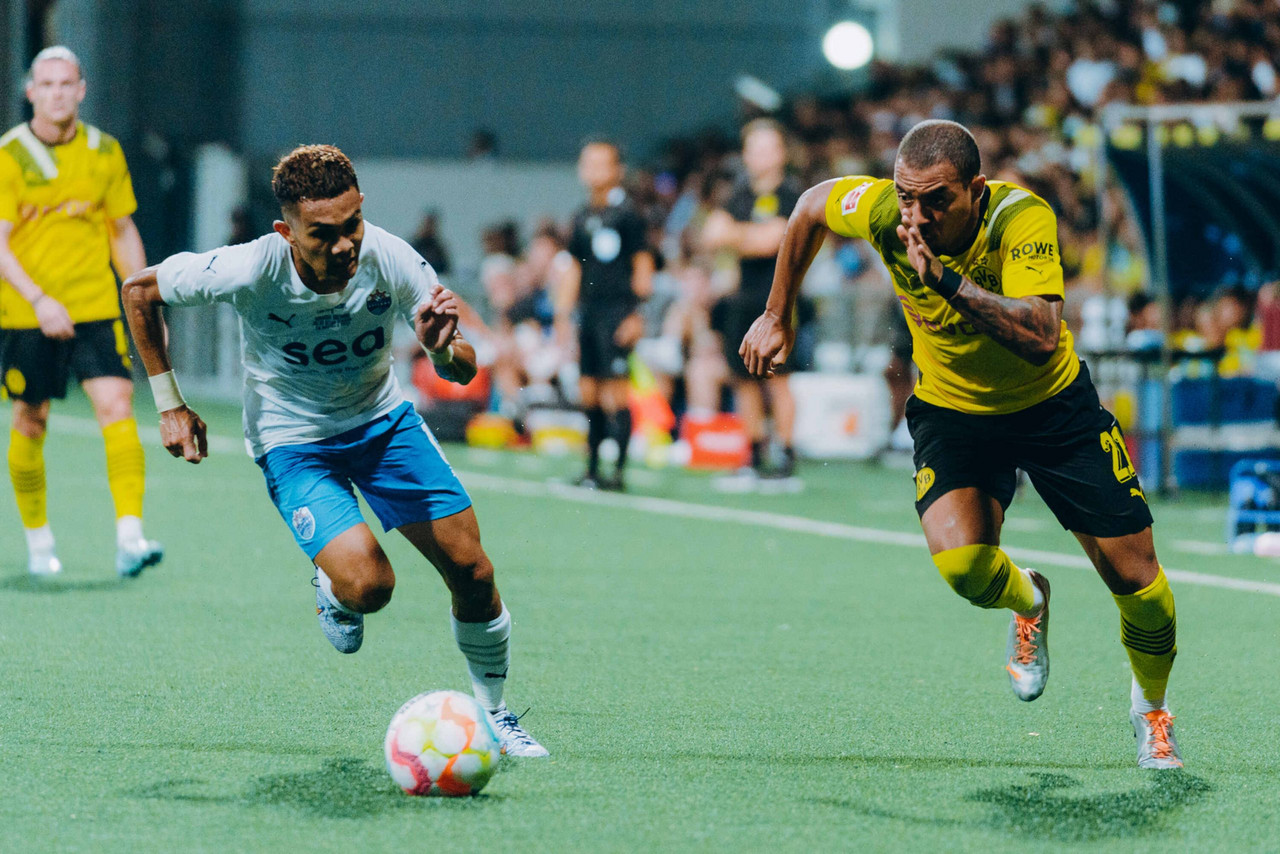 Despite playing without some of their stars, such as Jude Bellingham, defensive duo Niklas Süle and Nico Schlotterbeck, who are at the 2022 FIFA World Cup, Borussia Dortmund cruised to a 7-2 victory over the 2021 Singapore Premier League champions Lion City Sailors at a sold-out Jalan Besar Stadium on Thursday night.
The 6,000-capacity venue, packed with both Dortmund and Sailors fans, roared to life for about two hours as both sides put up an incredible show.
World Cup winner Mats Hummels was seen interacting with fans and signing autographs before the kick-off but did not feature in the match, as head coach Edin Terzic handed the captain's armband to Emre Can.
Dortmund opened the scoring sheet with an own goal by Sailors' Amirul Adli two minutes after the half-hour mark.18-year-old Samuel Bamba, and Malen scored a brace, while substitutes Julian Rijkhoff and Justin Njinmah scored a goal each towards the end of the match. Gabriel Quak and Faris Ramli gave the Sailors and their fans something to cheer about as the duo grabbed a goal each.
The 32-year-old forward launched a powerful left-footed shot which was too powerful for Dortmund goalkeeper Alexander Meyer to keep out. Meanwhile, Faris Ramli got on the scoresheet with a sublime strike in second-half stoppage time.
After the game, BVB coach Edin Terzic, BVB forward Donyell Malen, LCS interim head coach Luka Lalic and LCS midfielder Anumanthan fielded questions from journalists and spoke about several things.
Here are the key things they said after the match.
Dortmund head coach Edin shared, "it was quite an intense game under difficult circumstances for us, such as weather conditions and turf. So we are happy about the performance, and the spectators also leave the stadium very happy. It was good that many of our young players had the opportunity to get some game time, and we also had no injuries. We scored seven goals, that's good, and conceded 2, which we will work on."
Donyell Malen mentioned, "the first twenty minutes were tough to break into, but we pressed for the goal and had many good opportunities."
LCS interim head coach Luka Lalic added, "we put in a really good effort to keep the score zero-zero, but again individual mistakes cost us those goals, the highlight for me was that the two goals that we scored were both assisted by academy players. That was interesting to see."
Sailors midfielder Anu, shared his thoughts about the game as well. "As a team, all of us tried to fight for twenty minutes, and we told ourselves that we were going out there to fight for the crowd and each other. I always look forward to playing against international opponents, and I like the games' intensity and pace. It suits me, and I think I liked the experience today."
Moreover, he added that "for me, the best moment of the game was when I tackled Emre Can, and he asked me why I did it, and I said because I love you, and he said I love you too. (laughs) Salih Özcan asked me why I stuck out my leg like that, but I replied that I learnt it from you. And then we both laughed it off. So that was interesting."
Expectations of Malen in the future
Dortmund coach believed that Donyell Malen has huge potential to grow even further.
He said, "I think Dony knows what I expect from him in the future and Dony has incredible skills .We just spoke after the game and we are always honest to each other, I think he gets very unhappy when he doesn't score goals. It is something that annoys him."
Missing out on world cup squad
Donyell Malen was not part of Van Gaal's world cup squad and he shared some of his thoughts about it. "I mean to not go to the world cup is disappointing but I am happy to be here to play some games and just enjoy football."
Pressure for playing for Dortmund
"I mean when you play for Dortmund, there is always pressure. It's a big club in Germany and it is something you have to deal with but it is also very nice to play for Dortmund," declares Malen.
Dortmund head coach Edin was asked about the emergence of Asian teams in terms of football.
" The technical side of football has improved a lot in the past decade. And you can see it now, they are performing on the bigger stages, like in the world cup. With the potential and all the talents, in the next decade, you can expect a lot from the Asian teams."
Absence of key LCS players such as Kim Shin-Wook, Song Ui-young , Izwan
Luka Lalic was asked why several LCS stars were not in the lineup for the game. He said, " These players have different types of injuries and that's the only reason why they are not in the line-up today. So unfortunately that was the situation."
Playing nice style of football
Luka Lalic emphasised the importance of the style of football that needs to be played. He said, " when I was in the Netherlands, I learnt that winning is not enough; you have to win by playing nice football, not boring football. So this is what I try to establish here."
Dortmund, will visit Malaysia and Vietnam next.