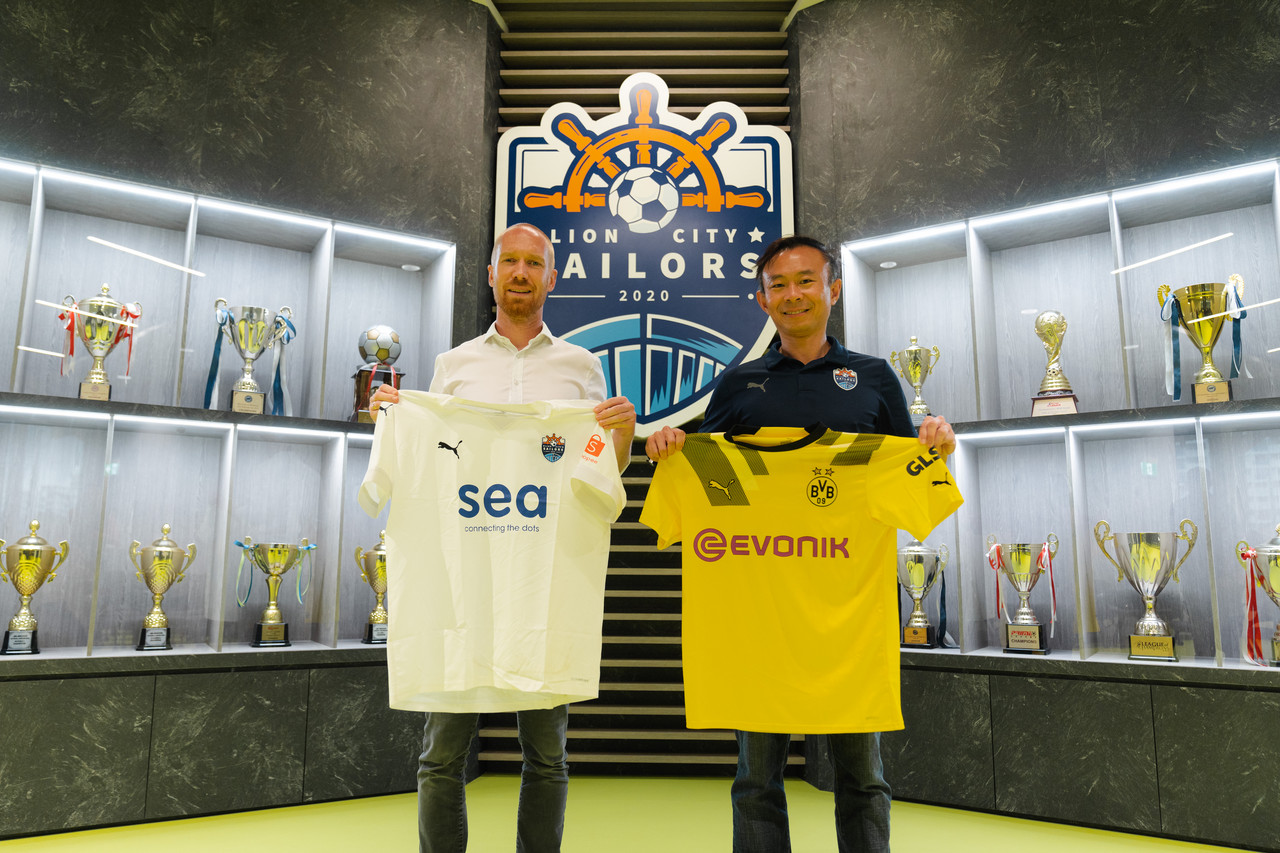 Besides the match, other initiatives will be put into place with great effect to increase the fanbase interactions in Singapore between 22nd to 26th November 2022.
"Dortmund's 5-day tour to Singapore will witness so much more than just a football match. It will present us opportunities for a rich professional exchange in the facets of Sports Science, football medicine, video analysis, as well as digital marketing and fan engagement, and even a chance to contribute to the local community" as Chief Executive Officer of Lion City Sailors (LCS), Chew Chun-Liang emphasised in the Press Conference.
"I'm personally delighted to be able to bring our first team to play in Singapore, and I'm confident that football fans will be treated to attractive football and meaningful initiatives as we solidify our partnership with the Sailors" mentioned Borussia Dortmund's Managing Director, Carsten Cramer.
Segueing into this spiffing partnership between both the clubs in June 2021, the Sailors have benefitted a lot from this partnership in aspects such as community engagement, the youth development as well as knowledge sharing.
"In Lion City Sailors, it is about football, growing football, but it is also about contributing to the community and helping Singapore football. It is very similar to Borussia Dortmund. Another one is their excellence in terms of their youth development. You can see number of youth talents they have produced over the years and that is something that is centred in the very thoughts of what LCS is doing and learning. Youth developments to produce youth talents for the future of Singapore football"
Chew also stressed the importance of certain areas the team has focussed on since the established partnership," I would say the youth development, the knowledge that we gained in terms of youth development, that is one aspect. The other aspect is about Sports Science. We look at nutrition, video, data analysis, how do we transit some of these into information for coaches to use, learning from them on how do we better treat our players and the last aspect is about engagement, how do we engage the community as well".
Moreover, BVB Managing Director Carsten Cramer was pleased with this partnership, claiming how important this friendly match between both the clubs will have a huge positive impact on the relationship of both the clubs as well as the engagement of the fans.
Suresh Letchmanan, managing director of Borussia Dortmand in the Asia Pacific, when approached by Vavel Singapore, delved into a deeper understanding of this partnership.
"We also have five other partnerships of this similar nature in Asia. It is not just Dortmund and Singapore, Dortmund and LCS. Also trying to integrate the other markets that we have. We have in Korea, Japan, India, Malaysia and Thailand. When this partnership exists, we tend to want to bring them together potentially in the near future that we can combine into one week footballing youth conference to learn together and that is the objective for us, and Singapore is obviously the missing piece in the puzzle. Now with LCS setting the standards and the framework, this is where we do it."
"The education, coaching, media, operations management, physiotherapy; that is what we want to do because they learn it. It is not from the book or in a tertiary education. This is something that comes together with sporting expertise. That is something that we have, and we want to share, and the collaboration is more than just the football match", mentioned Suresh.
Match Details and further information
Curiosity was circulating in the air as to why the game will be played at the Jalan Besar Stadium and not the Sports Hub, and Chew cleared everyone's doubt by mentioning in late November, the Sports Hub will be used for the concert performed by Maroon 5. Due to that, it was difficult to host this event in the Sports Hub.
This was supported by Carsten as he mentioned about how Jalan Besar Stadium is ergonomically designed to allow fans to be engaged better with the players. Carsten further stressed the importance that fans should be able to interact more with the players they love and support, if not why would they support?
Hariss Harun, Captain of the Singapore National team and a very vital player of the LCS squad, mentioned how this would be a bigger test for the team, despite having played in the AFC Champions League this year. "We've played against some of Asia's best at the AFC Champions League earlier this year, and this match will be a bit of a step up against one of the best teams in Europe with some of the best young players too."
The match details are out on Lion City Sailors website and tickets are available to be purchased on SISTIC. From 30th September 2022 to 24th October 2022, Early Bird sales will take place with a 15% discount on all tickets, and this will exclude corporate hospitality seats.
Excluding Corporate hospitality tickets, members of Lion City Sailors will be able to enjoy an additional 10% off during the Early Bird sales, and a 20% discount after the Early Bird sale has ended.
Adult Standard tickets will be priced at $35 and $25 in the Grandstand and Gallery respectively. Child and senior citizen standard tickets will be priced at $18 and $13 in the Grandstand and Gallery respectively.
At $90 per head, a corporate hospitality ticket includes a meal and two drinks (choice of either alcoholic or non-alcoholic).