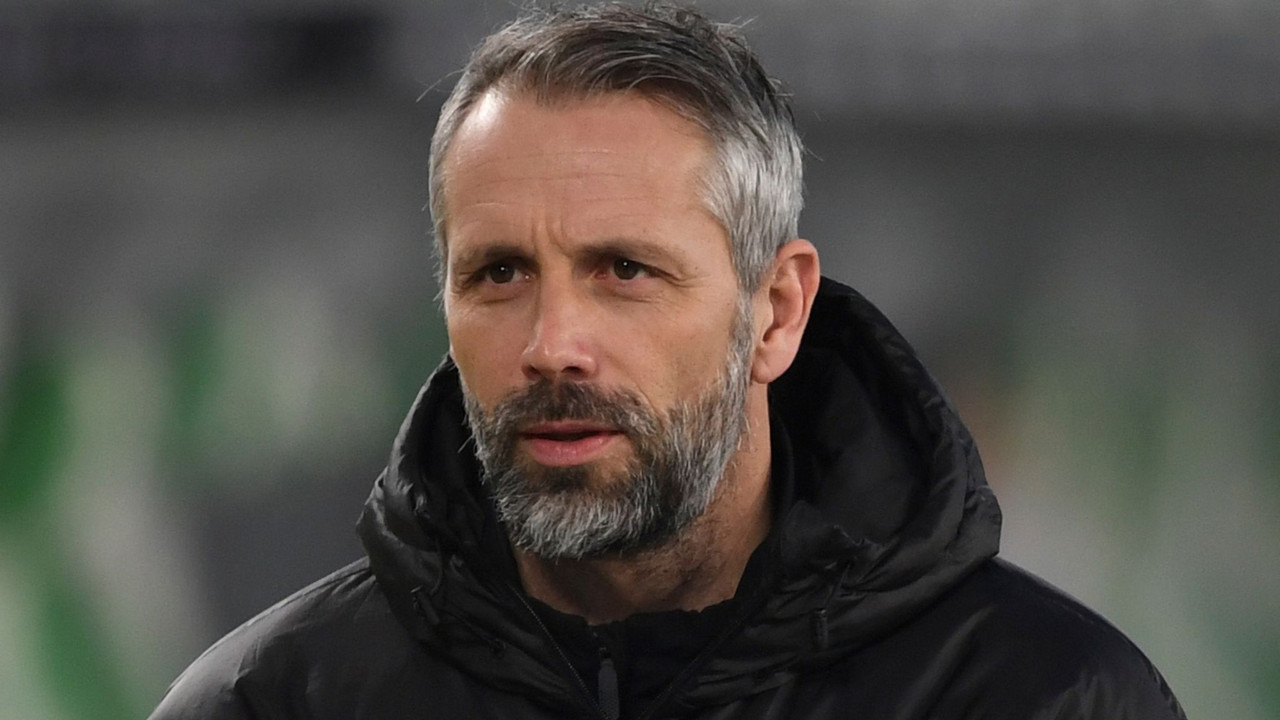 With an uninspiring season to date the pressure is starting to fall on the lap of the former Borussia Monchengladbach head coach. A lot of uproar was generated when his departure from Gladbach was announced in mid-February last season, mostly amongst the fans of Die Fohlen. As a result, the 45-year-old (ironically from Leipzig) had a big reputation to live up to and was thought to be the next man to take Borussia Dortmund forwards and challenge Bayern this season. That expectation has been a hard task to keep up with as his side have often flattered to deceive this season. They have in the main been getting out of trouble by outscoring opponents or relying on moments of brilliance from the likes of Erling Haaland, Marco Reus, or Jude Bellingham.
It has certainly been a season of ups and downs and more so of the later. All starting with the huge disappointment of being knocked out of a very winnable Champions League group containing Sporting CP, AFC Ajax and Beşiktaş J.K. Following on from this was the recent shock of being dumped out the Europa League knockout stages by Rangers FC, 6-4 after two legs. Not to mention a shock loss to FC St. Pauli in the DFB Pokal in January which Rose's men were the holders off. At times the title race has been on but mainly due to Bayern's few failures rather than Dortmund being relentlessly impressive or consistent. Further embarrassing and heavy losses have come against RB Leipzig (last weekend), Bayer Leverkusen and Sporting. Not forgetting losses to SC Freiburg and underperforming Gladbach and Hertha Berlin sides. When you add up all these failures it is a wonder Rose is not actually under more pressure than he currently is, which would indicate the club's board have no plans of removing the Leipzig born coach from office just yet.
So, with such a talented squad on paper why has this season been such a let-down? For starters the leaky defence has still not been corrected by the management. For some time, this crop of defenders has not been at the level required to mount a title challenge or even keep out the most average of attacking teams. Overall, the defence this season has conceded 42 goals which is two more than 11th placed new boys VfL Bochum. These goals have often been a mixture of being too easy to score against and the team contributing individual errors leading to goals. It must be said, however, Rose has been unfortunate with injuries in this area and at times had to patch up his central pairing playing natural midfielders such as Axel Witsel and Emre Can in the heart of his defence. As a result, the side have been inconsistent with their results and have often had to stage impressive comebacks in games to undo silly errors that have come beforehand. Maybe it is time to see what the academy has to offer and give hungrier, more aggressive players a chance to prove themselves rather than the old guard.
A misguided transfer strategy
Then there is the transfer business done under Rose which has not been a total failure, but you can certainly ask questions about the strategy behind them and the success they have brought. There is an argument that their recent transfer business has been rather irregular, and they have not really worked out, apart from the superb Gregor Kobel. The shot stopper signed from VfB Stuttgart last summer has saved Dortmund on countless occasions as his defenders failed to give him any real protection. His efforts have without doubt aided his new club, earning points they may not have deserved and turned potential defeats into critical victories. Elsewhere, Donyell Malen, the chosen one to replace Jadon Sancho has been hit and miss and not really found his feet yet or his natural position. Is that then a failure of the player or the manager for not finding the appropriate formation to allow Malen to flourish? Other than that, a loan signing of Marin Pongracic has not exactly inspired confidence in the defensive unit either. Perhaps it is too early to call out Rose for past failures in the transfer department and at least he is looking to the future having lured the classy Niklas Süle away from champions Bayern on a free. Alongside being heavily linked with the young and impressive Nico Schlotterbeck which could be a partnership to carry Dortmund forward for many seasons to come.
Attack, attack, attack but no defence
Playing style wise, Rose appeared to be a good fit for the DFB Pokal holders as his style of play is supposed to be a high pressing game which leads to many ball recoveries in oppositions half, to reach the goal quickly and in large numbers. His preferred 4-4-2 formation has been let go for now to accommodate players that could not make the former formation work. The issue being with this style of play is that it often leaves their backline terribly exposed, and mistakes are often punished with goals against them, look no further than at the weekend against Leipzig. With a 57%-win ratio Rose must know he needs to get much more out of this talented squad to challenge the likes of Bayern, the fast-improving RB Leipzig and even Leverkusen if they can keep a hold of their best assets. Perhaps the eventual sale of the generational talent that is Haaland might let up Rose to play his own style and imprint onto a hungrier and more driven squad. The money gained from that sale must, however, be invested proportionately into the team which needs a refresh.
Overall, Dortmund may not have necessarily gone backwards under the stewardship of Rose, but they have certainly not gone forwards either. His period of grace will soon run out with the fans and board if next season does not see vast improvements.