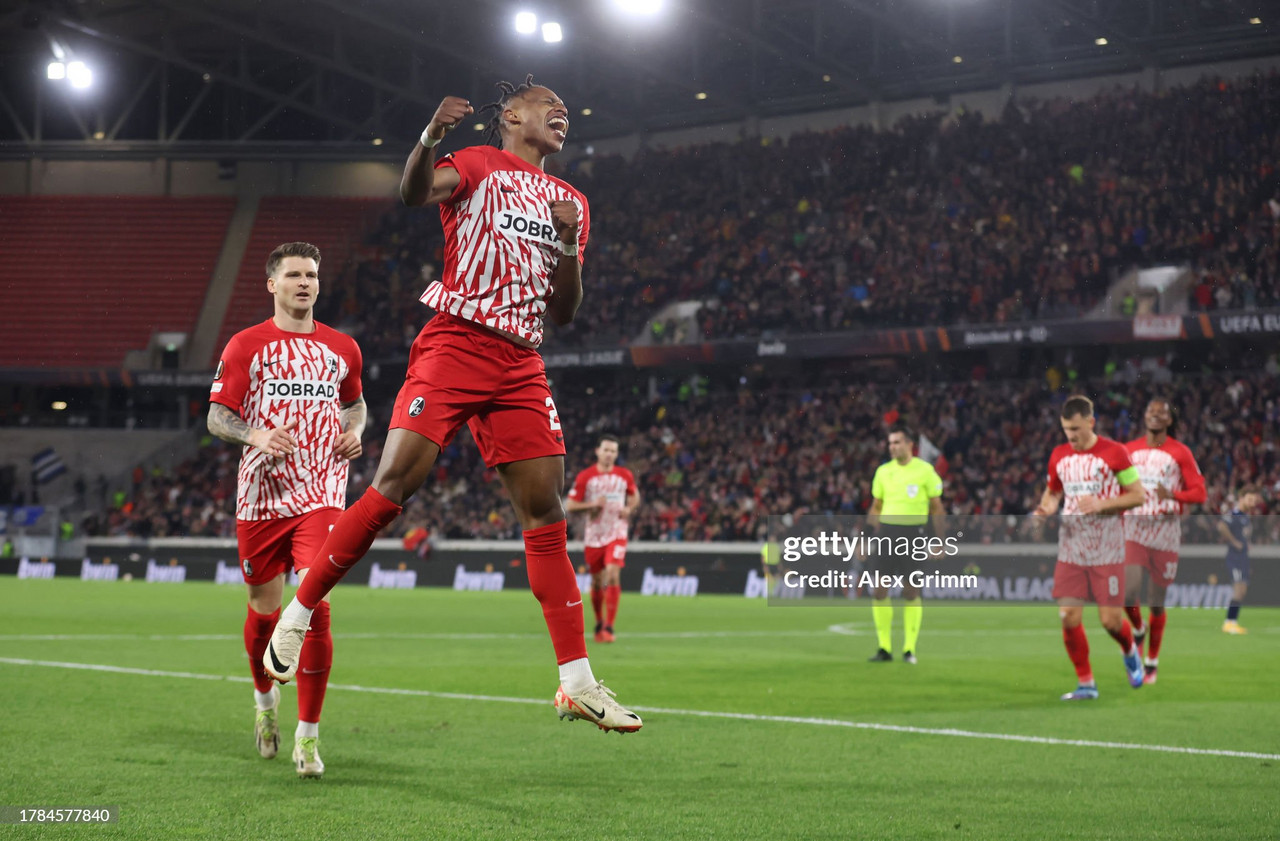 For the second Europa League gameweek running, SC Freiburg brushed aside Backa Topola in a decisive fashion.
While things looked uncomfortable for the Breisgau-Brasilianer during the reverse fixture after an early goal from the Serbian Side, this game was plain sailing throughout.
After a spell of solid defensive work from Backa Topola amid consistent pressure, Merlin Rohl latched onto the end of a low cross from deep by Maximilian Eggestein to break the deadlock.
After half-time, goals at consistent intervals from Eggestein, Noah Weisshaupt, Chukwubuike Adamu and Ritsu Doan sealed the win for Freiburg and kept them 2nd in the group, level on points with West Ham United.
For a brief few minutes, it looked as if Backa Topola had a chance. If they'd had more faith in themselves to keep possession and played less route one, then the game may have unfolded very differently.
While it would be unrealistic to expect Backa Topola to keep a majority of possession against a side with around 800% of their market value, they didn't help themselves by playing a direct route one ball as quickly as possible.
Freiburg's experienced Italian centre-back, Manuel Gulde, calmly dealt with aimless long balls all evening.
In the few instances where Topola found composure to keep the ball when going forward, they created good chances for themselves. In the 51st minute, patient build-up outside the box led to left forward Uros Milovanovic playing a tantalizing low cross. It would have been an easy tap-in if the away side had more bodies forward.
Freiburg were by far the better team (they had 26 shots to Backa Topola's six) but they were lucky to keep a clean sheet in this game.
Although the result was always going to fall in Freiburg's favour, knowing when to keep possession and when to find a lone striker would have made life much easier for Backa Topola and likely done their goal difference a few favours.
SC Freiburg and working in numbers
In everything they did, SC Freiburg were organised. Both in pressing Topola's back line and going forward, Freiburg were a cohesive unit.
In the first half, Freiburg (who played in a 3-4-2-1 formation) pressed very high and in large numbers. The training behind the press was clear to see. Full-backs would move up to fill spaces left by the midfield when they pressed, confident that the chance of needing to sprint back into position was slim.
Freiburg kept on winning possession back from Topola very high up the pitch. This resulted in Topola playing safe but blunt, long balls which gave them no hope of scoring.
As play recommenced for the second half, it looked as if Freiburg had switched to a 3-7 formation. Obviously, they hadn't, but the German's enthusiasm to get forward meant that seven players started the half ready to chase the ball, which was sent awkwardly into the corner.
For the rest of the game, every player except the defenders looked to get forward as much as their legs would allow them. Freiburg were even comfortable enough to play with just one ball-playing defender (Gulde) after the fourth goal. He always looked comfortable in possession. The full-backs Matthias Ginter and Phillip Lienhart moved forward to pack the midfield.
The gap between Freiburg's pressing line and their defensive line was never more than 30 metres. Moreover, the full-backs and wingers that were not in play tucked in to narrow the pitch as much as possible. This made their shape even more structured and crowded out Topola's midfield, leaving no room for mistakes on the ball.
Topola played with a 3-5-2 which meant the midfield was too crowded as it was. They refused to move bodies elsewhere and were punished as a result.
The impact of fans for SC Freiburg
While the home fans were rapturous at the start of the game, they quietened as Backa Topola held their ground for the first 20 minutes.
Almost by magic, the first chant of the Freiburg ultras coincided with the scuffed clearance that preceded Eggestein's low cross.
While Freiburg would still have dispatched Backa Topola if the game was played in an empty field, home fans should know that the team will need serious support if they are to make it all the way in this competition. They could face Liverpool in the round of 16.