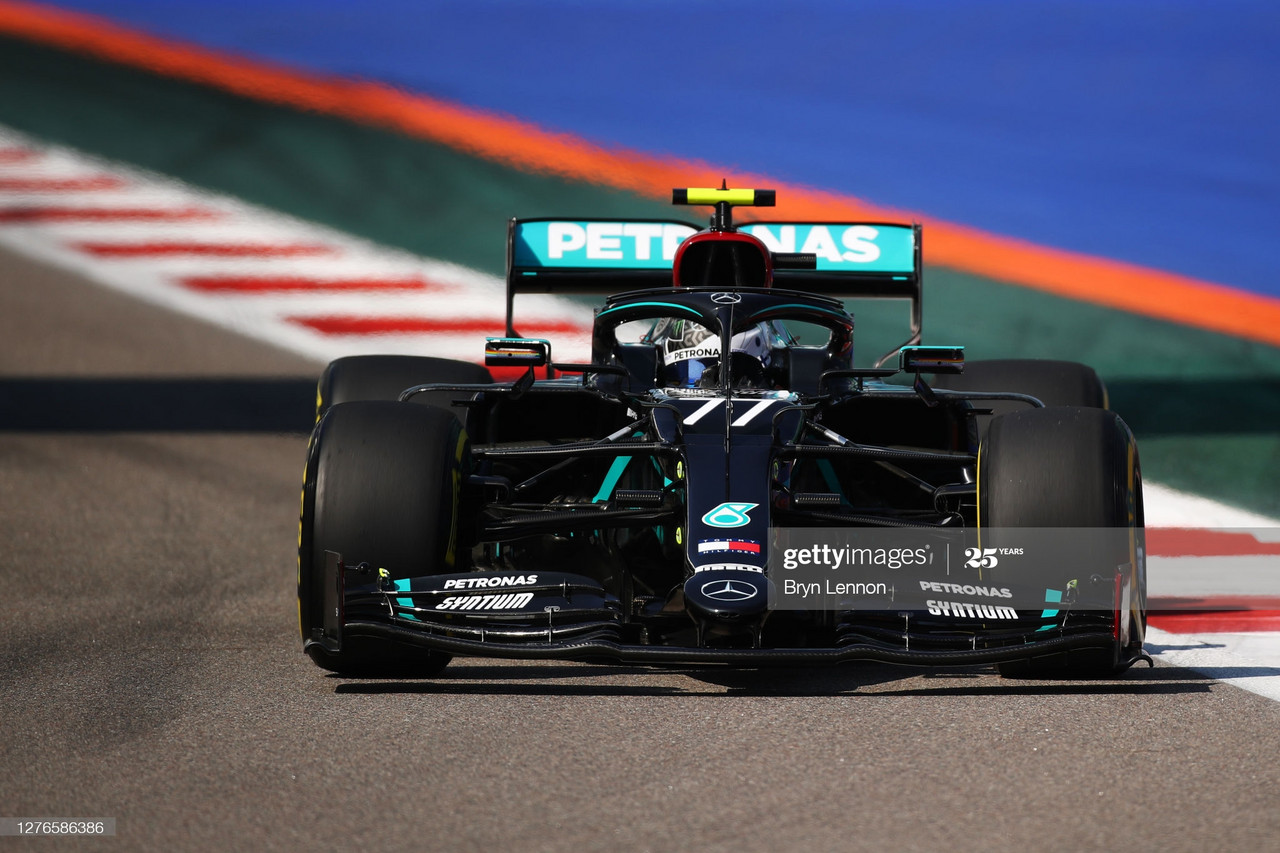 Mercedes dominance continues
Despite many incidents during the session and even a red flag due to Nicholas Latifi crashing his Williams at turn 10, Valtteri Bottas topped yet another FP1 session trying to turn the wave of momentum back into his favour.
No one was within half a second of Bottas with Daniel Ricciardo placing his Renault in P2 and 0.507 seconds off the pace.
The performance from the Australian was very impressive even finishing in front of old teammate Max Verstappen who ended up third 0.654 seconds behind Bottas.
Interestingly, Bottas only managed 13 laps in the session, with only Antonio Giovinazzi and teammate Lewis Hamilton not making it past the 20 lap barrier leaving Mercedes confident but unsatisfied with the performance so far this weekend.
Midfield hanging on in there
Behind the top three were both Racing Point's with Sergio Perez finishing ahead of teammate Lance Stroll despite Stroll getting the upgrade package for this weekend and Perez missing out this weekend.
Then come the teammates of Verstappen and Ricciardo with Esteban Ocon and Alex Albon still lacking the pace of the other side of the garage.
Something you would never expect to hear from this year is that Ferrari and Alpha Tauri are fighting for the fringes of the top 10 both having a relatively quiet and unexciting session.
In P12 and P13 is where we find the McLaren's who appear to have lost some pace into this weekend which has not helped with Carlos Sainz having an incident into turn 7 destroying the rear wing.
Poor weekend starts for many
Behind the midfield is the familiar three teams of Alfa Romeo, Haas and Williams. Alfa having the only clean session of the three but still having little running.
Latifi brought out the red flag crashing the car and Romain Grosjean spinning on occasion and complaining all session long with issues with the car.
The one big outlyer of the session is Hamilton. Ending up in P19 nearly three seconds off of his teammate focusing mainly on the medium and hard tyre.
After using those tyres the deficit is expected but still, an unusual plan set out by Mercedes that has not been seen before. A view that is being looked at by many as why would Mercedes use a new plan to an already very dominant run plan.