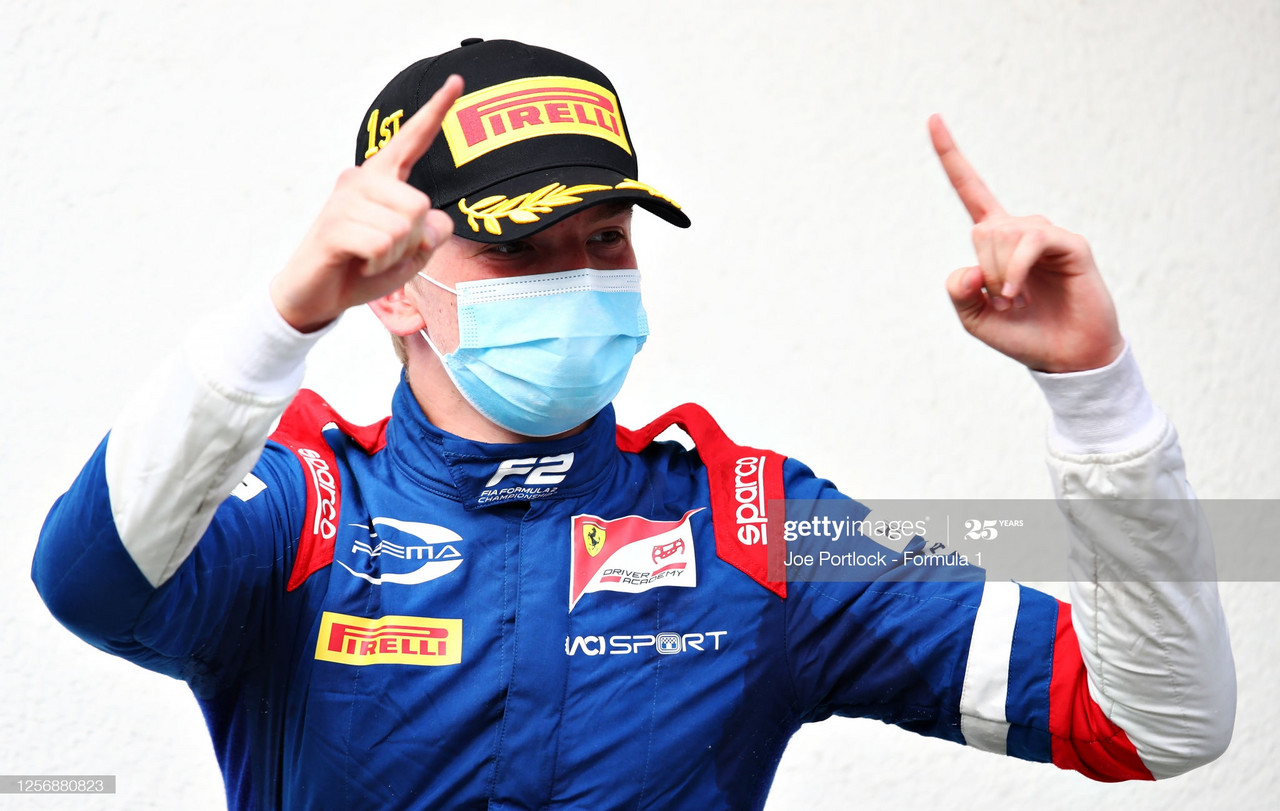 The Formula 1 feeder series' have time and time again produced some of F1's greatest Champions, and will continue to do so into the future. Formula 2, the self-proclaimed 'Road to F1', has generated recent graduates including Charles Leclerc, Max Verstappen and Alex Albon, and before that World Champions such as Lewis Hamilton and Sebastian Vettel. On race weekends Team Principals are often keeping a close eye on the other side of the paddock to discover F1's future prodigies... so let's take a look at who may have impressed them so far this season.
Robert Shwartzman (F2)
This 20-year-old PREMA driver and Ferrari Junior is currently leading the F2 driver standings with a whopping 81 points, whilst the second place driver sits on only 63. Last year in F3 he dazzled fans with an impressive three wins and 10 podiums, and justifiably earned himself a seat with Italian constructors PREMA Racing.
So far in his rookie year in F2, Shwartzman has achieved a brilliant start. During the Austrian double-header he came third in weekend one's Feature Race and then won that same race just seven days later, where he battled up the order from 6th on the grid. It is clear that the young Russian favours the slightly longer Feature Race over the Sprint, as he won this event yet again in Hungary, gaining 10 places in the race and finishing an astonishing 15 seconds ahead of the next podium sitter. This made the 20-year-old Formula 2's first double-winner in this 2020 season... and he's a rookie!
It is clear therefore that Shwartzman is a force to be reckoned with, and a definite favourite for the Championship at this early stage. I am almost certain that Ferrari are paying very close attention to his performances.
Callum Ilott (F2)
The British driver, who is also a Ferrari Junior, is competing in the feeder series for the second time, now battling for the championship with his new team UNI-Virtuosi. In early 2019, after a very successful season in GP3, Ilott was offered the chance to drive a Formula 1 car, and tested for Alfa Romeo Racing at Circuit de Barcelona-Catalunya. Off the back of this huge career landmark he went on to race in his first F2 season, where he achieved some solid results.
This season the 20-year-old currently sits in second in the F2 driver standings. Ilott performed well right off the bat, with a win at the very first race of the season in Austria following an intense battle with teammate Guanyu Zhou. He then went on to finish a close second in the Sprint Race in Hungary, after a pit stop caused him to lose the lead. Nonetheless, he sits on a solid 63 points as we head into Round 4.
Ilott claims to be inspired by six-time F1 World Champion and fellow Brit Lewis Hamilton. Although I'm not sure if he is quite up to racing alongside his hero just yet, he is certainly on the right track...
Oscar Piastri (F3)
This 19-year-old PREMA driver (yes, another one!) is currently top of the Formula 3 driver standings, and has held that spot since the end of Round 1 in Austria. He is sitting on an impressive 76 points heading into the next race at Silverstone, 26 points ahead of his nearest rival.
Piastri, who was the Formula Renault Eurocup Champion last year, has won one race and secured two second place finishes so far this season. The young Aussie won Race 1 in Austria by snatching the lead from third at the start and then maintaining a strong pace that meant he rarely appeared under threat. Despite Piastri claiming that "it's still way too early" to determine, he is certainly a very strong contender for the F3 Championship title.
Théo Pourchaire (F3)
Finally, onto Formula 3's youngest ever race winner. 16-year-old driver Pourchaire has wowed so far this season with an incredible two wins out of six races, making him F3's first double-winner in 2020. On both winning occasions the young Frenchman was fortunate to be driving in third when the two lead drivers collided and offered him the lead. Despite battling hard earlier in the race, on the first occasion he was able to easily parade home behind the safety car. On the second occasion however, the ART Grand Prix driver was forced to defend furiously and hold back championship-leader Piastri to secure the win.
Pourchaire has highly impressed spectators with his stunning performances at just sixteen years of age. One can only imagine what he'll be able to achieve at 20. I'm sure F1 bosses are pondering it too.