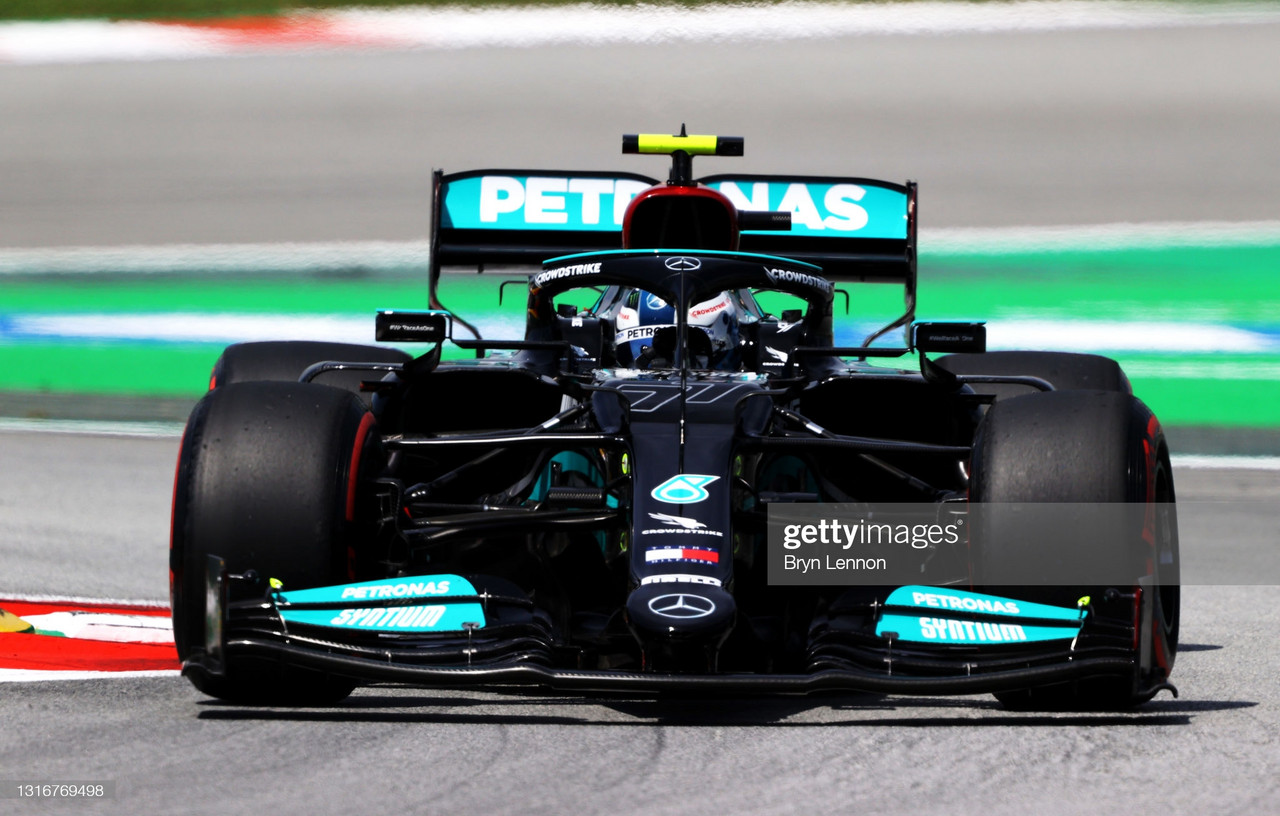 Valtteri Bottas was quickest in qualifying last time out in Portimão and again on Friday morning after putting on the soft tires early in the weekend in FP1.
Max Verstappen made sure Red Bull was not far off of the pace keeping Mercedes honest only 0.033 seconds off the pace. Lewis Hamilton was only one-tenth back from Verstappen making the weekend look promising despite the 'boring' tag Barcelona gets.
Lando Norris continues his sublime start of the season being the closest to the front two teams yet again. Also putting distance between himself and his teammate displaying the synonymity between him and his McLaren.
Ferrari best of the rest?
As a pair, there are not many up there with Charles Leclerc and Carlos Sainz as they came home in P5 and P6 whilst both being the only drivers on the medium tire and both being half a second off the pace gives them a positive look on the weekend ahead.
Behind was Pierre Gasly and Sebastian Vettel who managed to outpace Sergio Perez as his last lap encountered some traffic which stopped him from getting to the heights of his teammate. Vettel's teammate Lance Stroll rounded out the top 10 with better performance for Aston Martin.
Yuki Tsunoda and Esteban Ocon just missed out on the top 10 ahead of what is a very mixed second half of the field. Antonio Giovinazzi had a great morning session for Alfa Romeo placing as high as thirteenth.
Troubling start to the weekend
Daniel Ricciardo has again been off the pace of his teammate only ending in P14 ahead of Fernando Alonso who will want to put in a better performance than P15 for his beloved home race.
Nicholas Latifi had a good morning session ahead of their Rookie teammate for this session, Roy Nissany. P16 and 17 optimistic for Williams even with no George Russell.
Mick Schumacher continues to be the only Haas driver of note even in P18 ahead of Robert Kubica who stood in for Kimi Raikkonen. Nikita Mazepin rounded out the field after an eventful session as per. The top 10 looks incredibly tight and the strategic game come Sunday looks ever menacing.