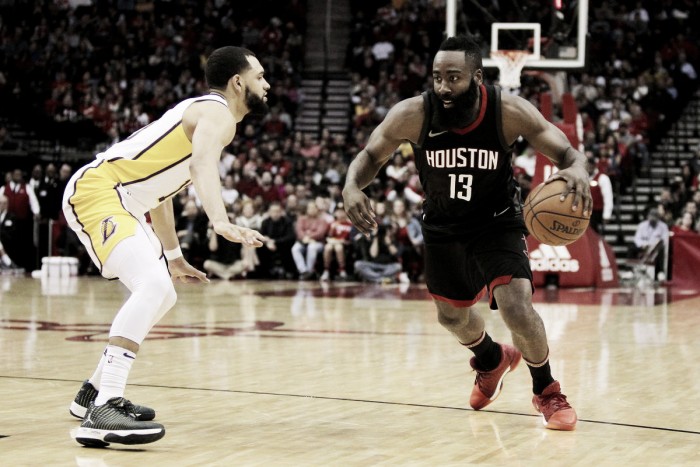 I promise this isn't what I wanted when I wrote this article. If it's karma, O Sports Gods please forgive me. Houston teams have gone through way too much for any more bad luck to strike them. Ya, that's taking the Houston Astros World Series into consideration.
On New Year's Eve, late in the fourth quarter versus the Los Angeles Lakers, James Harden went for a layup. He missed it, and kind of stood out of bounds for a while before a Houston Rocket intentionally fouled. He left the game and didn't return. The Rockets would go on to win 148-142 in double overtime.
It has now been confirmed that he suffered a Grade 2 hamstring strain. He will be reevaluated in two weeks to see if he can return to action or if he will need more time. This is an anomaly for the shooting guard, as he has missed a total of two games the last three seasons. He was having another MVP caliber year, as he leads the league in points per game (32.3) and is third in assists (9.1).
What also sucks is that the team just got both Chris Paul and Clint Capela back from injury. This was their first win after going on a surprising five game losing streak. They were dealing with the aforementioned injuries in that span, so the team was looking forward to being relatively healthy once again. Luc Mbah a Moute remains injured with a dislocated shoulder.
How will the Rockets adjust
Eric Gordon will likely be put in the starting lineup, with Gerald Green and P.J. Tucker seeing an increase in minutes. However, the team may opt to start Tucker instead, seeing as CP3 will now become the primary ball handler and will not play with the bench. The team will need scoring in the secondary unit, and leaving Gordon there will ensure that occurs. Without Paul or Flash (Gordon if you don't know his nickname), the bench will struggle heavily to put points on the board.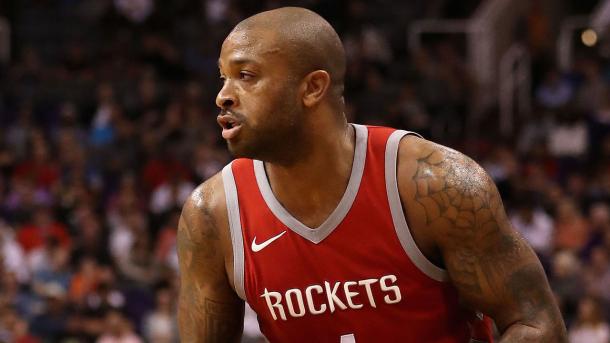 Whichever player the team chooses to start will help on the defensive side of the ball. Both Gordon and Tucker have a better defensive rating (102.1 and 103.0, respectively) than Harden (106.1). However, they will somehow need to make up for 32.3 points a game. Where can they find that kind of offensive output?
For one, Paul will have to take more shots. He hasn't attempted less shots per game than this year since 2013. And he showed that that may not be a bad idea in the game against the Lakers. He completely took over in both overtimes, netting 15 of his 28 points in them. He also got three assists, including one to Green who made a very clutch three. The combination of driving and kicking out was marvelous to watch so late in the game and was necessary for a team that couldn't stop LA on defense.
Role players (specifically the three point shooters) will also need to step up. CP3 is taking a career high 6.3 threes a game, making 39.8 percent. That's very efficient, but I don't see him taking many more as that will completely change his game. I'm looking at the likes of Gordon, Tucker, Trevor Ariza, and especially Ryan Anderson, who started the year off well but has been fallen off drastically since, to step up. Paul will give them the ball when they're open, they just need to hit. A cold streak from any of these guys will be detrimental to the team while Harden is gone.
Finally, Paul has shown he can lead the team in clutch situations, perhaps even better than Harden did. The numbers don't lie: Paul is 5-0 in close games compared to 8-6. He averages 4.6 points and 1.8 assists versus 3.4 and 0.6. He's 50 percent of his shots against 38.9. Thus far, CP3 has shown that when the going gets tough, he dominates, something that the team expects out of Harden. The main issue in this stretch will be ensuring the team doesn't get blown out the water early on because they aren't putting up enough points.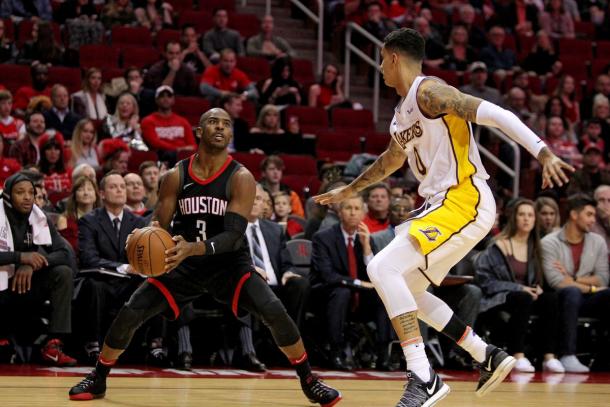 Looking ahead to the next two weeks
The upcoming schedule isn't too difficult. In the following two weeks, the Rockets play the Orlando Magic (A), Golden State Warriors (H), Detroit Pistons (A), Chicago Bulls (A), Portland Trail Blazers (H), Phoenix Suns (A), and Los Angeles Clippers (A).
The main struggle against the Magic will be getting used to playing without Harden, but they are an easy enough team where the Rockets should still come out on top. The only solace for the Warriors game is that it's at home, but Stephen Curry just came back and lit the Memphis Grizzlies on fire, so...
The Pistons are a quality team, as they are 20-15 and fourth in the East. That will be a tough game. The Bulls have been picking up the slack as of late but shouldn't defeat the Rockets. The Blazers are sixth in the West, and CP3 will use up a lot of his energy trying to contain Damian Lillard. Finally, the Suns and Clippers (barring another onslaught by Austin Rivers and Lou Williams), should be easy victories.
Assuming the Rockets go 1-1 in the two toss-up games (Pistons and Blazers), they will go 5-2 in the upcoming two weeks, and end with a 31-11 record. It could go a lot worse without their best player. Obviously, this is just a prediction and things could go awfully wrong. But, this is a likely scenario. Remember that the team can look forward to Mbah a Moute's return in the meantime and Capela slowly coming back to 100 percent healthy.
The only thing that will change post Harden's return is late game situations. I may be reading too much into a handful of games, but Paul has been great in the clutch, while Harden has made some questionable decisions. If CP3 continues to dominate in those kind of games, watch coach Mike D'Antoni run more plays through him, using Harden as more of a super reliable catch and shoot option.
Hopefully, if this does happen, Harden won't let it affect his pride. That shouldn't be an issue as he has gladly conceded some of his role to Paul for the betterment of the team. Whatever the future, the Rockets need to ensure that they don't fall apart while their star is gone. With Paul at the helm, they should be just fine.