 Maria Sharapova has chosen to withdraw from the first Premier Mandatory tournament of the season, citing a lingering forearm injury. The Russian has played just one tournament so far in 2016 and just three since last year's Wimbledon.
Sharapova's Injuries
The Russian has been battling with injuries since last year and is missing more and more from the WTA tour. Last year after Wimbledon, she pulled out of the North American hard court swing due to a leg injury. Returning in Wuhan, she retired in her first match with a wrist injury. However, she seemed ready in the WTA Finals, where she made the semifinals. She went 3-0 in round robin action, before falling to an inspired Petra Kvitova. Next, she was part of the Russian team in the Fed Cup Final, winning both of her matches against Kvitova and Karolina Pliskova.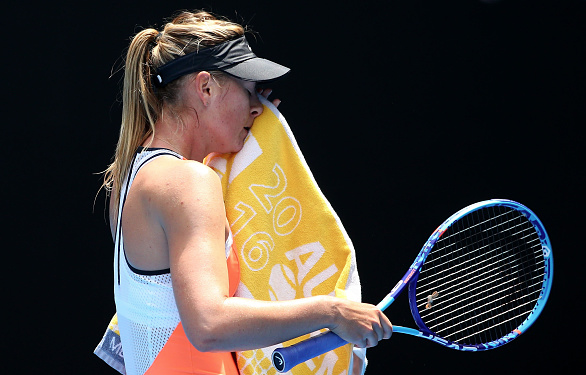 The two time French Open champion admitted she had a long and busy off-season, including the organization of an exhibition tournament under the name "Maria Sharapova and Friends". She was supposed to return to the Brisbane International in 2016, but that was when she picked up the forearm injury, forcing herself out at the last minute.
She then played at the Australian Open, making the quarterfinals, but falling to her nemesis Serena Williams. After Melbourne, she went to Moscow where she was part of the Fed Cup team once again, though she did not have to compete. She seemed to be still bothered with the forearm injury then, stating that she will go to Germany for rehab. Quickly enough, a withdrawal from Doha followed and now the bombshell about Indian Wells.

Can Sharapova Return To The Top?
Anxiety is brewing over Sharapova lately. Her ranking is dropping and the Olympics are coming, as she is still battling with injuries. Her fans are worried. Will she be back to defend her points? Will she ever get to play on a regular basis again? From the Russian's side, things are simple. She won't be back until she feels 100 percent ready and that seems to be the best for her health and her career. It appears for now, that Team "Masha" may return in Miami.